The red guavas are slightly more special to me than the white-fleshed ones. All that fondness is because of the guava tree I described when we were discussing Guava Fresca.
It is practically impossible for me to find some in the markets. When my nearby giant vegetable super chain put out guavas under the picture of the pink-fleshed one, I grabbed a whole bag of them. With much anticipation came home and cut one of them. So disappointing! They were white-fleshed. I should have gone with my gut and checked the colour before I bought it!! Oh well, if one dream is busted let's try the next. Let's make some guava popsicles before the winter sets in.
Choosing the right guava.
I don't have a foolproof way of checking if the guava in the market has red flesh or white. Surely, I have a way of telling if it is ripe or not. Guava as fruit is fully edible. This means you don't have to peel it or core it. The skin is deeper green when raw and the colour lightens as it ripens to almost yellow. It is soft to a gentle press. However, avoid guavas with Blemishes and cuts on them as it is as they will have their flesh bruised.
What do guavas taste like?
The fully ripe ones are sweet and juicy. As you bite into the flesh it certainly feels like you have a floral aroma, a faint taste of berries. Then comes the moth feel of a pear, yet with the seeds. The semi-ripe ones certainly have a crunch that works well when you pair it in salads like the guava pomegranate chaat salad, we posted earlier. Never fear to give it a try, it is certainly an experience to cherish.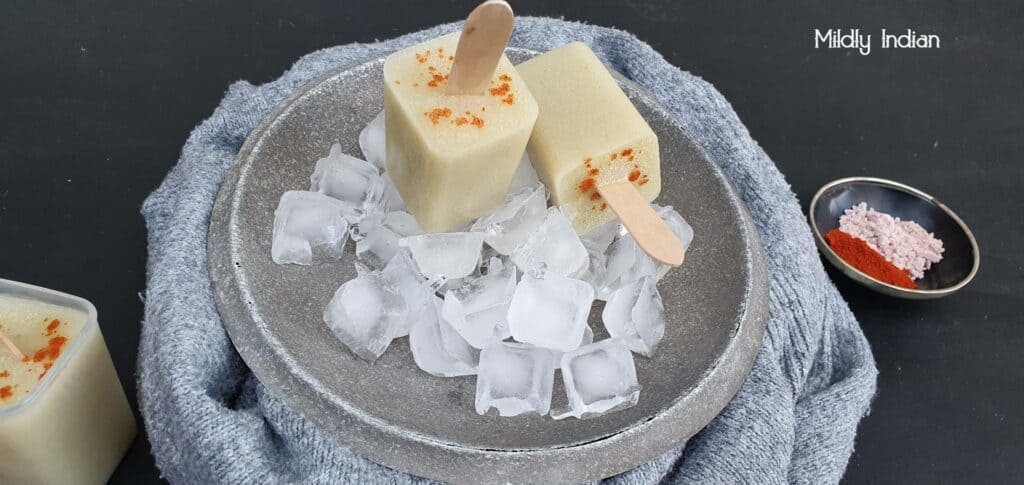 Pairing with savoury notes.
Guavas come from the same family as myrtle in the same family as cinnamon and cloves too. This allows them to pair well with both sweet elements and savoury flavours. With a high amount of pectin they cook well into sauces and sweet jams. They equally pair well with spices and savoury tastes. So feel free to add it to a curry or the chaats as well. From our childhood, we have had guavas with a bit of salt and red chilli. This is where the inspiration for this popsicle begins.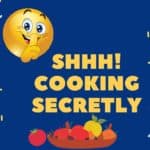 In collaboration with the shh cooking challenge, this is the recipe I put forward. It is Pavani who called out for frozen treats in time to beat the Indian summers. Guess what I was super happy when my partner Kalyani picked the summer fruit guavas and black salt as ingredients for me to work with. Kalyani's Oreo popsicle will never last much in my freezer. All of us will always be looking for one!!
Hope you will enjoy this chilli guava popsicle recipe and try out this flavour if you are not already used to it. Do keep us posted when you try these flavours in combination as we love to see how more can we use these.
See you along at the next post and stay on some more while you have a look through the previous ones.
Chilli peru popsicle
Guava popsicle with indian masalas
Equipment
freezer

blender

Cutting board

Knife
Ingredients
1

large

guava

1

cup

water

2

tbsp

unrefined sugar

( reduce if you get an etra sweet guava)

2

tbsp

lemon juice

5

leaves

mint

1/2

tsp

black salt

1/4

tsp

red chilli powder

( use a mild variety)

1/4

tsp

roasted cumin powder
Instructions
WAsh and chop the ripe guava.

Add the water, mint leaves and the sugar and blend to a smooth paste.

Now add the emon juice the chilli powder, black salt and jeera powder and blend further till all are combine well.

Pour into freezer moulds, place popsicle stics and freeze

When desired to have, run the mould under to water to loosen the popsicle.

Have and share the desired amount and leave the rest in the freezer for another day.
Stay Connected
I  hope you have subscribed to our blog to receive regular updates. We thank you for staying with us and encouraging us at every step. We would love to have you visit the youtube channel that we recently updated. Please subscribe, like and share these posts and let us know what you like and dislike about them. When you make these recipes, please rate them or share what changes you made. After all, it is creativity unlimited. 
Stay safe and let us catch up on the next post.