You don't need much reason to get your teeth stained purple and then give that toothsome smile. It is so childlike yet satisfying. This is the best part of maturing up!! You realise that these little fun moments make life.
Freeze the berries when in season.
The summer best berries are the perfect candidates to be frozen. So, come winter you can still have berries at a good price. I freeze some berries to make mixed berry jam, freeze mulberries as I am crazy about them. I freeze the Blueberries for all the others in my family and toss them into mug cakes. There is a detailed list of how to freeze berries in the frozen berries jam post (click the link here).
Just two-ingredient blueberry sorbet
Blueberry sorbet is a fun frozen treat with not much effort. It is as quick as dump the frozen berries in the processor a bit of maple syrup and pulse till smooth. It is a perfect vegan, low calorie, zero fat,summers treat you can easily create.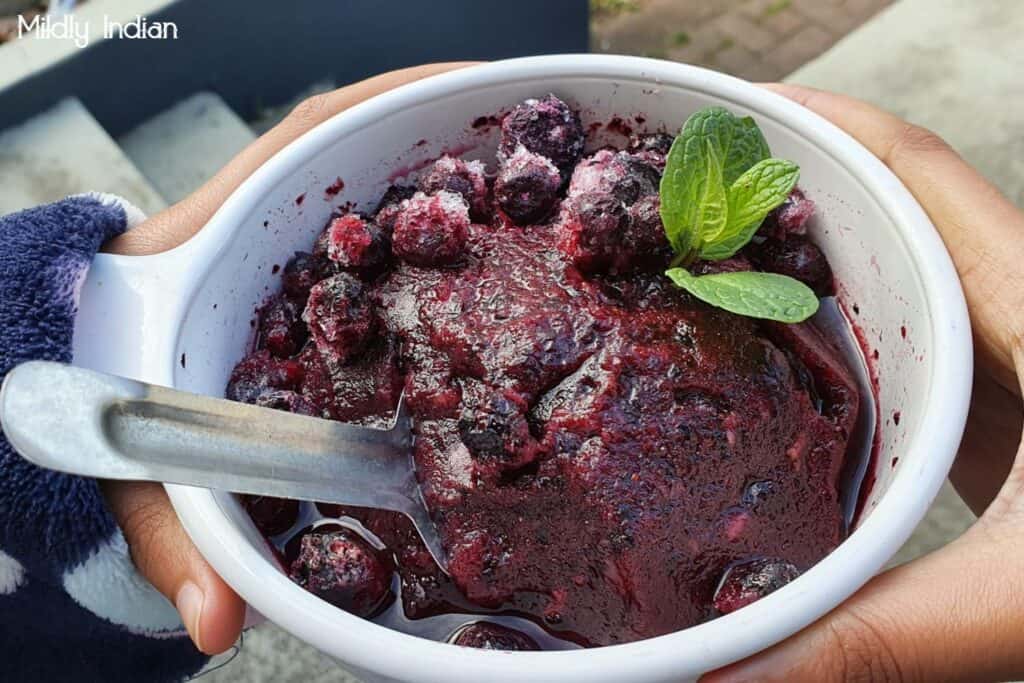 Blueberry sorbet
Try the easy to make, two ingredient blueberry summer essential.
Ingredients
2

cups

blueberries

1

tbsp

maple syrup
Instructions
Wash, pat dry and line the blueberries in a freezable tray.

Leave them in the freezer for 4 hours.

Remove these blueberries after frozen and add them to the food processor.

Add a tbsp of the maple syrup and pulse.

Once coarse process them further into a smooth mix.

The sorbet is now ready to serve.
Let's create some variations
The best part is the number of variations you can create with this recipe. 
Variation 1- Lemon blueberry sorbet.
Squeeze in about tbsp of lemon juice for every cup of blueberry and add a pinch of the zest to the sorbet. 
Variation 2 – Ginger blueberry sorbet.      
Add half a tsp of grated fresh ginger root to the mix and blend till smooth, you have ginger blueberry sorbet in no time.
Variation 3- Coconut cream blueberry sorbet.
This leans more towards vegan ice cream. It is a creamy, delicious and summer barbeque favourite.  For every cup of blueberry use half a cup of coconut milk.                                 
Variation 4 – Girls night special.
There is another cool use for this two-ingredient blueberry sorbet. Crush a sprig of mint in a glass, Scoop up the sorbet into a tall glass and pour in some chilled ginger beer or vanilla soda OR Tip in some good gin(less than an ounce per cup) and top it with a tonic. You have one of the most beautiful drinks in no time. If the girls love champagne, try the honeydew champagne soup for dessert.
Storing the Sorbet
Bluberry sorbet that has been prepared can be packed in an airtight, freezer safe box and store in the freeze. However, I will recommend you to use the sorbet as fresh as possible. This is because, how ever much you try to store it , I do find that the freezer odour does get to it. Due to the low amounts of added sugar in this recipe, you will also find that it tends to get dense and freeze as ice.  So my tip would be to freeze the blueberries and make them when you feel like it rather than store it. 
All that you need now is a couple of long-standing friends to have a good laugh with and the cheese platter. Hope you have fun with this easy  two-ingredient blueberry sorbet recipe and have fun with the stained tongues. If you have some other fruits, try the mango basil sorbet or watermelon sorbet. Tag us @mildlyindian or #mildlyindian when you are having fun and you are on your socials. Subscribe to this blog if you like these easy hacks.
See you at the next post.