Looks like our soup season has started off a bit earlier than anticipated!! The weather is so rainy and being in isolation, just needs the soothing comfort of the good flu busting soup. As of now some Netflix, comfy PJs and the warmth from the bowl of vegetable soup are keeping us going.
Why does mixed vegetable soup work in flu?
There have been studies done on why broth and soup can be perfect when you are unwell.
Firstly they keep you hydrated. Keeping oneself hydrated is really important when the temperature fluctuates and the body is trying its best to work its immune mechanisms. Most soups are easily digestible providing nourishment without being overburdened. The warmth of the soup soothes the throat and the comfort of holding that bowl of soup. This is the best comforting idea when you are unwell. The flavours added to the soup are certainly the ones that ease up congestion and cold.
What makes this flu busting soup work?
The spices in this soup -we have added pepper, turmeric, ginger and garlic. All these ingredients are well known in the natural medicine world to provide relief from upper respiratory tract congestion. With antibacterial and antiviral properties,  the spices certainly provide toasty warmth.
The vegetable medley- a colourful mix of veggies certainly contributes to the functional upkeep of nourishment and colour, thereby providing vital minerals and vitamins to the body. There is no hard and fast rule about the vegetables to have in this recipe. Any mild-tasting, the quick-cooking vegetable will be perfect. I have chosen vegetables that provide colour as well as nourishment today like broccoli, peppers ( capsicum)  and carrots. Paired with the basic onion tomatoes this is a nourishing combo. Add spinach or kale to this vegetable soup you like too.
Good protein -The cooked lentils provide the necessary protein that aids the soup to be filling and nutritious. If not lentils, cooked beans will be perfect in this recipe.
The herbs- The freshness of the soup comes from herbs. I like the taste of lemongrass in soups especially when I am ill. The coriander leaves provide a lemony feel to the overall recipe.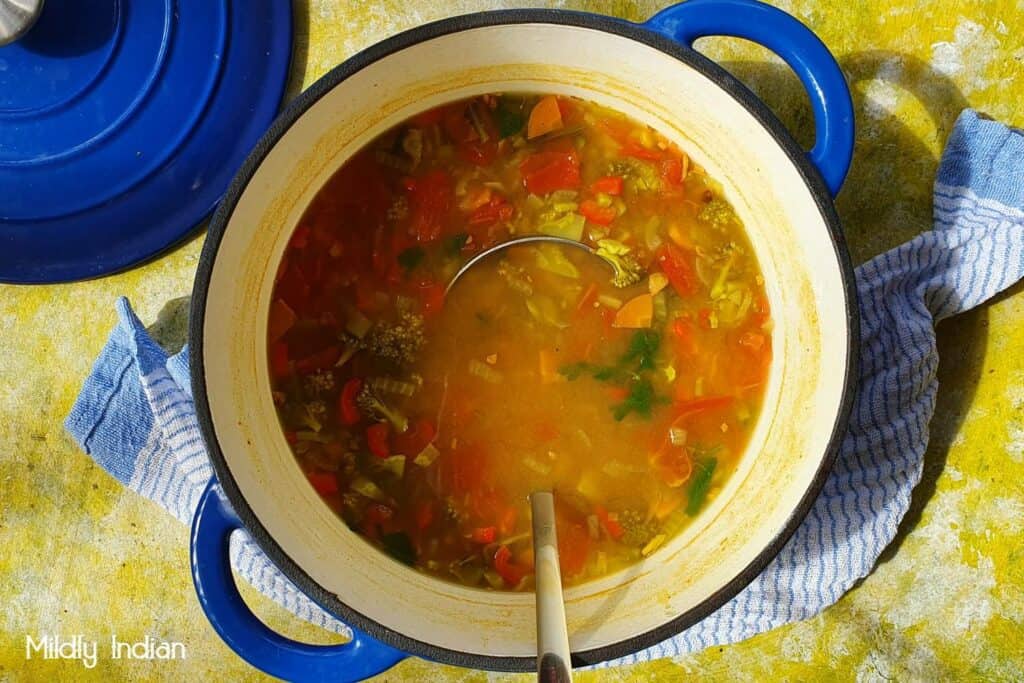 Flu busting vegetable soup
Try out this soup at the first sign of sniffles and flu. The soothing relief is perfect for the change of season and the flavour is pleasant to the ailing body.
Equipment
1 deep pot

or instant pot
Ingredients
1

tsp

butter

or vegan butter

1

small

Onion

diced or minced

4

cloves

garlic

2

leaves

lemongrass

if using the stalk, 1 inch will do.

1/2

capsicum 

red / diced

1

medium

tomato

vin tomatoes as they breakdown faster

1

head

broccoli

florest removed

1

carrot

chopped small

1/4

tsp

turmeric powder

1/2 tsp turmeric root grated if you have fresh root

4

cups

drinking water

1/2

cup

brown lentils

cooked and drained.
For thickening the soup
2

tbsp

whole wheat flour

You can use cornflour or arrowroot powder too.

8

tbsp

drinking water
The flavourants
salt to taste

crushed black pepper

1

tbsp

coriander leaves

chopped ( optional)
Instructions
Prep all wth vegetables needed for this soup.

Heat the deep pot at medium heat and add the butter / vegan butter.

Add the diced onion, red capsicum, minced garlic, ginger and snipped lemongrass and mix well.

Let this saute till the onions are translucent.

Now add the tomatoes and saute till they become squishy and are mixed well.

To this mix add the rest of the vegetables and saute well.

Add the water, turmeric powder and bring the whole mix to a rolling boil.

Meanwhile, prepare the slurry that thickens the soup by mixing the flour with water. Make sure this mix is lumpfree.

Once the vegetables are soft, add the lentils, stir in the slurry and slow boil till the soup thickens to a pouring consistency.

Add the crushed black pepper, coriander leaves and salt to the soup.

Mix well and remove from heat.

Serve with some crusty bread to dip in.
Do we need to add cheese?
Stirring in some grated mozzarella just before you eat is tasty and thickening. But I prefer to have it without as digestive power during the flu is low and hence important to keep it simple.
Serving this soup
When you are sick or in isolation, the biggest thing you want to to keep your tummy going with soothing foods that call for minimal prep work. Since soups generally work as a dump and go, serve it with some garlic bread or plain toast to make it worth a meal. Alternatively, you can add a quarter cup of quinoa or bulgar to this as it cooks to make this vegetable soup hearty.
Storage for later.
If you are making a couple of meals out of this flu busting soup that is a good idea. It stays well in the fridge for 2 days and reheats perfectly. However, I am not keen on freezing these are you need them fresh when you are unwell.
Other soups worthwhile for this time
We have a collection of soup ideas that you can use when the warmth is what you crave. Most of these you can make in batches and keep to save time.
Barley Lemon soup  -a refreshing lemon flavoured thick and creamy vegan soup.
Hot and sour soup -Indo Chinese soup with tons of garlic and ginger that keep the flu at bay.
Butternut squash and teff soup- soothing yet filling warmth of butternut squash soup, further thickened with cooked teff.
Asian bihun soup -tomato Noodle Soup, in short, uses Asian thin rice noodles.
Rice and veggies soup– mix and dump the kind of soup that you need when you are under the weather.
Stay connected
I hope you have subscribed to our blog to receive regular updates. We thank you for staying with us and encouraging us at every step. We would love to have you visit the youtube channel that we recently updated. Please subscribe, like and share these posts and let us know what you like and dislike about them. When you make these recipes, please rate them or share what changes you made. I hope you keep safe and look after yourself. As for us, we are looking forward to better health tomorrow.
Stop by again another time to check our posts.