Sambhar is a lentil based stew or chowder, staple to the South Indian Cuisine. This slow simmer gravy is an everyday household one. the variations to it are immense. To say, you could literally collect one difference in the recipe or style of making from each household. Its is a melting pot of  flavours ranging from sour, spicy with a bit of sweetness.
It was an interesting read on Wikipedia, that made me rethink about the sambhar that I literally prepare every alternate day. An "amti" turned sambhar and it too have a place in ancient tamil literature. History is definitely fascinating.  It  is more intriguing to note that the word meaning ground spices is the one extending as "Sambal"or "Sambal "too.  I need to read more on this as this is getting to more of the curious cat in me to jump out . Will update you soon on my progress in this aspect.
Now back to this unique sambhar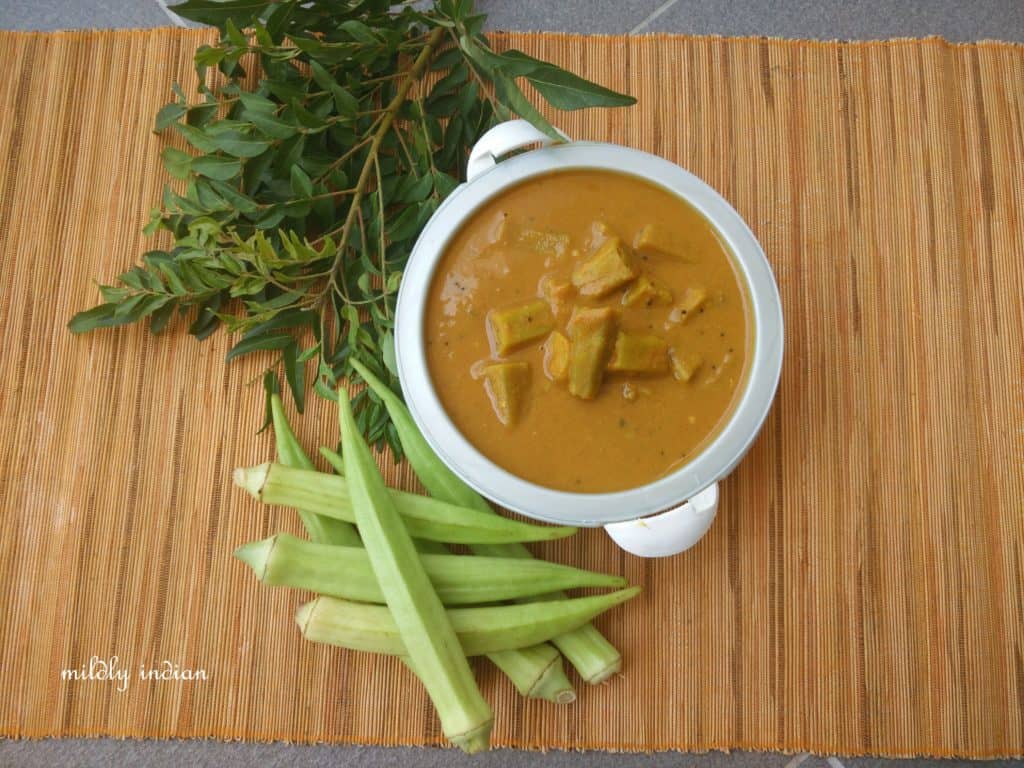 You are sure to come across a gazillion recipes for sambhar.  Various vegetables, a variety of lentils, slow cooked, pressure cooked,….. the list goes on endlessly. This, I would attribute to the versatility of this recipe.
Now,  here is one inspired by my parents who love coconut. Living in Kerala, coconut becomes an integral part of their cuisine. Coconut based gravies, chutneys, sweets all aided by the few "Kalpavriksham " coconut trees in the backyard fulfils their menu with a variety of dishes. And when the coconut is not being eaten the leaves, the yard maintenance all give them enough exercise to add in the extra bit of richness to the dish.
When it comes to sambhar bothmy parents have their differing preferences- one likes it just with the sambhar podi and the other with a coconut based spice blend. Now you can see that I had the best… I  could have both. Now I have multiple versions that I cook ,we call them  – my mother's sambhar, my dad's sambhar, my mil's sambhar… that aunties sambhar… and so on and so forth. Then why not my version!!
So here we go with a unique twist , totally relished by all  the above said people and certified excellent by the experienced taste buds. The addition of coconut milk makes this recipe rich and creamy. Oh!! So yumm.
I have used this recipe for the sambhar powder
Don't miss it. Don't wait another second to try…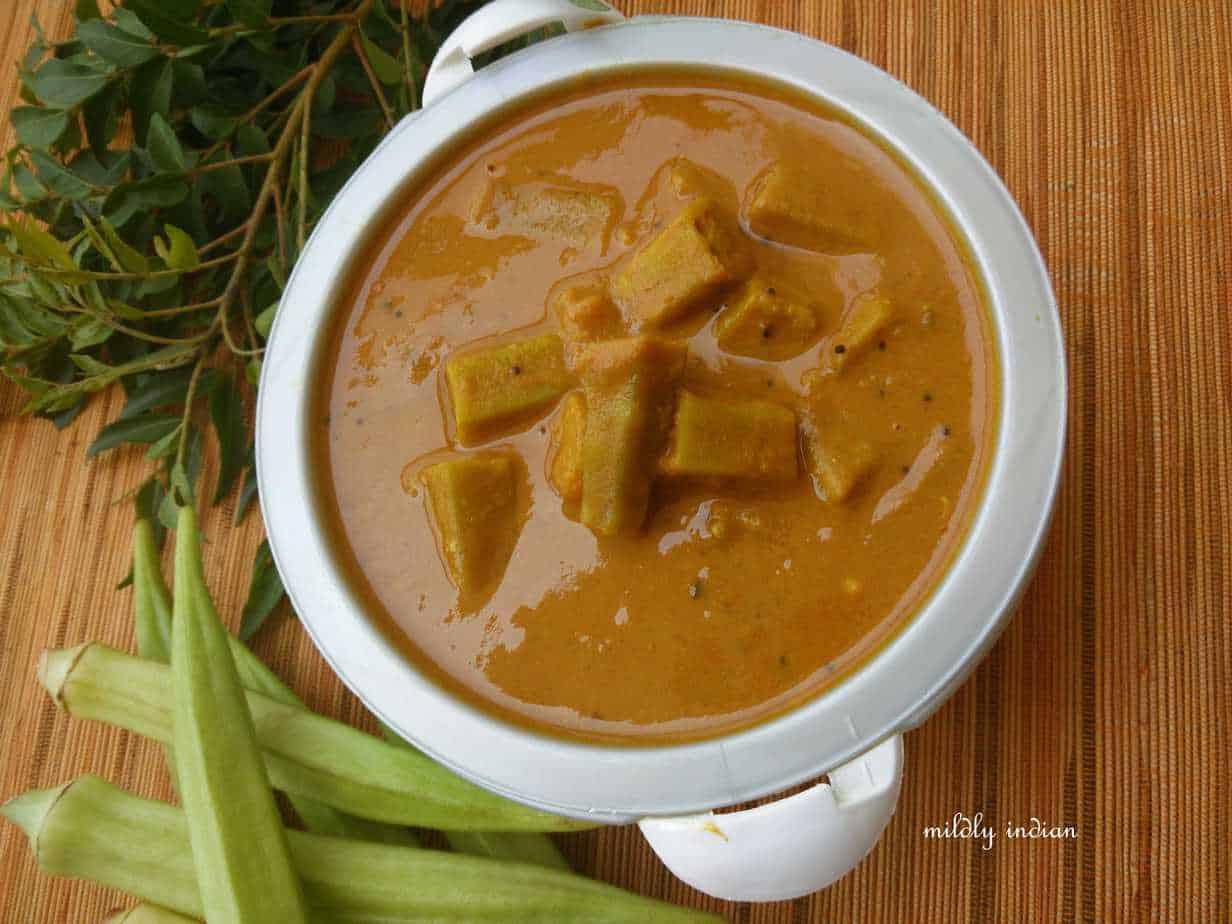 Coconut milk sambhar
The unique one
Ingredients
250

gm

ladies finger

(okra)

1/4

cup

split pigeon pea

(Tur dal / arhar dal )

1

tamarind

small lime sized ball

salt to taste

1/2

tsp

turmeric powder

2

tbsp

sambhar powder

1/2

cup

coconut milk
For tempering
2

tsp

cooking oil

1/2

tsp

mustard seeds

( rai)

1/2

tsp

fenugreek seeds

(methi)

1

pinch

Asafoetida

1

sprig

curryleaves
Instructions
Pressure cook the tur dal (Split pigeon pea) with approximately four times water, till soft. Usually takes 3-4 whistles.  Set aside for pressure to release.

Wash pat dry and slice the okra into one inch pieces. Set aside.

Into a deep kadai/Indian wok,  add two tsp oil, followed by mustard seeds and fenugreek. As the mustard splutter, Add in the curry leaves and asafoetida. Stir for a few seconds till the curry leaves turn crispy.

Add in the cut okra Stir fry on a low flame for about two to three minutes.

Once the sticky threads slowly disappear add turmeric powder ,salt and the tamarind extract. Stir well

Allow this to bubble for 5 minutes. Add the sambhar powder. Stir well.

Cover and cook The okra doesn't  take a long time to cook, yet the tamarind water and the masala may have a raw smell. Allow it to simmer till the smell changes. It takes around 7-10 minutes. Stir occasionally

Now add the pressure cooked tur dal, mix and simmer for about 5 minutes.

Once it is well incorporated, add the coconut milk and bring to a bubble. Remove from heat. Do not boil with the coconut milk ...it tends to split.

Enjoy warm garnished with coriander leaves.
Notes
The recipe tends to thicken a bit upon cooling.
Use the first extract of the coconut milk to add the creaminess.
Change the vegetable to pumpkin or eggplant to enjoy the same recipe