Enjoy a gently fragrant curry leaf tea infusion with curry leaves and a touch of lemon and honey. This soothing tea is perfect for morning sips and to add hidden benefits to your body.
Amma's mornings in the kitchen begin with boiling drinking water that is needed for that day. She sets the water boiling point pot ready and then arranges an array of smaller pots along the side of the kitchen with a little bit of this and that from her Ayurvedic collection. These may have karingali, vetiver, curry leaves,  tulsi, cloves, cumin, turmeric etc depending on what she feels for the day. The boiled water is portioned out into smaller pots with these ingredients and set to cool. This routine happens along with making coffee.
Though for ages it did not come to my thoughts that I gladly drink tap water here in Australia, one night I woke up and remembered these and was so badly wanting the curry leaf tea infusion she keeps.
What are curry leaves?
That South Indian favour leaf that gets added to most curries to create a unique fragrance is curry leaf. These are the leaves of Murraya koeinigi plant or the sweet neem plant.  This is different from the curry plant that is commonly sold in florist shops. This shrub is slightly harder to grow and prefers a tropical climate.
The pinnate leaves, kadi patta, are of interest. These find culinary uses by boiling into the curry or by tempering with oil.
Do I use fresh or dried curry leaves to make tea?
This depends on availability. Without a doubt fresh ones are more fragrant however of you don't have access to fresh dried ones will work perfectly too.
How to preserve curry leaves?
Fresh leaves: the fresh curry leaves stay good for up to a month in the refrigerator. Line a fridge-safe box with kitchen tissue. Now place the cleaned leaves in it without much water sticking to it. Cover with another tissue and seal the box. This will stay fresh and you will be able to remove leaves as you need
Dry leaves: if you get more leaves in one go, then you want to save them for longer. Wash and dry the leaves with a kitchen towel. Now separate the leaves from the stalk and lay them as a thin layer on a clean kitchen towel. You can place the towel on a tray to help you move it if needed. Shade dry the leaves for 2 to 3 days. Once dry and if they snap to fold, pack them in airtight bottles to store.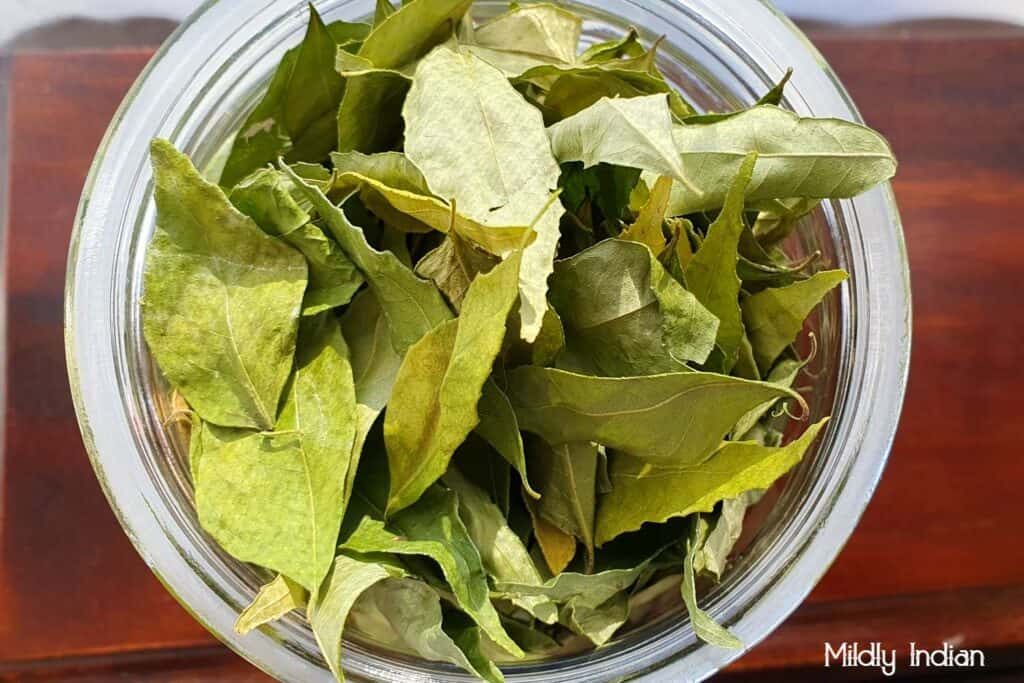 Ingredients to make curry leaf tea
Curry leaves: curry leaves as discussed above can be fresh or dried. Since curry leaves are expensive outside India, preserving them as dried makes sense. This is what I have used to make tea.
Water: Drinking water that is boiled is used to make this infusion. You can boil water on a stovetop or a kettle.
Lemon juice: this is not an essential addition to the tea, however, if you have nausea or are stressed,  I find the lemon helps to calm down. Also, I like the freshness it adds to leaf tea.
Honey: slightly sweetened tea tastes so good. You can avoid this completely if you like and just have the leaf infusion.
Let's make tea
Brewing this tea is a simple process. Boil the water and pour over the curry leaves. Wait for 3 to 5 minutes. Strain the liquid and add a squeeze of lemon and a bit of homey. Stir the honey and enjoy the warmth of the tea.
Curry leaf tea
Ingredients
20

leaves

curry leaves

2

cups

drinking water

1

tsp

Lemon juice

2

tsp

honey
Instructions
Bring the water to a boil.

Add the curry leaves and let them simmer for a few minutes.

Strain add the honey and lemon

Stir and enjoy the warm curry leaf tea.
Benefits of curry leaf tea
One of the Ayurveda go-tos for all hair problems is curry leaves. However, the best of curry leaves that have been studied is its antioxidant properties. These come from the alpha-terpinene, murrayanol and other protective alkaloids, phenolic compounds and glycosides that are present in this plant.
Curry leaves have been studied in many anti-cancer medicinal studies. The girinimbine compound that is found in these leaves has been studied towards colon and breast cancer types.
Relieving nausea Ayurvedic and Siddha medicine promotes curry leaf tea for morning sickness. Probably because of the fragrance that helps to block other flavours and smells that may trigger off morning sickness.
The protective effects of curry leaves on the heart and to reduce cholesterol are yet another interesting study that is common. Curry leaf extract has shown a reduction in cholesterol and triglyceride levels in rat-based studies.
There are many more studies and folklore medicinal effects attributed to curry leaves. However, these if for medicinal reasons should be discussed with your physician before you consume.
Caffeine free teas 
Dandelion tea with fresh flowers
Dragon eye longan tea with Oolong.
Stay connected
The fragrant curry leaf tea does not feel like drinking curry but like a leaf infusion that is aromatic. Hope you will try a sip and if you enjoy it let us know in the comments with a rating. Stay in touch through Instagram or Facebook and keep subscribed as we explore more in the culinary world.