One of the basic ingredients I use least in my cooking is garlic. A bulb or two that I buy stays for a few months. I love to think that I conveniently forgot about them. The only time they come out is predominantly when I make spicy spaghetti. The reduced entry of the garlic in my kitchen has to be attributed to the fact that mum and mother in law both don't use it in their cooking. Of late, I have been deliberately trying a bit more. The best way we consume a bit more is to have it as a pickle.
The achar masala
This instant garlic pickle recipe is branched off a basic achar masala that my mother uses to pickle almost any fresh ingredient that she grows. The main ingredients of her basic achar masala are- rock salt,  seed removed dry red chillies are pounded to achieve the coarse texture and the coarsely powdered yellow mustard. To this she adds asafoetida for some, curry leaves for some others etc. This is almost the same mix we have used in Menthiya manga oorgai.
The best pointers to get this pickle perfect.
There are a few things I noticed that gets this garlic pickle a perfect 10.
Get fresh garlic bulbs to prepare this pickle. The pre-peeled ones are ok, but the frozen ones really don't work. The pickle gets spoilt and watery faster with the frozen pods.

If keeping for a few months, keep the entire amount of oil as this is the preservative. If not, separate out the oil like I have done in the video and use it as garlic oil for your pizza or pasta.

I have used vinegar, you could use tamarind paste or lemon in this pickle. The measurements for each are in the recipe notes.

The giant garlic pods that I find here are the ones used in this pickle. The pickle will be pungent and tastier if you use the ones that have thinner, elongated cloves.

You can add a second layer of fragrance by tempering with mustard, fenugreek and curry leaves.

If the chilli is a bit too strong for you, add a pinch of jaggery while cooking the garlic.
Are you ready for the ingredients and measures?
Instant garlic pickle
Ingredients
Achar masala
1

tbsp

Rock salt

2

tbsp

red chilli powder

2

tsp

yellow mustard

(crushed)

1/4

tsp

Asafoetida
To make the achar.
1/4

cup

Sesame oil

1/4

cup

vinegar
Instructions
Into a frying pan on medium heat add the oil.

As the oil warms up add the peeled garlic cloves and slow roast them.

Add some salt and let them brown it slightly.

Into the warm pan add the red chilli flakes, crushed mustard and asafoetida.

Slow roast this in the pan for a few minutes.

Add the roasted garlic with oil and salt and mix it well.

Now add the garlic and mix well.

Remove from heat, let the pickle cool.

Store the pickle in an airtight jar in the refrigerator.
Video
Notes
If you are using tamarind pulp: 1 tsp of tamarind paste instead of the vinegar.
If you are using lemon juice: stir in a tbsp of lemon juice to the achar masala.
Here is a quick video of this recipe. 
xxxxxx
In fact, the pickle is elusively tasty. The flavours actually get us to add a few pods on our plate each day. Though made with basic pickle ingredients,  this garlic pickle pairs fantastically with a South Indian meal, a roti dal platter or even some payaru kanji.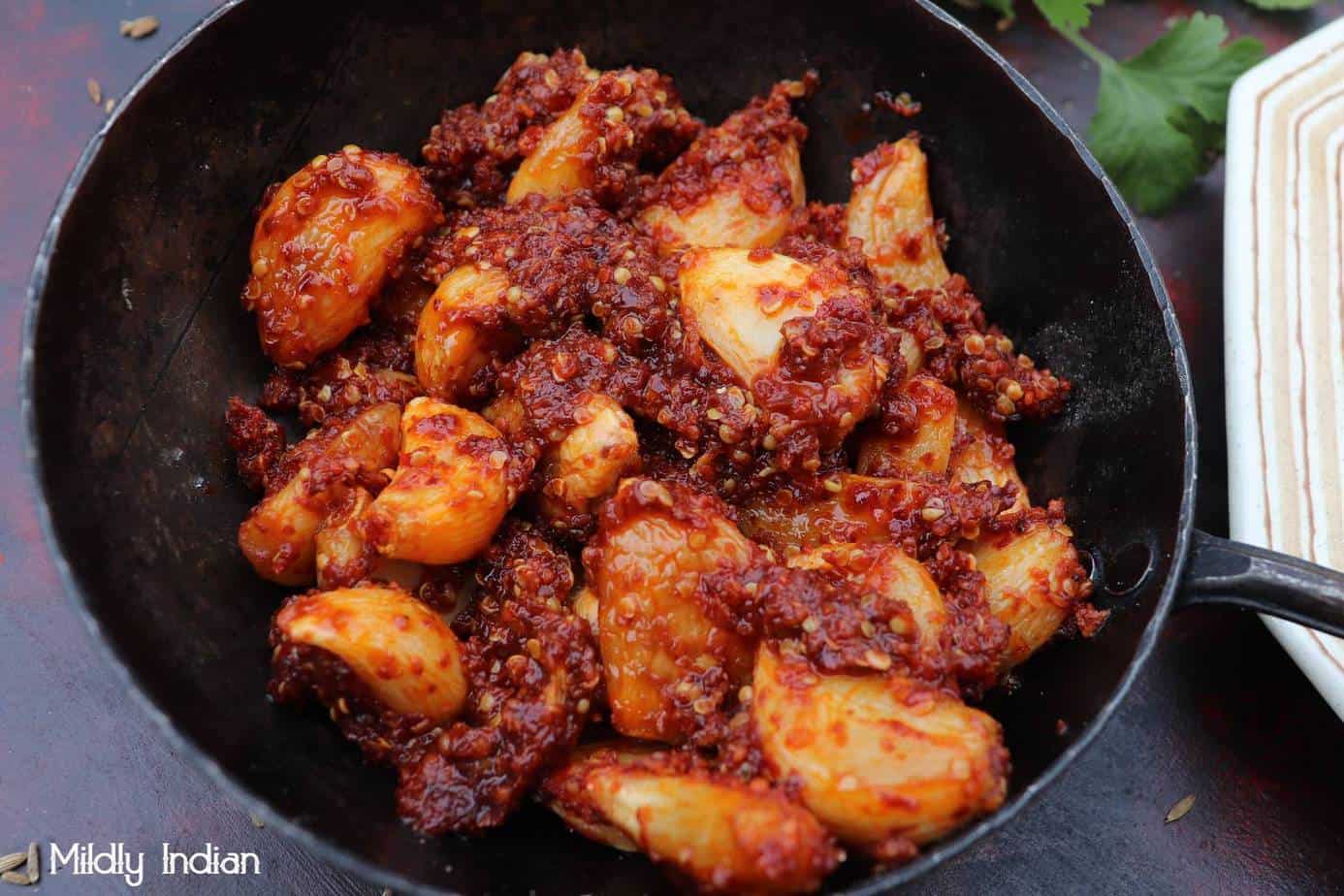 We took a liking to this recipe that we are taking turns to peel the garlic and this is a loved chore of late. Thanks to lockdown, no animals or people were harmed by the excessive garlic use (wink!! wink!!). I am sure you will love the taste of this instant garlic pickle too. Try it even if you are not a huge garlic fan. It converted us, may convert you too.
Stay safe and keep in touch with us.