Most of Afghani recipes are meat based. Along with the staples there is a great amount of usage of dairy too in the cuisine. The use of yogurt and yogurt based marinades are prominent in the cuisine. As in any other cuisine, drinks / coolers play an important role in this region too As much as it is popular it is propagated as a national drink in the Turkish region.
This drink plays up as Ayran or tan in regions all the way from Iran  or ancient Persia. You could literally cover up all the ancient trade routes by checking the availability of this ( a great summer project for kids). It is one among the dairy fermented dishes along this region.
Why yogurt is good for you?
Fermentation as a process improved the digestibility of milk. Also,  found use as milk has limited shelf life and fermentaion helps to extend this process. . It highly improves the probiotic value of the foods too, hence considered cooling and diet friendly.
The beat the heat drinks/thirst quencher, rich in probiotic  in this region. It is the one which I am introducing today is a summer drink.  Served commonly in lunches and at restaurants. to the Indian palate, the familiarity feel towards  chaas…with a great crunch  of the cucumbers is the Doogh / Ayran. It has a filling salad feel when you really dont want to load your stomach.  It is light and easy with low fat option. This is a lovely drinks/ cooler recipe to have on a summer brunch day.
The  drinks recipe is loved by dieters looking for low fat recipes and is absolutely diabetic friendly.
So,  lets begin the lovely brunch with a tall glass of this lovely drinks.
 Also, you can check out the link for more varieties of summer coolers
https://mildlyindian.com/recipe-index/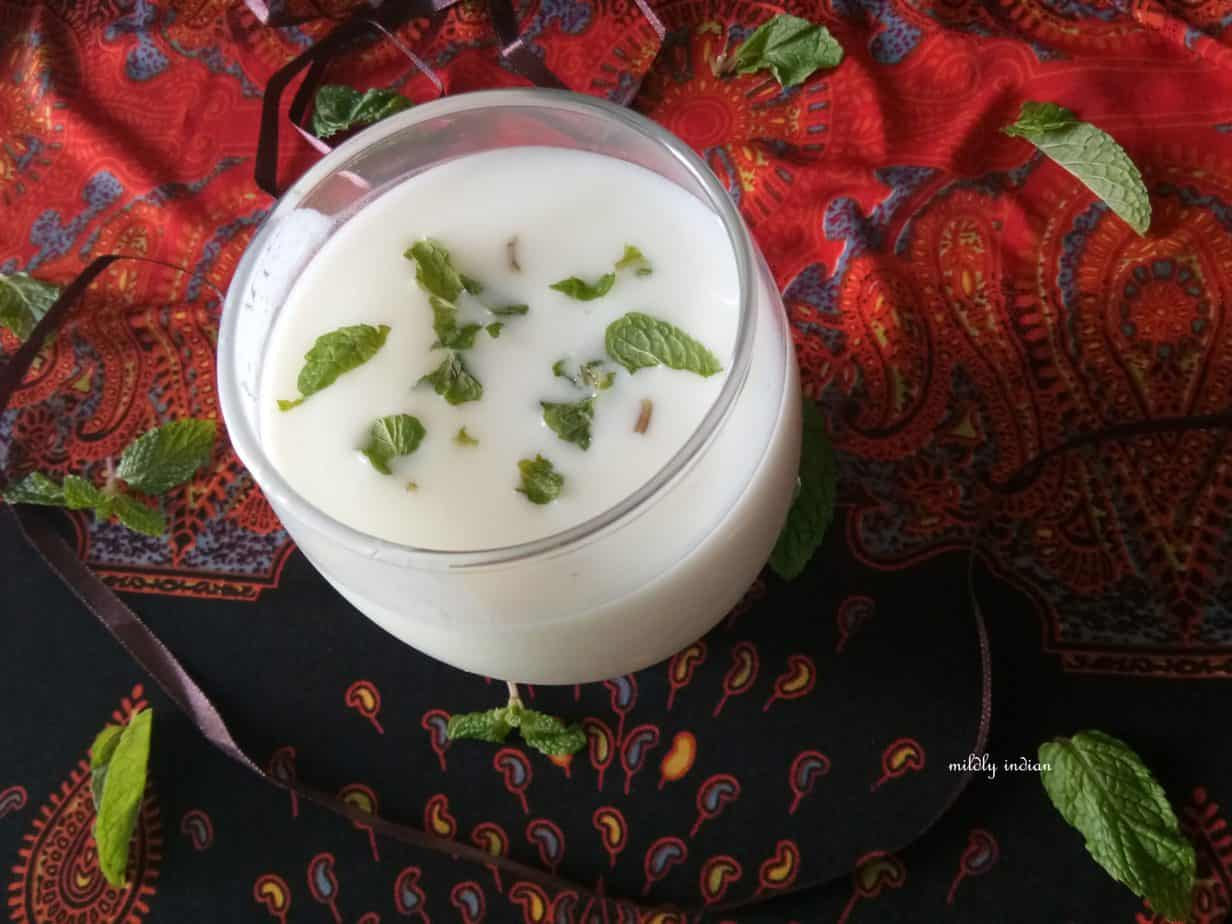 Afghani doogh
Summer probiotic drink
Ingredients
2

nos

cucumber

3

cups

yogurt

low fat

3

cups

drinking water

ice cold

1

tbsp

roasted cumin powder

save half for garnish

1

tsp

dry mint

crushed

salt

to taste

mint

leaves , fresh
Instructions
Peel the cucumber and remove the seeds

Grate them on a fine grater

Mix the chilled yogurt , the cucumbers, half tbsp roasted cumin powder, the salt, ice cold water and dry crushed mint.

Whisk till a bubbly top is formed.

Chill in tall pitchers till use

To serve- Pour into tall glasses...top of with a sprinkle of roasted cumin powder and fresh mint. Enjoy cold....
Notes
You can directly use butter milk and follow the same procedure.
Nutrition
Serving:
100
g
Calories:
71
kcal
Carbohydrates:
8
g
Protein:
6
g
Fat:
2
g
Saturated Fat:
1
g
Polyunsaturated Fat:
0.05
g
Monounsaturated Fat:
0.4
g
Cholesterol:
6
mg
Sodium:
74
mg
Potassium:
315
mg
Fiber:
0.4
g
Sugar:
8
g