There is not a single day of my teen life that my mum would have let me skip the mandatory "nendrapazham". I don't think she looked at the huff puff and stinky looks I gave her about this. For her, she was giving the best to her child. Then came my older one who grew up a good part of his baby life with my parents. For him too, early baby food was steamed ripe plantains or homemade plantain cereal. As he grew up, there was always the plantain chips that took over the world if packaged potato chips.
Here is the recipe for the Plantain banana chips – Plantain banana chips
This happens because plantain is an easily available, healthy option in Kerala. Among the banana varieties that grow in tropical regions, plantain is valued for its potato-like starchy composition with more vitamins and minerals.
Commonly served as steamed for breakfast it is perhaps one of the healthiest, low effort, balanced breakfast.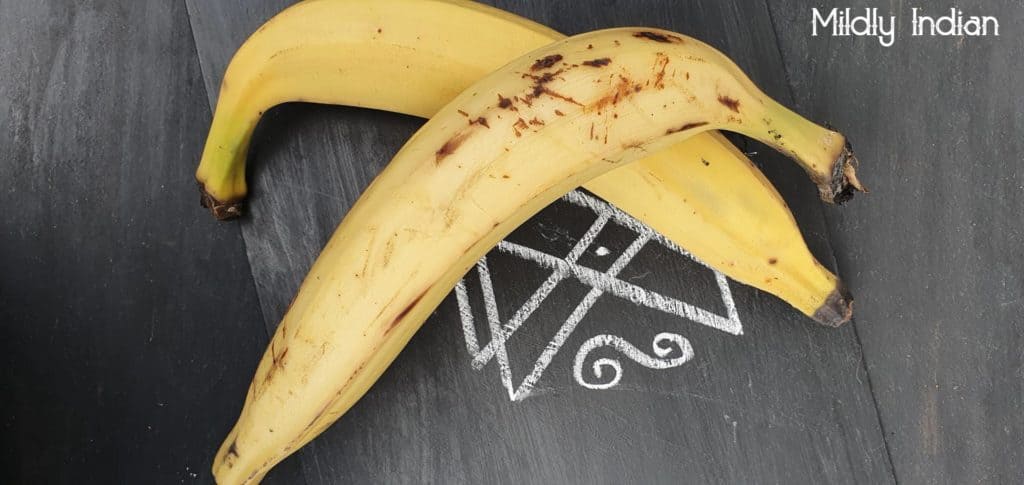 The best combination as per my dad to the steamed plantain is upma and chai.  This is probably because he is not a fan of upma and he can get away with more plantain than upma. Somehow, this combination stays close to my heart. The sweetness of the ripe plantain, the gentle savoury feel of the warm upma and a sip of tea feels perfectly home.
Here are the recipes for Upma and chai.
There is yet another way of serving this recipe. This is the way it is jazzed up when we have guests and need a quick simple version to serve. Of course in a Kerala home, you will always find plantain banana and coconut. the combination of the two with some nuts and raisins make them simply steamed plantain into an exotic snack.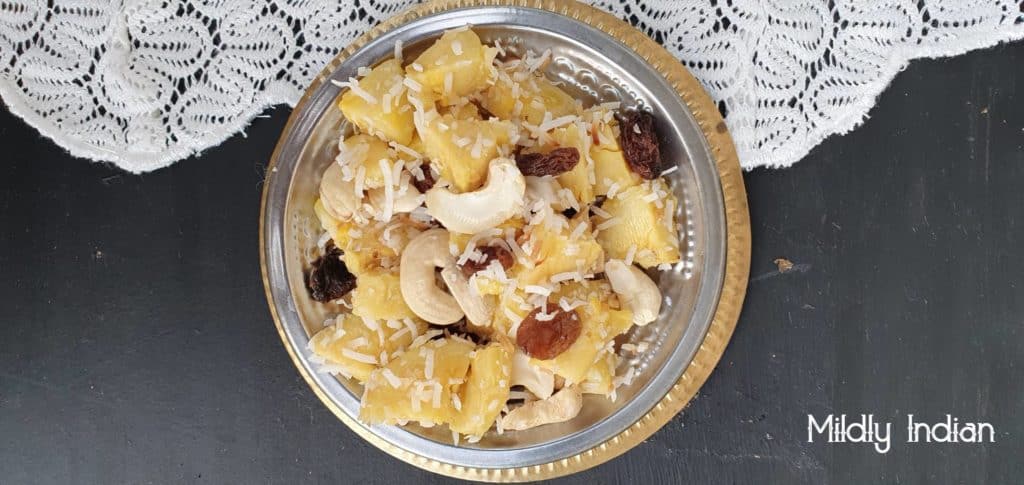 Here is what you need to do.
Heat a frying pan with a small dollop ghee or coconut oil. As it warms up add the cashews and let them roast for a minute. Then add the raisins and coconut and roast them till aromatic. Sprinkle a pinch of cardamom powder and a toss in the diced steamed bananas. Remove on to a serving plate and sprinkle with crushed palm jaggery. Te warm of the dish will slowly melt the jaggery to incorporate it. Serve warm with tea.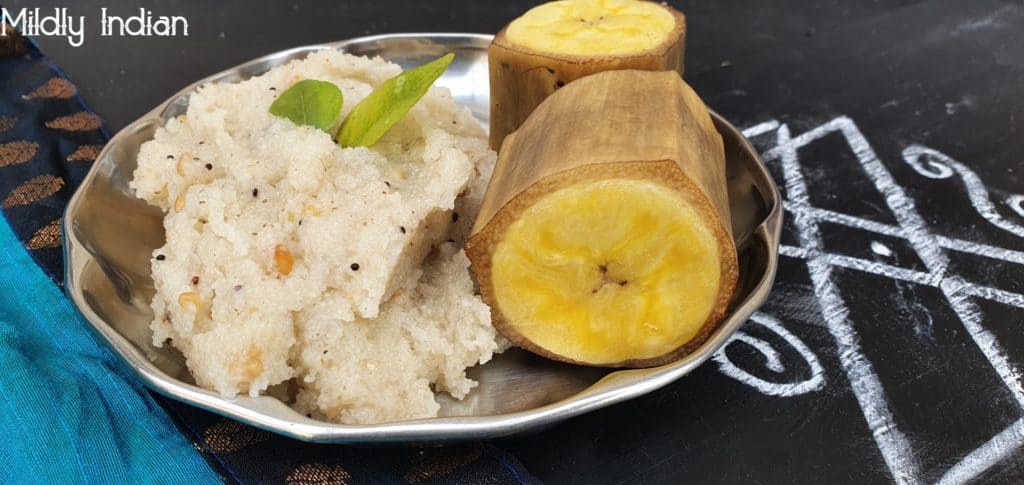 Hope you will enjoy this very simple recipe and introduce plantain back into your homes.
Do catch up with us on our social media portals or pin this recipe for later. Here are the links for you.
Share your nostalgic memories of plantain in the comments. Stay safe and eat healthily.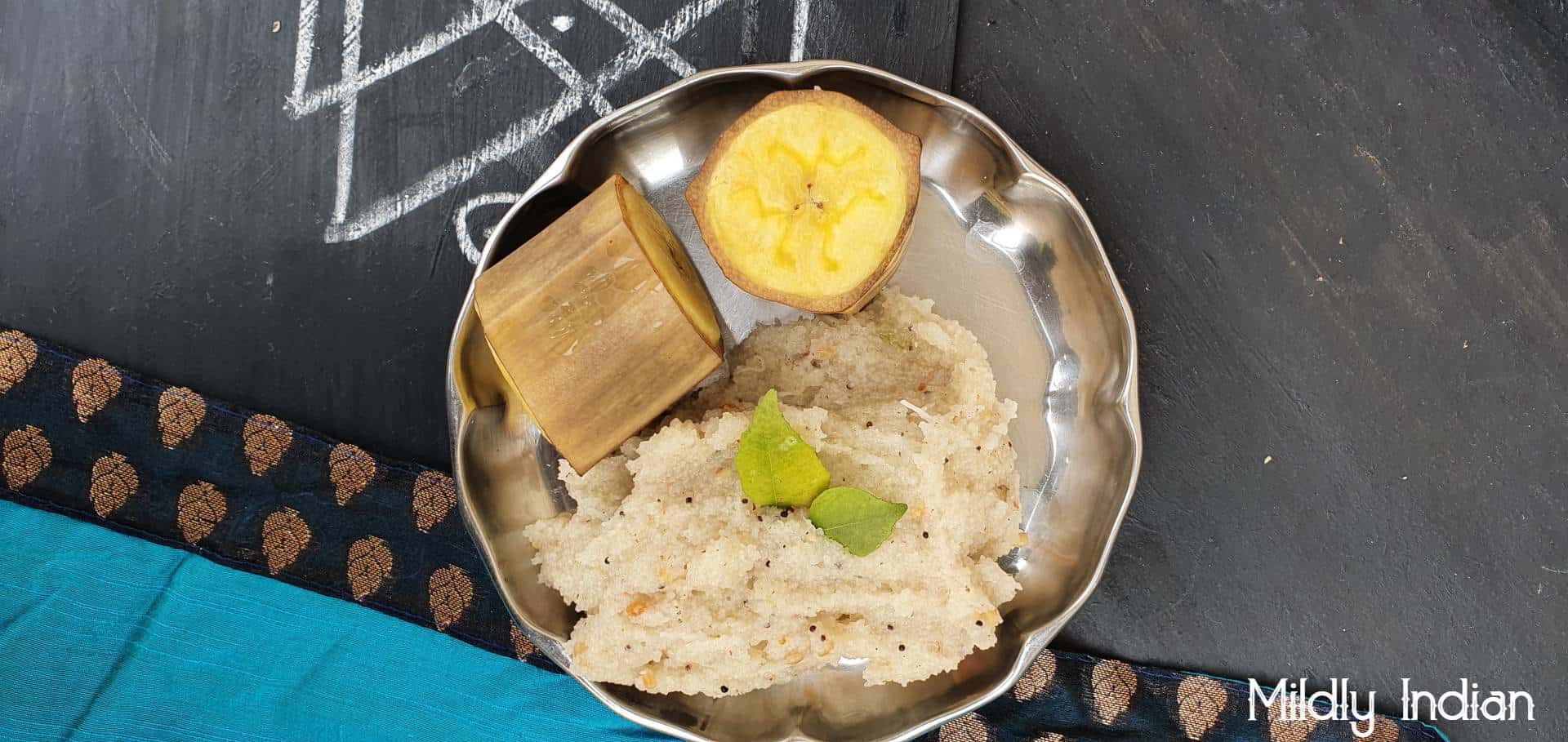 Steamed Plantain Banana.
Gluten free, grain free, oil free easy breakfast.
Instructions
Set water in your steamer with a steamer plate. and let the water come up for a gentle boil.

Wash and cut the plantain about 2 inches thick cuts.

Place these pieces space out in the steamer.

Steam for 15 minutes and let it stand for 5 minutes before opening.