Lunar new year induction
It is about time for the lunar new year. My social media sites are filling with lunar new year images. This makes me absolutely miss the lovey people who embedded the celebration into my life. Those few years in Malaysia had so many lovely people packed in a short period of time. Within a short period of time, the basics of the lunar new year were taught to us. The mandarins passed on sure were good luck. The Ang pav packs were such love in delicately cut red paper envelopes. Ang that eeesang never was a mess. It was quite quickly we blend in and felt well.
Here is an earlier post about this celebration
In saying that, Chinese new year was never complete without a dear friend Effie. Her adorable collection of Jelly moon cakes for the kids always brought home flavours in agar jelly that we had not tried before. The strawberry, kiwi and mango ones were quick to have vanished. It was the litchi, longan and other tropical fruit ones that I was more interested in.
Once she had an absolutely adorable dragon fruit one in the collection. The little seeds of the purple dragon fruit stayed just in suspension, the not so overly sweet jelly worked perfectly with the red bean paste filling. Mmm now that is a jelly mooncake flavour I will never forget!!!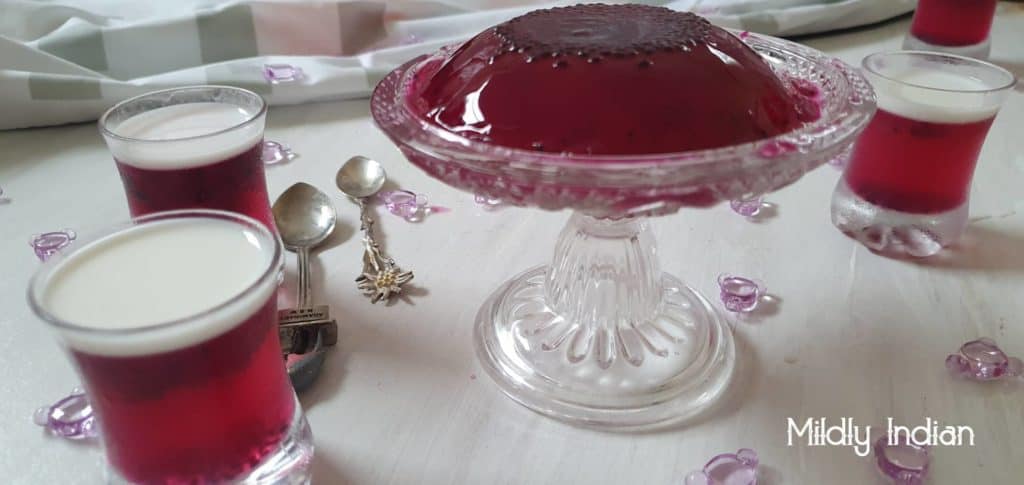 In the present
As the lunar new year is fast approaching, I couldn't help miss the lovely people and the special mooncake collection. So headed to the Asian market and guess what, there I find gorgeous purple bragonfruit..yumm. Bought a few and came home.
The colour of the purple dragon fruit is out of the world and I simply love the deep pink-purple that it imparts to my smoothies and drinks. So this time, it had to be jelly…
The idea was to start with trying jelly mooncakes and then I realised I don't have any jelly mooncake moulds… So I just had to be agar-based jelly. Agar being an extract from seaweed is much more firm than gelatin. I prefer to use agar most of the time as it is vegan and somehow love the cut feel it creates.
So here we are with purple dragonfruit jelly for the lunar new year. I am missing all my wonderful friends in Malaysia. But still living what they taught me here and enjoying every it of it.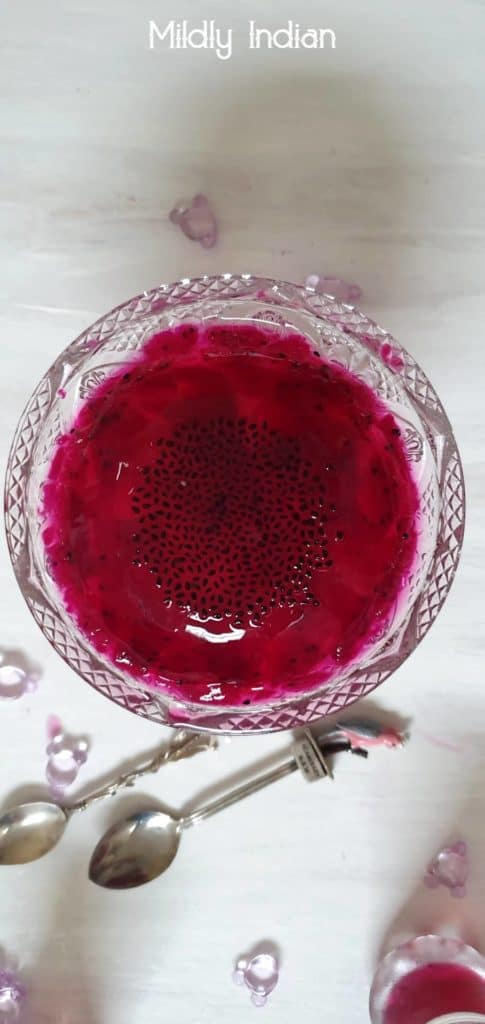 Print Recipe
Dragon fruit jelly
Yum
Chinese new year celebration
Wash, peel and cut the dragon fruit into small pieces.

In a saucepan add the water and stir in the agar without lumps.

Add the pandan leaf to the mixture and heat it

when the agar is fully dissolved and the mixture boiled well, remove from heat and dicard the pandan leaf.

to unmould run a butter knife along the edges and it releases the jelly.