Orange jelly is one of the best sought after desserts in summer. In fact, it is a dessert where age barrier just goes out of the window and it is just pure enjoyment. Imagine, a hot summer day, a gathering of family friends, kids running around and playing and tada… bring out that wobbly tower of jelly. Instantly all heads turn, we all want a bit of it and mmmm.
Jelly confidence
I was quite a person happy dumping the jelly pack and stirring it with hot water and thinking I have done so well till I lived in Malaysia. Here I saw so many varieties of crafts with the agar jelly from the raindrop cake to birthday jelly cakes which have every imaginable flower in them. I enjoyed the gentleness of that gar jelly when combined with the natural fruits rather than chemical-laden jelly mixes. Here is where I learnt how different konjac can be from gelatin.
Here is what we experimented at home to learn some jelly science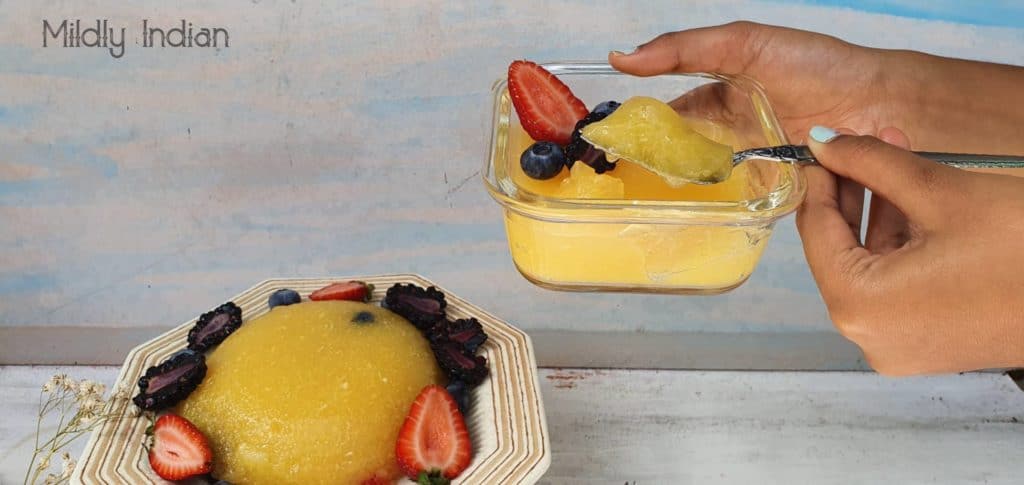 Agar-Agar stories
I guess my association with agar goes to ages much before Malaysia. It goes to my postgraduate days in Manipal where we were trained under the careful eye of the lab chief to pour and set agar plates for microbial growth. Different types, colour, medium, and by god, that place was as hot as a furnace!!! In spite of all that we were young and eager to learn. Actually,  this makes it easy for me to understand the setting pattern of agar-based edible jelly now. I am unsure if the current batches of students do get this training as now Petri plates are pretty much pre-poured.
Back to the present
I am not an expert in creating that bouquet like beautiful jelly cakes, I do manage a few layering tricks and that's it. However, I learnt how some natural fruits actually create dessert better than the storebought ones. the ones I commonly make are a berry-based one and lemon grass jelly( click here for recipe) In summer however orange juice become boring and orange jelly takes over incessantly. since the whole fruit is involved I don't mind the idea of jelly fro breakfast too. Happens so often in my house. If you are feeling exotic, try this Dragon Fruit jelly
The orange jelly will work well with Agar, konjac and gelatin. But the firmness depends on the medium. I like the agar firmness as it sets better, however you give it a try too.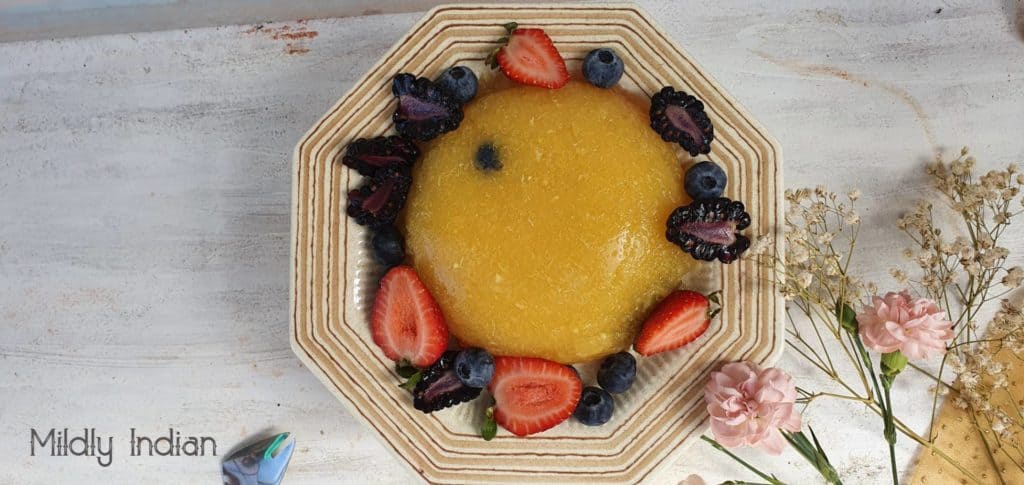 So no more summer orange juices, stick to orange jelly.
See you soon.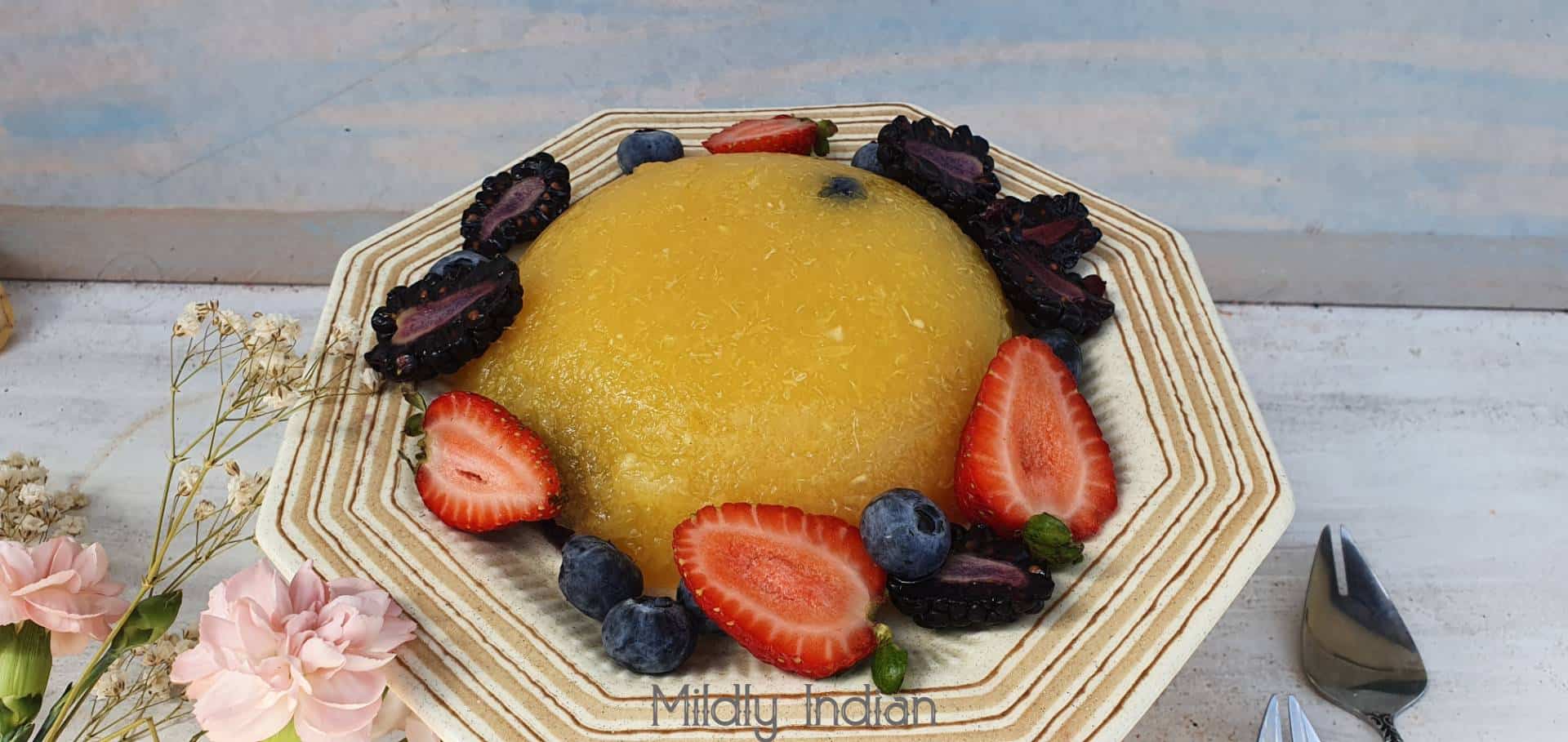 Orange Jelly
A jiggly wigglly jelly for all
Ingredients
3

gm

agar agar

powder

50

ml

drinking water

500

ml

orange juice

freshly squeezed

35

g

sugar

unrefined, use only if the oranges are sour
Instructions
Bring 50 ml water to a boil in a saucepan

Stir in the agar powder and the sugar. Allow  them  incorporate  well. Make sure they dont form any lumps.

Stir and cook until they appear clear. it takes less than a minute.

Set aside to lower the temperature, make sure it just cools down a bit. If cooled in the refigerator the agar will set, so leave at room temp.

When it becomes luke warm add in the orange juice and the pulp and stir well. This will prevent the orange juice from becoming bitter.

Pour into the mould to set. Cover the mould. Keep in the refrigerator for three  to four hours.

When ready to serve.. run a knife dipped in hot water along the sides of the jelly to loosen it.

Invert onto the serving plate and decorate with fruits.

To serve cut slices...and serve chilled.
Notes
The pearls of orange help to enhance the orange flavor.
Change the Sweetener as per your choice or remove it entirely.
Nutrition
Calories:
60
kcal
Carbohydrates:
15
g
Protein:
1
g
Fat:
0.2
g
Saturated Fat:
0.02
g
Polyunsaturated Fat:
0.03
g
Monounsaturated Fat:
0.03
g
Sodium:
1
mg
Potassium:
168
mg
Fiber:
0.2
g
Sugar:
13
g