It a year since the  MildlyIndian website is up!!!
A blog anniversary is always an exciting chapter. 4 years into blogging and whole new learnings in the blogging arena. Performing the multiple roles of the recipe developer,  photographer,  stylist, traveller,  adventurer, the promoter, the author and with behind the scenes solid pillars of the family. It brings a hobby into life creating a trail of memories and learning. Starting from absolute no idea of the complex world of blogging, I am super happy to see the blog standing and moving forward. At present with 200 published posts, a few pennies in our pocket and 4.5 Lakh views in a year…I am ecstatic.
To celebrate this beautiful day here is a recipe which tugs my heart, a recipe from Penang where I began the blogging journey. 
The lemongrass influence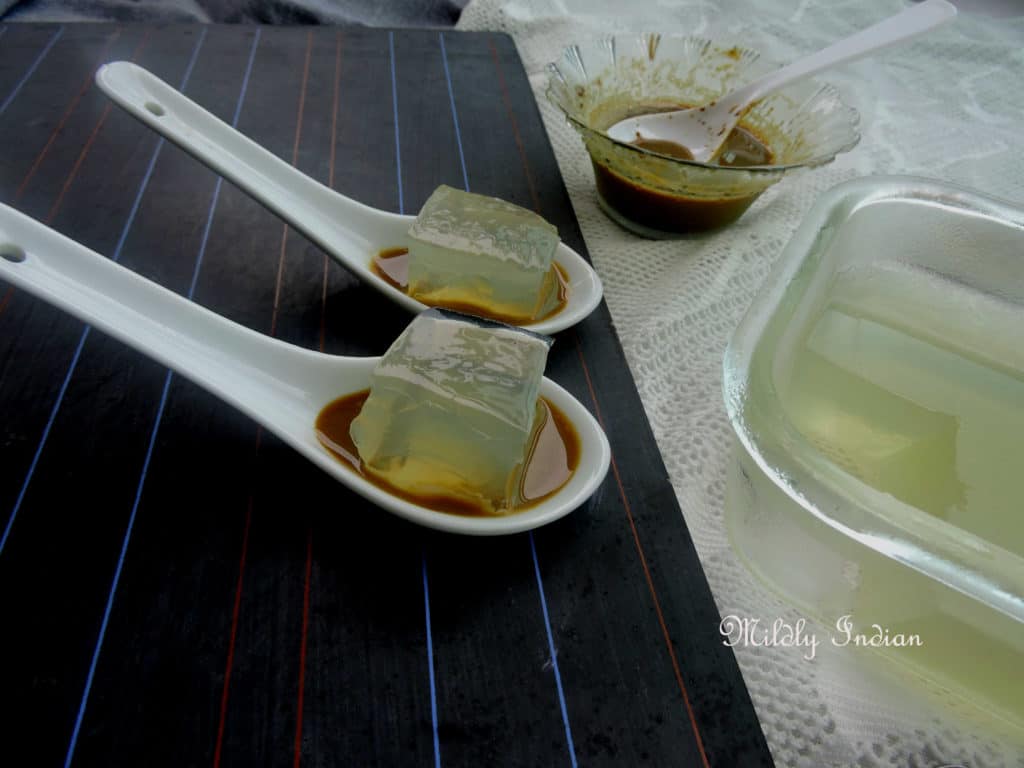 I love the flavour of lemongrass which a few of my friends add to the cup of tea. In Penang Pandan and lemongrass are commonly added to steamed rice, making it so fragrant. Lemongrass being an easy grass to grow, it has come up really well in my tiny windowsill pot.  Snipping a bit of the leaf and adding it to tea or rice has become quite a habit. 
A month back I transplanted these to a pot in the balcony and it just grew profoundly. Our shared cat, Blake loves to chew on these blades. When he is not around they grow back with a vengeance. With an abundance of lemongrass, I wanted to make it special. While browsing, I chanced upon a recipe for jellies with tea and herbs. This prompted me to make this sugarfree jelly. 
Leaving Malaysia
  It is evident that our job is going to take us to a new place. Penang has been my home for more than 3 years now. The mixed feeling of needing to leave Malaysia and rediscovering myself in new lands is exactly what this jelly treat presents to me.
A bit cloudy ( like my thoughts) and firmer than wobbly (in belief)

A sweeter bit with a big kick of the tropical Asian favourite flavours, which I will surely carry forth

An aftertaste of ginger to fuel the new energy needed for a new adventure.
I guess, my association with these Asian flavours will always be close to my heart. My idea of jelly being that sweet, overly colourful dump the pack gelatine no longer exists. Malaysia taught me jellies are cool, can be full of fruit, modelled into a cake and totally vegan. It can be the one to satisfy the topical need for hydration. Try this no added sugar recipe, with Agar or Konyaku, they make firmer desserts which are so beautiful for summer months.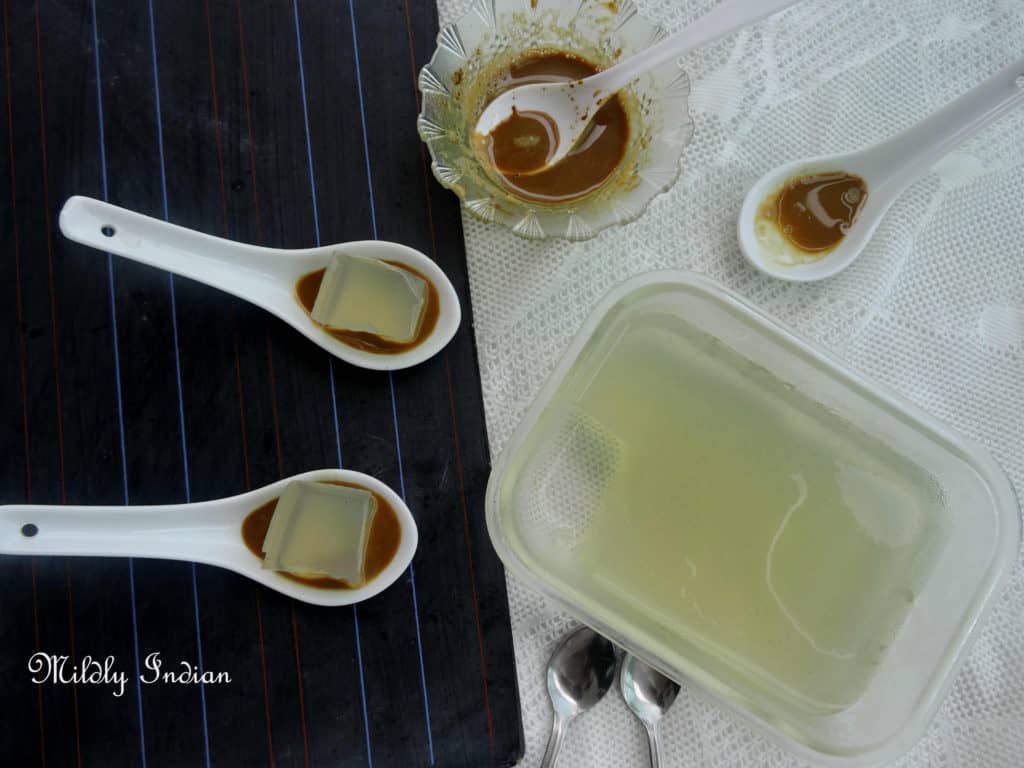 Stay with us
Don't miss to subscribe or follow @mildlyindian, as I pick out and try easy and different recipes to add to your collection of "eat well" ones. Check us out for weekly updates.  Stay on weekly for new adventures in travel and cuisine.
Here are a couple more fruit-based jellies with agar
 Do let us know when you try these recipes. If you are planning to save this recipe for later, Pin it here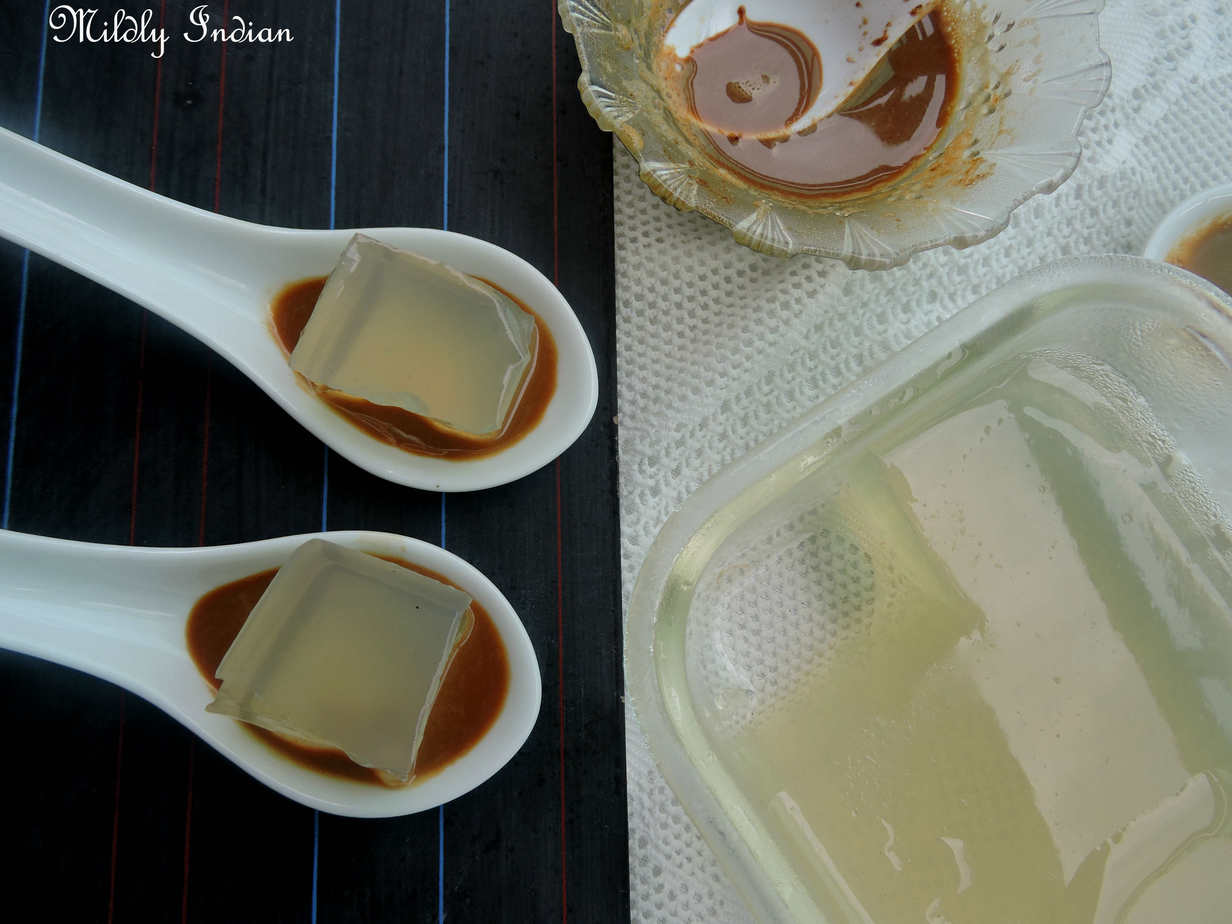 Jelly lemongrass with ginger-gula  melaka  syrup
Asian inspiration for a delicate dessert
Ingredients
For the jelly
1

handful

lemongrass

leaves or stalk,chopped.

350

ml

drinking water

1

tsp

agar agar

powder
For the syrup
200

ml

drinking water

60

grams

Palm Jaggery

Gula Melaka, Panaivellam

2

inches

fresh ginger root

grated
Instructions
Dissolve the agar powder in two tbsp of water and the add it to the larger amount of water taken in a saucepan.

Add the crushed lemongrass stalk or leaves to it and bring to a boil

When the liquid has boiled well, Remove from heat and pour into the desired mould.

Place the mould in the refrigerator for cooling

Into another smaller sauce pan add the ingredients for the syrup and slowly bring to a boil.

Simmer for 5-7 minutes so that the ginger can infuse well

Take off the heat and cool for 10 minutes

Strain and set the syrup ready for serving

To serve,cut pieces of the agar and pour the syrup over it.