"Love is that condition in which the happiness of another person is essential to your own."
– Robert A. Heinlein
How can you miss this most romantic ingredient during the season of Celebration of Love, the Valentines Day?…Chocolate.
Have you seen how chocolate induces the lovely sense feeling called love. The rich cake or a mousse  picture all evoke a craving and  a melting in love feeling…. have you wondered if chocolate was playing the cupid????
Chocolate is rich in carbohydrates and carry about 350 different types of chemicals ( dont be alarmed… most complex food stuff carry more). The carbohydrates with addition of milk solids and sugar, elevates the sugar rush to the blood. In turn this increases the rate with which tryptophan( the brain signalling chemical)enters the brain. Tryptophan controls the mood regulating compound serotonin. The inflow of tryptophan and thereby the serotonin causes results creating a good feeling.
  Some more cupid players are-Phenylethylamine generating a feeling of alertness and contentment all leading to a feeling of well being.
&Theobromine is found naturally in cocoa and acts as an anti-depressant.
There now that we know how chocolate tricks us in to love and  has always made our heart beat faster… what better way to skip a beat seeing your loved one smile at a large  rich chocolate cake with healthy muesli!!!
So this Valentine' s day pick up your apron, gather up a few ingredients and lets bake a easy- no slog version. Flavor it with all your love, spend a lovely evening together as the bake smell fills the air.
Enjoy the love, the smiles and do share your happiness with me in the comments. Don't miss to add a pic as you try this bake in the comments. There is nothing better than sharing your experience.
Happy Valentines day!!!!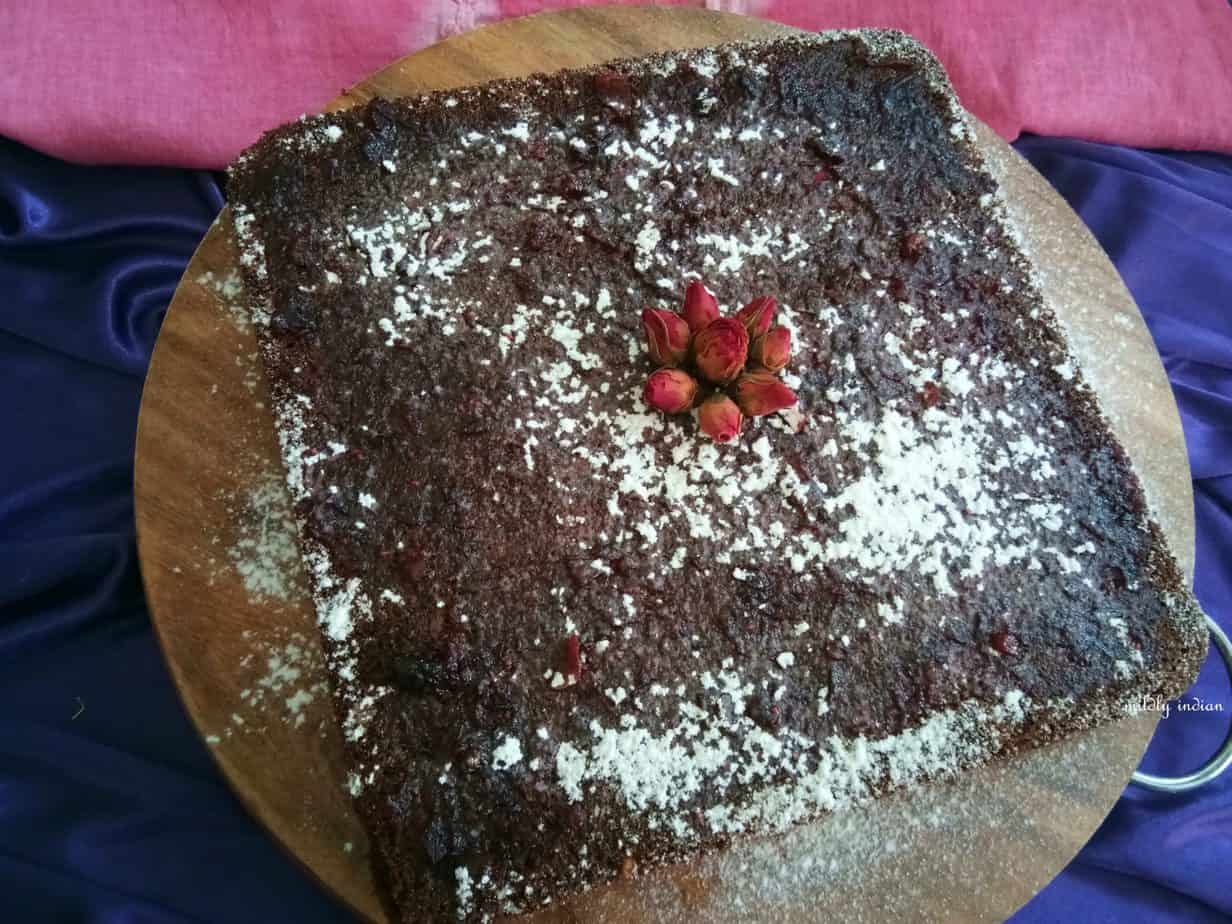 Dark chocolate muesli cake
Chocolate cupid ...
Ingredients
2

nos

Banana

yellow long variety

2

nos

egg

2/3

cup

oil

I used a mix of cocnut oil and olive oil.

1

tbsp

chocolate powder

dark chocolate

1/2

cup

brown sugar

1/2

tsp

instant coffee powder

1

cup

whole wheat flour

1/2

cup

muesli

1

tsp

baking powder

1

tsp

baking soda
Instructions
Preheat the oven for 10 minutes at 180 degrees.

Line a cake tin with grease proof paper.

Peel and mash the banana in a large mixing bowl.

Crack the two eggs in a small bowl, then add it to the banana.

Add in the sugar, oil, chocolate powder and instant coffee powder and whisk till frothy.

Into the same bowl add whole wheat powder, muesli, baking powder and baking soda.

Gently fold the dry ingredients into the wet ingredients.

Don't over mix. The mixture looks lumpy its fine.

Pour the mix into the prepared cake tin.

Bake at 180 degrees for 15 minutes

Check with a skewer. If the skewer comes out clean the cake is done.

Remove and thaw the cake.

Decorate as per choice. I did spread a table spoon of mixed berry jam and sprinkled with icing sugar. To top it off used some dried rose buds.
Nutrition
Serving:
100
g
Sodium:
237
mg
Sugar:
20
g
Fiber:
3
g
Potassium:
244
mg
Cholesterol:
47
mg
Calories:
341
kcal
Monounsaturated Fat:
7
g
Polyunsaturated Fat:
10
g
Saturated Fat:
3
g
Fat:
21
g
Protein:
4
g
Carbohydrates:
36
g