My understanding of thiruvathira festival is only through the stories my mum rides from her childhood. Thrivathira or Arudhra darshanam is a festival from the south of India. Not to confuse with the elegant artform the thiruvathira kali  dance that is performed by a group of women, the thiruvathira kali recipe that we are discussing today is a soft halwa like preparation made with rice and jaggery (natural cane concentrated)
Snippet the thiruvathira festival
Thiruvathira is one of the lesser known festivals from South India. Yet again, it is one where women create an opportunity for a good get together and a wonderful time with food, music and dance. Thiruvathira festival in Kerala is promoted for the well-being of the husband or to bless the young women for a good one.
The festivities are more housebound than commercial. Before sunrise bath in the nearby river or water tank, accompanied by rhythmic singing begins the day. Food, music, dance, the swing etc follow through the entire day. The celebrations continue till midnight and end in "paathirapoo choodal"(loosely translated as a midnight flower ceremony). This is thiruvathira festival in a nutshell.
Why thiruvathira kali recipe is made on Arudura darshanam?
Pleasing Lord Shiva is the whole idea. The legend goes that a poor devotee has been offering food to fellow devotees before feeding himself for a long while. On a particular day he did not have any food to offer, so cooked the few things he had together which was ground rice, jaggery and made it into a soft preparation. Lord Shiva disguised as a devotee loved the offering. The next day the temple priests found remnants of this food all around the temple and realised Lord Shiva had visited the poor man. The man was thereafter paid due respect and the offering from then on for the Arudhra darshanam day always have been this rice halwa, thiruvathira kali.
Ingredients for this rice halwa.
This rice halwa recipe requires only 4 ingredients that you commonly find in most South Indian households.
Raw rice- washed and dried raw rice is roasted till they turn opaque and slightly browned. This is then pounded (pulse in a food processor) to get the coarse mix needed for the halwa.
Moong dal-  skinned and split green gram is moong dal.it is a popular protein ingredient in South Indian cooking. For this recipe, we roast the moong dal till golden and then pulse it to match the rice consistency.
Jaggery syrup- combine grated jaggery with water and boil it till it starts to thicken. Skim away the residue that develops on top and boil the mix till it is pouring consistency thicker than water. Check out the post of Avalpori where we described this in detail.
Cardamom powder- the fragrance comes from the only spice, cardamom or elaichi that is used in this recipe.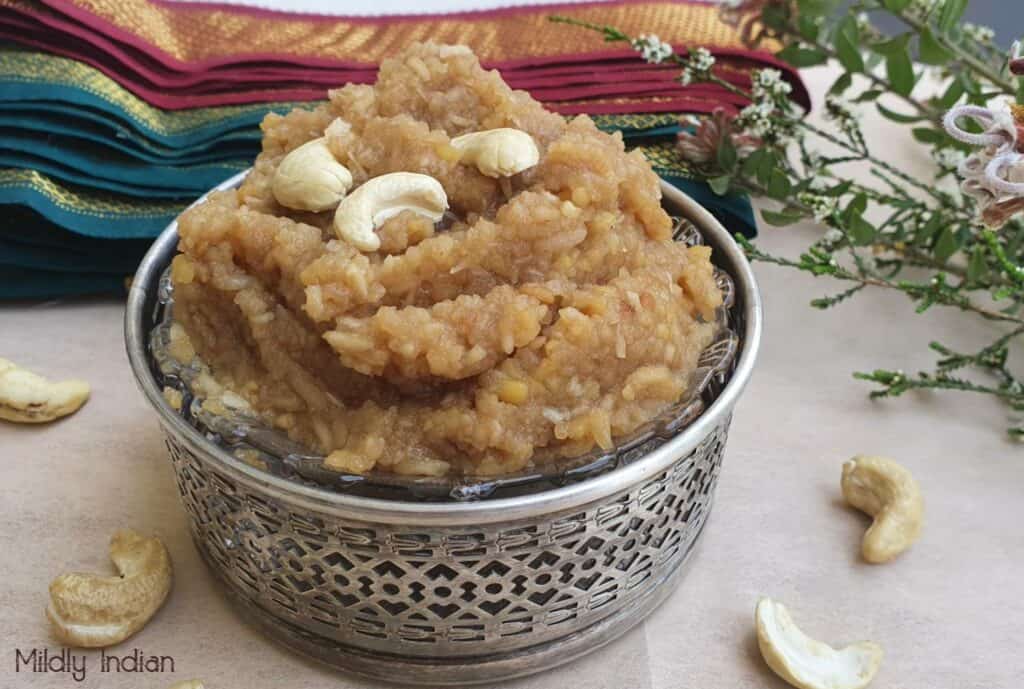 Serving the Thiruvathira Kali recipe
The thiruvathira Kali is never made super sweet or dipped in ghee like the halwa preparation you are used to. It is a much lighter version of rice halwa. Hence it is often served with puzhukku (made with yams or ube), thalagam kozhambu or 7 kari kootu. The combination makes the meal balanced as an entree. Certainly having the sweet dish with a stew-like curry is an acquired taste. Still individually these two are great recipes. 
Thiruvathira Kali
Thiruvathira Kali is a special rice halwa recipe made for the Thirvathira festival or Arudhra darshanam. Try out this recipe, with the special stew that is made during this time.
Ingredients
0.5

cup

Raw rice

short grain rice.

2-3

tbsp

Moong dal

2

pieces

green cardamom
For jaggery syrup
0.75

cup

jaggery

grated

1.5

cup

water
Toppings
1

tsp

ghee

optional

5-7

cashew nuts

optional

1

tbsp

grated coconut

optional
Instructions
Add the jaggery to water in a saucepan.

Set it on medium heat and let the jaggery dissolve.

As it boils remove the floating scum.

Filter this syrup after the jaggery has completey combined and set it aside.

Dry roast the short grain rice in a heavy bottomed frying pan till golden.

Do not leave the pan as it burns fast towards the end.

Remove and set it aside to cool.

Roast moong dal on low heat till golden.

Add half cup water to the roasted dal and cook it.

The dal need not be fully cooked, cook for about 10 minutes.

To this add the crushed roasted rice and mix well.

Now add the jaggery syrup a little at a time and mix it lump-free.

Cover and cook on a simmer till the water is absorbed.

The rice will be cooked by now, mix well and add the crushed cardamom pods.

The thiruvathira kali is now ready.
Optional toppings
Roast the cashews in ghee and add to the kali, if you desire.

Freshly grated coconut also tastes amazing in this recipe.
Stay Connected
I hope you have subscribed to our blog to receive regular updates. We thank you for staying on with us and encouraging us at every step. We would love to have you visit the Youtube channel that we recently updated. Please subscribe, like and share these videos and let us know what you like and dislike about them.
Wish you a happy Thirvathirai festival!