Reading through  Indian mythology it quickly  becomes evident that societies grew and explored various food habits. There is a predominantly  place for food preparation  presentation. This was thereby classified as naivedyam or prasadam. This is nothing but the offering to the favorite deity. Each deity therefore had preferences based on regional cuisine and popular  food patterns. With Krishna there is nothing better than milk, yogurt and butter.
 The story of Krishna evolved around the whole world of farming and cow herding.  With such lovely stories spun under humble surroundings the details make all the difference. With elaborate description  of the milk and various products from it and the elaborate recipes prepared from them provide a curiosity buzz too.Milk, yogurt, butter,  cream, cheese,buttermilk, whey all add up the fullness of life. the preparations to celebrate the birth of Krishna also make sure of the use of these elements too.
Now to the recipe
This gopalkala recipe has been on my previous blog for  quite a while. I have retained the same picture.  This simple and easy recipe is not just perfect for a nivedyam but also is very useful for a quick no cooking lunch or dinner.  The softening of the rice flakes in yogurt and cucumber juice makes it quite adaptable for the young and adults alike. It's perfect for a hot weather.
Check out  some more recipes suitable for Krishna  Jayanthi
Leave a thought on your idea of celebrations and their relationship  with food in the discussion.
Don't miss to catch the latest on our fb page
Instagram
Happy festival time..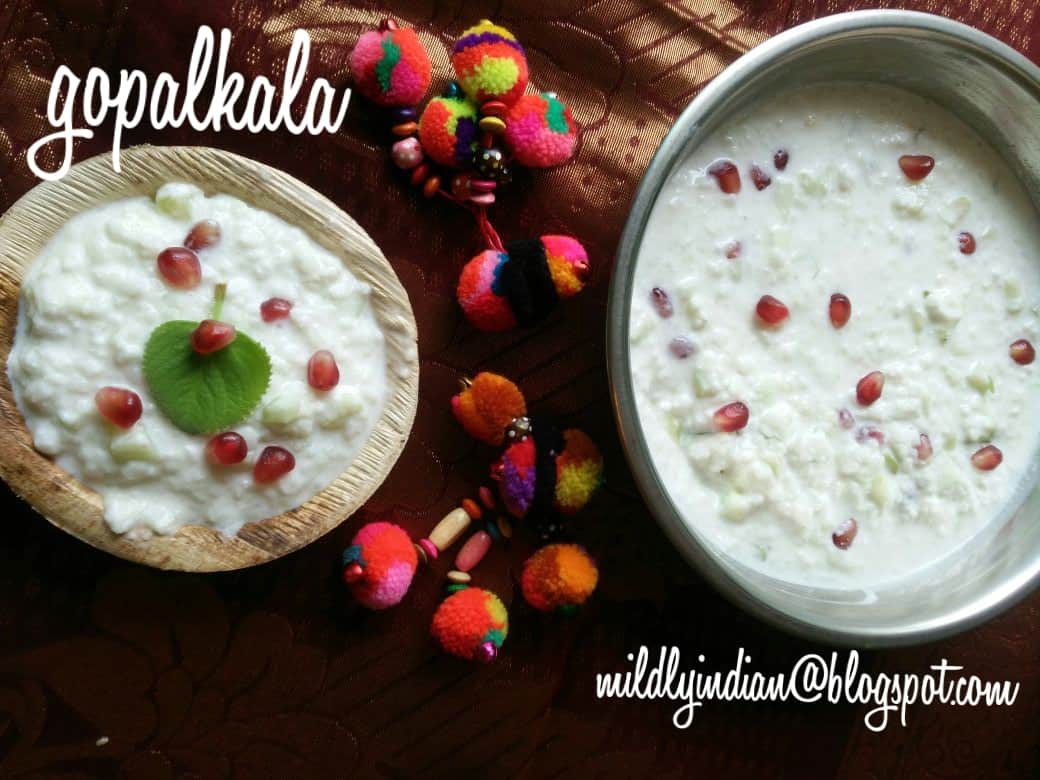 Gopalkala
Rice flakes in yogurt sauce
Ingredients
1.5

cup

rice flakes

red or white variety

2.5

cups

fresh yogurt

low fat

0.5

cup

low fat milk

salt to taste
Additions
1

medium

cucumber

0.5

cup

pomegranate seeds
Tadka
1

tsp

cooking oil

0.5

tsp

mustard seeds

1

tsp

Urad Dal

black gram dal

0.5

tsp

grated ginger

0.5

tsp

indian borage leaves

(ajwainpatta, panikoorka, dodpatre) chopped roughly

0,5

tsp

green chilli chopped
Instructions
Whisk together yogurt and salt.

Add in the rice flakes. mix well and set aside for three minutes.

Meanwhile, wash, peel and cut the cucumber into 1 cm cubes.

Grate the ginger and chop the chillies to keep ready. Chillies are optional.

Wash the indian borage leaf, chop fine and set aside.

Into a small pan add oil, followed by the mustard seeds.

As the mustard splutters, add in the urad dal, chillies, grated ginger, chillies and indian borage chopped. Roast till the are aromatic.

Add this to the rice flakes and yogurt mix.

Add in the cucumber and pomegranate seeds.

Mix well, adding milk to thin out the now early dry mix.

Season with salt and it's ready.
Notes
You can add curry leaves or mint instead of  Indian borage leaves.
Deseed the chillies if you don't like it spicy.
Nutrition
Serving:
100
g
Calories:
187
kcal
Carbohydrates:
30
g
Protein:
9
g
Fat:
4
g
Saturated Fat:
2
g
Polyunsaturated Fat:
1
g
Monounsaturated Fat:
1
g
Cholesterol:
9
mg
Sodium:
266
mg
Potassium:
427
mg
Fiber:
1
g
Sugar:
12
g