The Serradura or the sawdust pudding is one of the easiest desserts that you can put together with minimal effort. Anyway, my kids feel that layered desserts are one in which their mum has poured her heart out so this dessert is for those crazy days when a bit more expression of care is needed in a time-pressed situation.
 In the recipe swap challenge, a health-conscious blogger buddy is my partner this time. Bringing in her Goan influences to the recipes and providing an array of cuisines her blog The Madscientist Kitchen is a wonderful one to browse through. She also touches upon a unique topic, cooking for the aged. This I feel is perhaps one we all should look into as nutrition for the older group is as important as the young ones.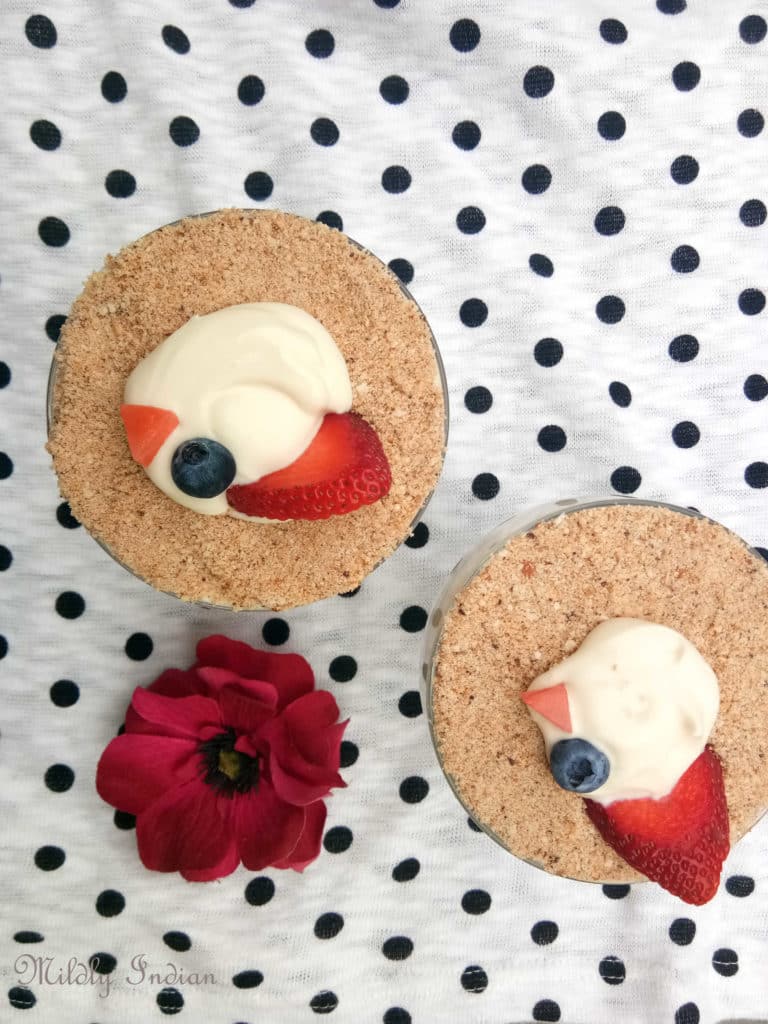 While scrolling through her long list of recipes, what caught my thoughts was how long it was since I made the sawdust pudding. So embarked on that mission right away and roped in one of my elves into the work too. 
What goes in?
The sawdust pudding is also popular as Macau pudding is made with crumbly tea cookies, cream and a bit of condensed milk. The type of cookie you use creates the variations in flavour. The pudding resembles layered sawdust due to the texture of the cookies, hence the reference. A mixed batch of leftover broken cookies can be perfectly salvaged to come together as this eye-catching dessert.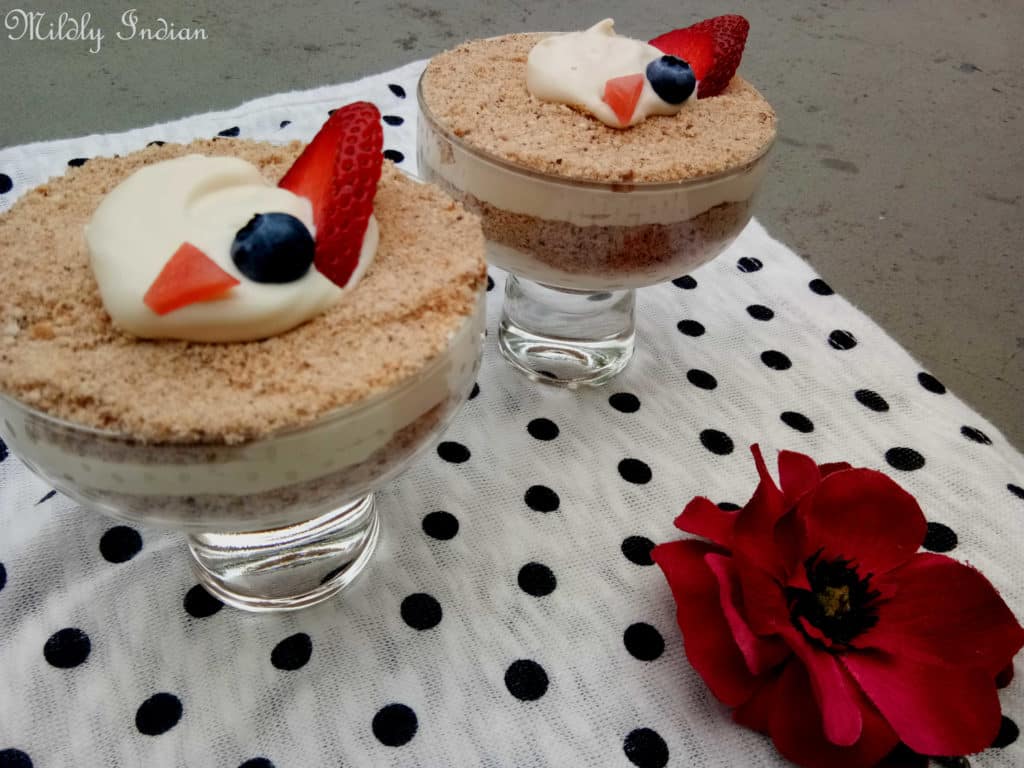 This Christmas season, I know quite a lot of households with tons of cookies which hardly are appreciated. So, this is one you can get the kids to work on and assemble as you head out to the more elaborate recipes. It really gives the children an opportunity to showcase their learning hands and make Santa happy. Personally, I love that it can be done in individual bowls or as a big tray depending on the number of people. As long as, you can whip some cream, this dessert is good to go.
Enjoy the ease of such desserts and see you next week.
Here are a few more really handy ones
I am off to some prepwork this week, what are you up to? Dont miss to pin this to your try out list as no other christmas special can be simpler.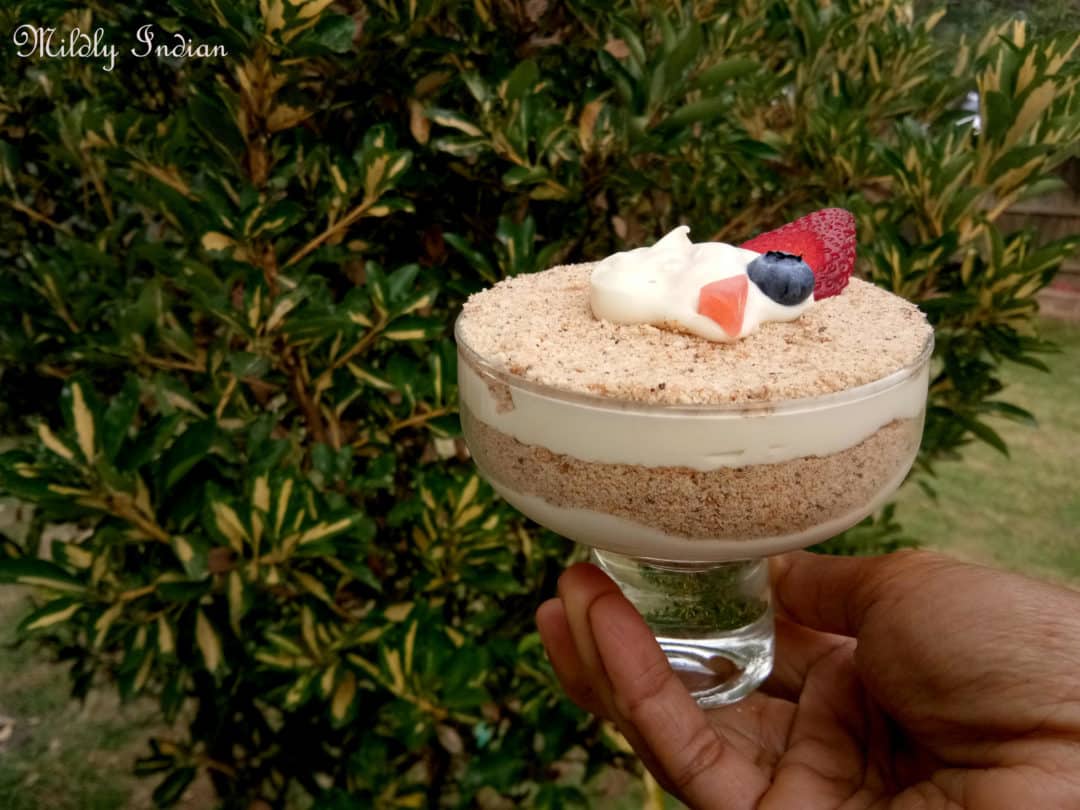 Serradura
Sawdust pudding/ Macau pudding
Ingredients
to whip together
1

cup

cream

1/2

can

condensed sweetened milk
toppings
bluberries

(optional)

strawberry

(optional)

chocolate chips

(optional)
Instructions
In a bowl add the cream and sweet condensed milk and whip till soft peaks,

Crush the biscuits to crumbs

Line up the serving sups of choice and add a layer of the biscut crumbs.

then add a layer of the whipped sweet cream followed by another layer of biscuit crumb.

Follow this pattern till it reaches the top of the cup.

Top it off with a tsp more cream, a few berries or some chocolate chips.

Chill these bowls in the refrigerator for about an hour or till serving.

Enjoy a deliciously simple dessert
Notes
Choose the biscuit of your choice - Graham crackers, Oreo, coconut crumb cookies etc work well. if you are just clearing out your cookie jar, a mix of all the cookies will work too.
I usually don't add any flavouring as the biscuit will have an aroma of its own.
The nutritional information is calculated here based on plain grahams cracker. If using other types of biscuit, the values may vary.
Nutrition
Calories:
421
kcal
Carbohydrates:
65
g
Protein:
8
g
Fat:
15
g
Saturated Fat:
7
g
Polyunsaturated Fat:
3
g
Monounsaturated Fat:
4
g
Cholesterol:
31
mg
Sodium:
440
mg
Potassium:
323
mg
Fiber:
2
g
Sugar:
28
g