Save this recipe for the time when it feels like you never ever have time. This easy instant pot quinoa corn soup is a quick and nutritious option for the best kind of quick dinner with no compromise on flavour and health.
That 24 hours a day is not enough. There is so much to do and so much more pending. Sometimes I do like weekends because you can transfer a lot into the next week's top list. It doesn't go away, but just out of sight. Now those are not inclusive of chores. The cooking, cleaning, washing, and keeping up with the teens all continue. when the sheer monotony catches up, take a break and try this soup.
Why is this a soup not a chowder?
Chowder is a seafood-based soup that came in with the migration to America. During these seaward journeys, the soup was thickened with a kind of hard cracker. As time passed the chowder evolved to be thickened with cream or roux. The corn quinoa soup is not a thickened soup. It doesn't have cream or roux added to it. Different but very good and low calorie!!
Ingredients for this low-calorie soup
Let's start making this corn quinoa soup. it just takes a few good ingredients to make this recipe. 
Onions- the chopped red onions give a lot of flavour to this dish. When sauteed in butter this flavour carries through with the soup.
Celery– though softened, the celery sticks with the onion to form the classic flavour base for this recipe.
Fresh corn- Sweet fresh corn, freshly shredded from the cob, makes the delicious creamy base for the soup when cooked. It is the sweet burst when you bite into one that makes it all the better on that crazy weeknight. It is perfectly ok to use frozen corn or canned corn in this recipe. Make sure you adjust the water quantity accordingly. 
Quinoa- the nutritious balance and bulk of the soup are from quinoa. I have used white quinoa here. YOu can use tricolour or red ones to make this soup. 
Spices and seasoning – Just like any other soup seasoning it is very important. Balance the salt well, I tend to keep it lower so if anyone wants they can add it as they go. To make this otherwise bland soup come alive, kick it up a notch with paprika. I like this better than the black pepper or crushed pepper berry. If you have fresh herbs, go for them. If not stir in a few dried herbs as we have done. This depends on time, availability and effort!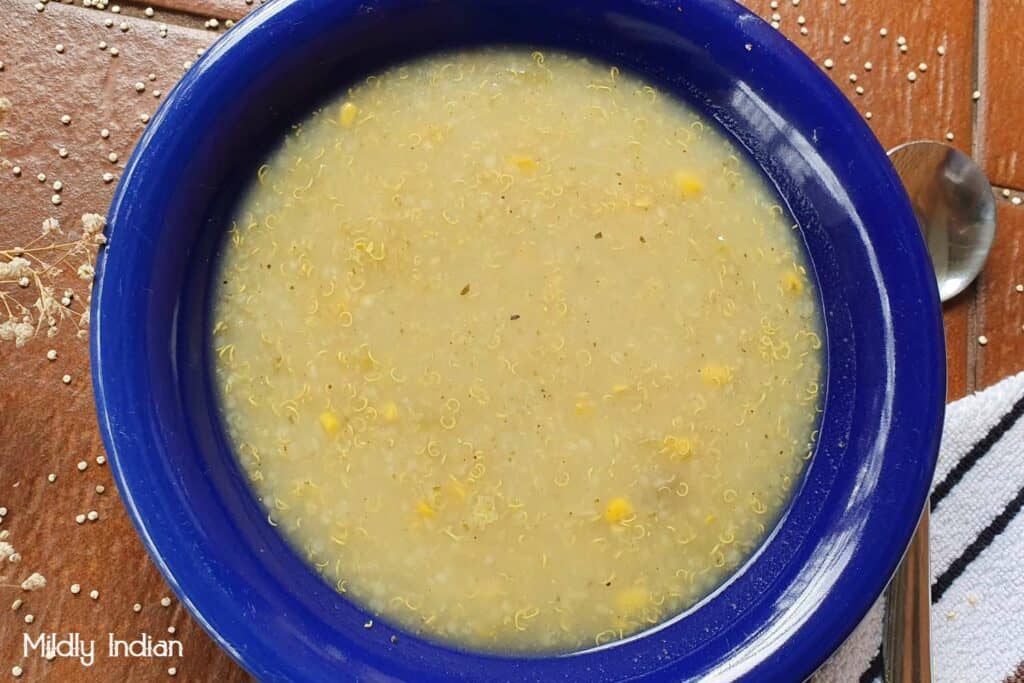 Let's get some soup ready
The soup prep is just 10 minutes. So it is great to have some time to chill. The step-by-step recipe is in this recipe card. You can directly pin it from here to your pin board to use later too.
Instant pot corn quinoa soup
Equipment
instant pot

Knife

Cutting board

ladle
Ingredients
1

tsp

coconut oil

or butter.

1

small

red onion

chopped

2

stalks

celery

chopped

2

cups

sweet corn

sliced off the cob.

3/4

cup

quinoa

salt to taste

1/4

tsp

paprika

1/4

tsp

mixed herbs

dried or fresh.
Instructions
Chop and prepapre the ingredients.

Wash the quinoa and set it aside till ready.

Set the instant pot on saute mode.

Add the oil and saute the onions and celery.

Once these are softened, add the corn and mix it well.

Add the quinoa, water salt and paprika and mix well.

Add the water and set the instant pot now to soup mode.

Mix well, cover and set on medium pressure.

Once the soup is cooked, let the steam release naturally.

Stir in the dried herbs, taste test.

The soup is now ready to serve.
Notes
Making it tastier.
Once the soup is cooked, you can top it with a bit of cheese while serving, like a bit of crumpled feta or grated cheddar.
Setting it on a delayed start. 
This is a perfect soup to set on delayed start mode that makes your evening easier. Saute the onions and celery before you set them ready as this adds the flavour.
Tips on meal prepping and freezing the soup.
I love a batch of good soup that I can come back to after work. Sink into 10 minutes away from the humdrum of life. The meal-prepped soup comes a long way in this cycle. The weekend batch of soup helps a lot towards the end of the week
To store: food-safe fridge containers, a preferably leak-proof seal will help you store this soup. the soup stays well for 3 to 4 days. Heat only the portion that you plan to have and don't leave the excess to thaw. Repeated thawing and freezing will spoil the soup. 
To freeze: freezer safe boxes save the soup for up to a month. I love freezing them by pouring 3/4 individual bowls to save them. In this way, it is much easier to thaw and serve the right portion without any wastage. Also, it is easy to carry a box when you need one for lunch too!
Stay connected
I have prepared this soup as a part of the collaboration with Shh cooking secretly group of bloggers. We partner up and share ingredients to improve our culinary skills. My partner for this soup theme was Sasmita who made delicious mushroom soup.  Try out both our recipes as the weather cools down for most of you. If you are happy to stay and browse some more, we do have a few more excellent soup recipes. Try these too
Overall tell us how we are doing. Subscribe and stay with us as we plan to bring more deliciousness to you. If you have a chance to connect with us tag us @mildlyindian.
Stay safe and enjoy the recipes.