When we think of comfort foods, have you noticed that our brain goes more toward reds and yellows! It is true, kind of a brain game. It was by chance I saw this article. How unusual is it that we have our brain-sensing that green foods have lower calories than reds? It was so relevant to the fact that we eat through our eyes.
Since it is a deliberate attempt to green foods, we decided to treat the brain to some green soup today. Don't worry, it is not as lean and means as it sounds. It is filling hearty and delicious.
What makes this green soup?
If you visualise a  thick and creamy green soup I will say I did well. Though we have no heavy cream added to this soup it is still tasty, creamy and absolutely delicious. The ingredients which go into this broccoli peas soup are easily the ones you will find.
Peas – the whole lean protein content of this soup mainly comes from frozen peas. The peas taste wonderful with the soup too. If you have more peas, try this stirfry -Click here.
Broccoli – the soft florets of broccoli add a wonderful depth to the soup. Together with the peas, the broccoli doesn't need a long cooking time, making the whole process fast and easy. Here is a good idea to add to your table when you just need to munch up a bit more with the broccolis- Broccoli pesto.
Spinach– Pureed baby spinach (or palak) add that extra green to the soup. Since it is not cooked for very long the green colour doesn't discolour.
Cashew – The real creaminess of the soup comes from the few cashews that you add while blending.
Milk – a final touch of low-fat milk ties in the creaminess. In fact, you can use any nut milk to achieve this too( see notes below in the variations).
Spices- The soup doesn't use much spice other than a bay leaf to cook with and crushed black pepper with salt at the end. That is all it needs.
Herbs- I haven't used any in this recipe. Mint will taste well along with the peas for sure, so you can add some if you like.
Variations for this broccoli peas soup recipe
Vegan- The recipe can be served vegan if you want to swap the milk for soy or cashew milk. I don't prefer almond milk as it curdles upon heating.
Onion and garlic– soup as such is onion and garlic free. You can roast one garlic and onions to add before pureeing the soup or add fried garlic and onions as a topper with the seeds.
Nut-free – removes the cashews and you have a perfect nut-free soup. In doing so, The creaminess does change a bit but not much of the flavour. if you need a thicker soup use full cream milk or seed milk.
Seed topper– there is no hard and fast rule about the seeds you can add here. Add hemp seeds, sesame seeds, sunflower seeds, pepitas, melon seeds, puffed quinoa etc. It is just a crunch factor. That gives texture to this blended soup.
This recipe card gives you the step by step details with as many images as possible to get this broccoli peas soup done. Check out the detailed ingredients and measurements here and save it on your board for later by using the pin for later button. 
Green soup
Ingredients
1

small

broccoli

1/2

cup

frozen peas

1

cup

spinach

2.5

cup

drinking water

1/2

cup

milk

salt to taste

1/2

tsp

crushed black pepper
Instructions
Into a deep cooking pot add the peas, broccoli florets.

Add water, cover and cook them for about 5 minutes till they are just done without losing the colour.

Blend this mix into paste.

Blend the baby spinach, with just enough water.

Add this puree to the blended mix of broccoli and peas.

Add the milk and bring it to a slow boil

Once the spinach puree mix tastes cooked, the soup is done.

Remove from heat, add the salt, black pepper and mix well.

Serve the soup warm with a seed topping.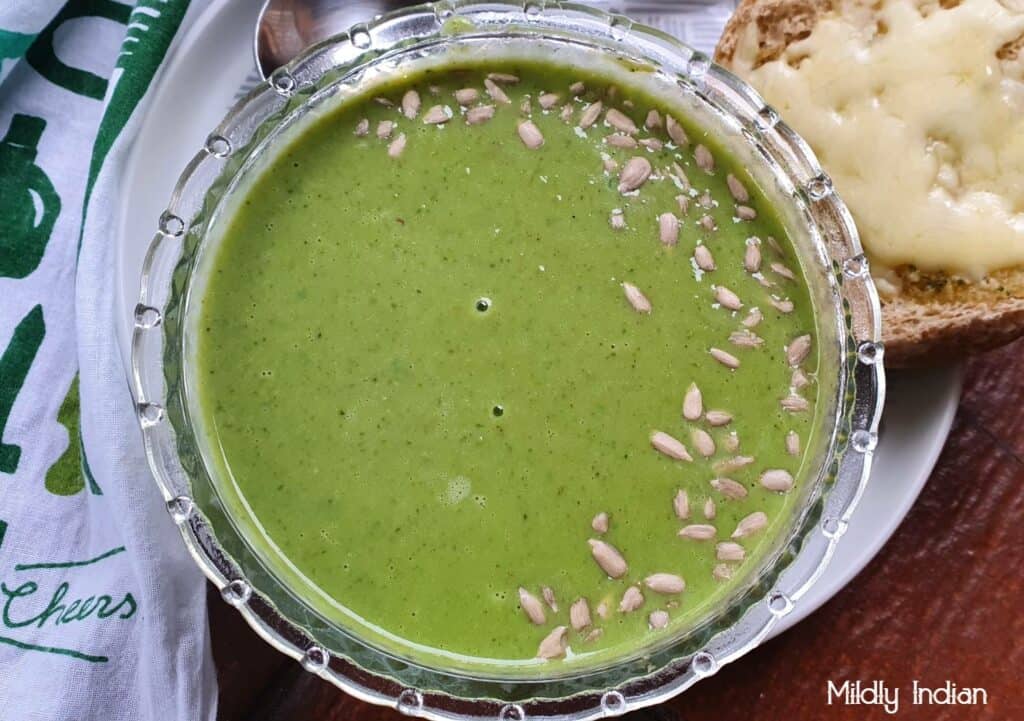 Serving this spinach  broccoli peas soup
The soup is thick and creamy so hardly needed anything much. I topped it with some sunflower seeds and has a slice of crusty dinner roll with some garlic butter on it. You could go for a simple focaccia sandwich or some cheese toast to go with the soup. My kids did something different for me on day two, they crushed up some nachos on top for me to have after reheating it. Looking back I think I love this version more.
Storage for later
The green soup keeps so well in the fridge for a couple of days. Reheat just the amount you want to have, add some crunchy seeds to the top and enjoy.
I have not tried freezing this spinach broccoli peas soup as I needed thus to keep up my strength this week. If you happen to freeze it, let us know how it turned out upon thawing.
Other worthwhile soups on this blog.
Curried carrot and celery soup
Stay connected
We are always all ears to hear your reviews, twists and turns.  Let us know if you are making the Black currant loaf too. While you are here, do subscribe to get updates as regular as we can post them for you. Tag us @mildlyindian or #mildlyindian with your version of these recipes on all your social media accounts.
See you at the next post and stay safe.