Rice is the staple grain when it comes to South Indian diets. To manage the heavy tropical heat and nutrition often rice-based soups form the main meal. Kanji or congee are simple meals with soft-cooked regional rice varieties. Earlier we had paal kanji with navara rice, which is also a similar preparation. A thin rice gruel paired with yardbeans thoran, chammadi and papadam is usually a well balanced full meal that keeps up the hydration and mineral levels. This is what most kanji varieties aim to achieve.
The matta rice
Kerala's trademark rice commonly called Rose matta or Palakkadan matta is a parboiled red rice variety. Compared to white rice this matta rice variety is claimed to have a lower glycaemic index. Retaining the outer bran the rice is harder to cook, yet sweet to taste. To a regular basmati eater, the grains of cooked matta is generously globular and big. The matta rice has been studied for a whole range of health benefits. To a Keralites,  the rose matta features in all the meals -from breakfast to dinner.
Payaru kanji
Unlike a simple rice gruel, payaru kanji is a bit more elaborate and presents as a thicker soup variety. Soft cooked rose matta and whole green gram in excess of water is just a basic kanji. With a touch of salt, this is very tasty but doesn't really make it creamy payaru kanji. The fragrant tempering of shallots with roasted cumin seeds in coconut oil and the coconut milk added makes this congee variety more than just a gruel. 
Payarukanji is the main meal during Easter lent among many Keralites. Paired with some pickled lemons, thoran or vattal kondattam you have an elaborate meal ready with this kanji. Not only is this recipe vegan, nut-free, gluten-free it is also low food map as the main ingredient is rice.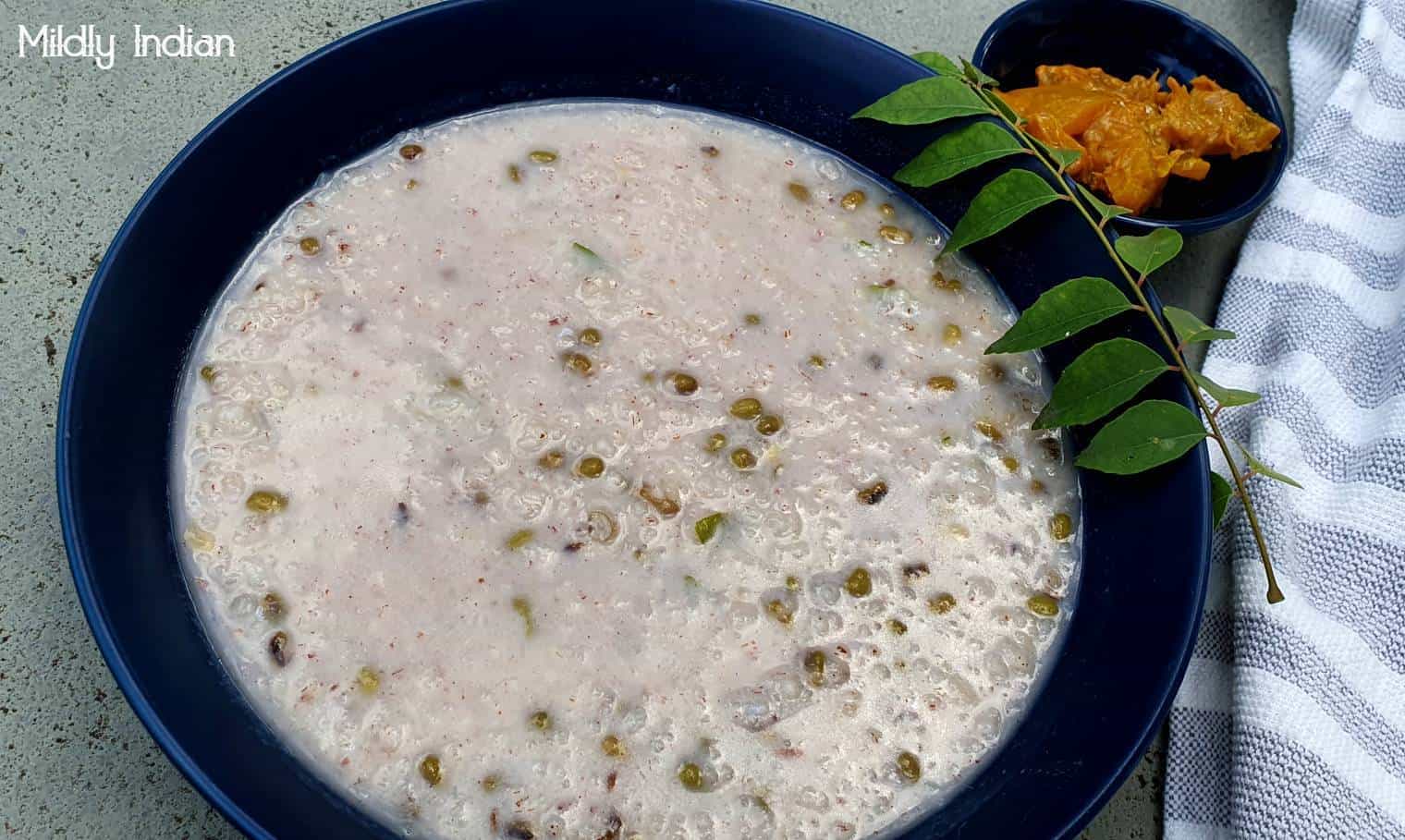 Payaru Kanji
Soft cooked gruel with red rice and green gram is a gluten free, vegan, nut free recipe, relatively low food map a well.
Ingredients
To cook the kanji
1/2

cup

parboiled rice

( Rose matta rice)

1/4

cup

mung bean

5

cups

drinking water
To temper and add to the kanji.
1

cup

coconut milk

1

tsp

coconut oil

1/2

tsp

cumin seeds

1

sprig

curry leaves

salt to taste
Instructions
Wash the rice and green gram a couple of times.

Add the 5 cups of water and soak the rice and bean mix for 1 hour.

Add the water and the soaked rice and bean mix into the pressure cooker.

Pressure cooke on medium heat for 5 whistles.

Remove from heat and let the pressure release naturally.

Once the pressure is released, open the cooker and mash the cooked rice and beans gently.

Add a cup of coconut milk and set it aside.

In a small pan , add the coconut oil and heat to medium heat.

Add teh cumin seeds and the curry leaves and let them roast.

Add the tempering to the prepared kanji and stir in.

Keep it covered for 5 minutes so teh flavours infuse.

Serve the kanji with pickled lemon or papadam.
Hope you enjoy some of these authentic Kerala dishes that we try to bring forth to you. Click on the highlighted ones to see related recipes.  When you make some of these, tag us #mildlyindian. We will love to hear your feedback on our recipes.