For the wedding style oota (meal )in Karnataka, typically two kosumbari recipes are served. One with moong dal and cucumbers and the other with crunchy carrots and with split chickpeas. Served on the right-hand corner, are these two gorgeous salads with a tangy lemon chilli vinaigrette.  Pretty easy to make they are a great mix of sprouts or beans with a salad vegetable. The refreshing contrast is that it provides to the heavy coconut rich gravies and the decadent sweets that are served on that banana leaf meal are evident. This freshness and the crunch is why I love this salad. Here is a video on how to make that perfect Kosambari.
Purple carrots this time
When we went to the farmers market this time we picked up some beautiful purple carrot. I was quite drawn by the colour and hardly have I used it, so it was exciting to try it. As soon as I am back home I couldn't wait to prep up these purple carrots. Washed and cut up a few that we just munched on while making lunch. The colour inside these carrots was yellow, creating a beautiful contrast to the deep purple outside. I couldn't wait to make kosambari. Though I was not making the whole oota on the banana leaf, the salad still counted. It was a simple anna saaru (rice and rasam) kosambari lunch. The freshness of the kosambari was such a huge welcome and it made the perfect down to earth Sunday lunch. The colour of this kosambari was unforgettable so I had to get some basic images.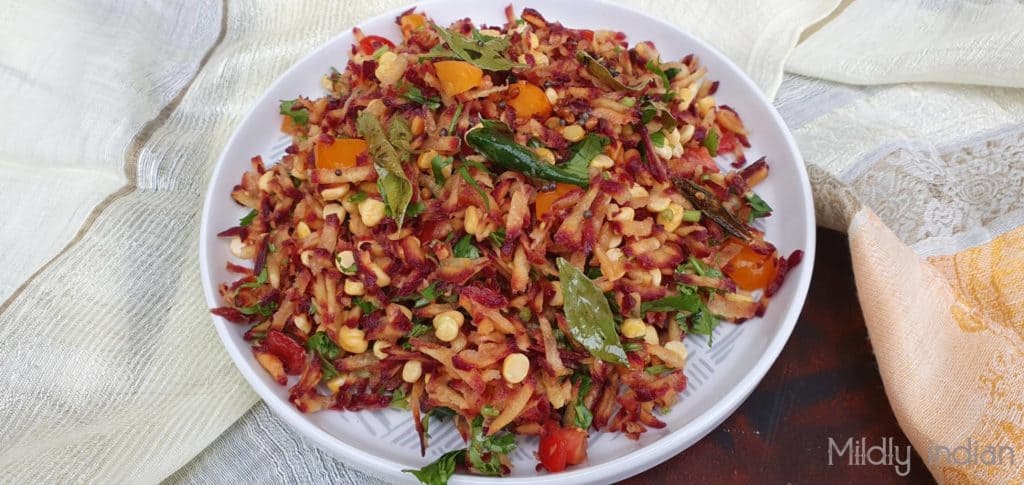 Colours in the carrot
Carrots come in a spectrum of the rainbow. The common one we see is the commercially easily available orange ones. This is semi-sweet and the typical carrot taste we are so familiar with. We make a lot of South India simple carrot salad with it. Click here-South Indian Style carrot salad
When it is winter, we get a lot of red carrots in India. It is less sweet, with a salty aftertaste, than the common ones, a beautiful pink when you cook it and gorgeous when you make the classic halwa. In fact, I prefer to use this for carrot methi sabji if I can get it. Here is the recipe to try- Carrot methi sabji
Now we have the purple carrot. It was sweeter for sure, but among the lot, we brought home,  only two were purple all through. The rest had a yellowish centre. Maybe someday try the whole spectrum of carrot colours. It will be fun to get them all together. Here is a little more about these carrots that I enjoyed reading- Source
Hope you can try this recipe, irrespective of what colour of carrot you get. Do let me know how you like it.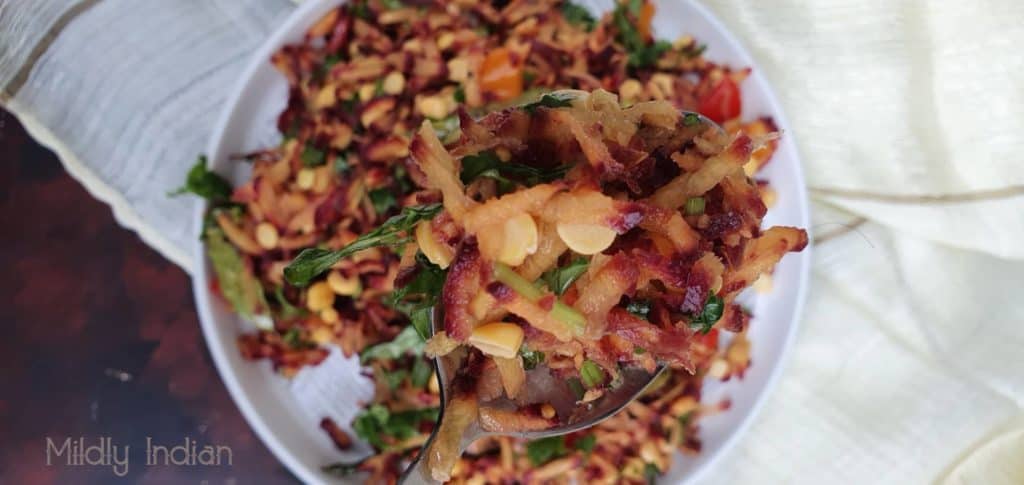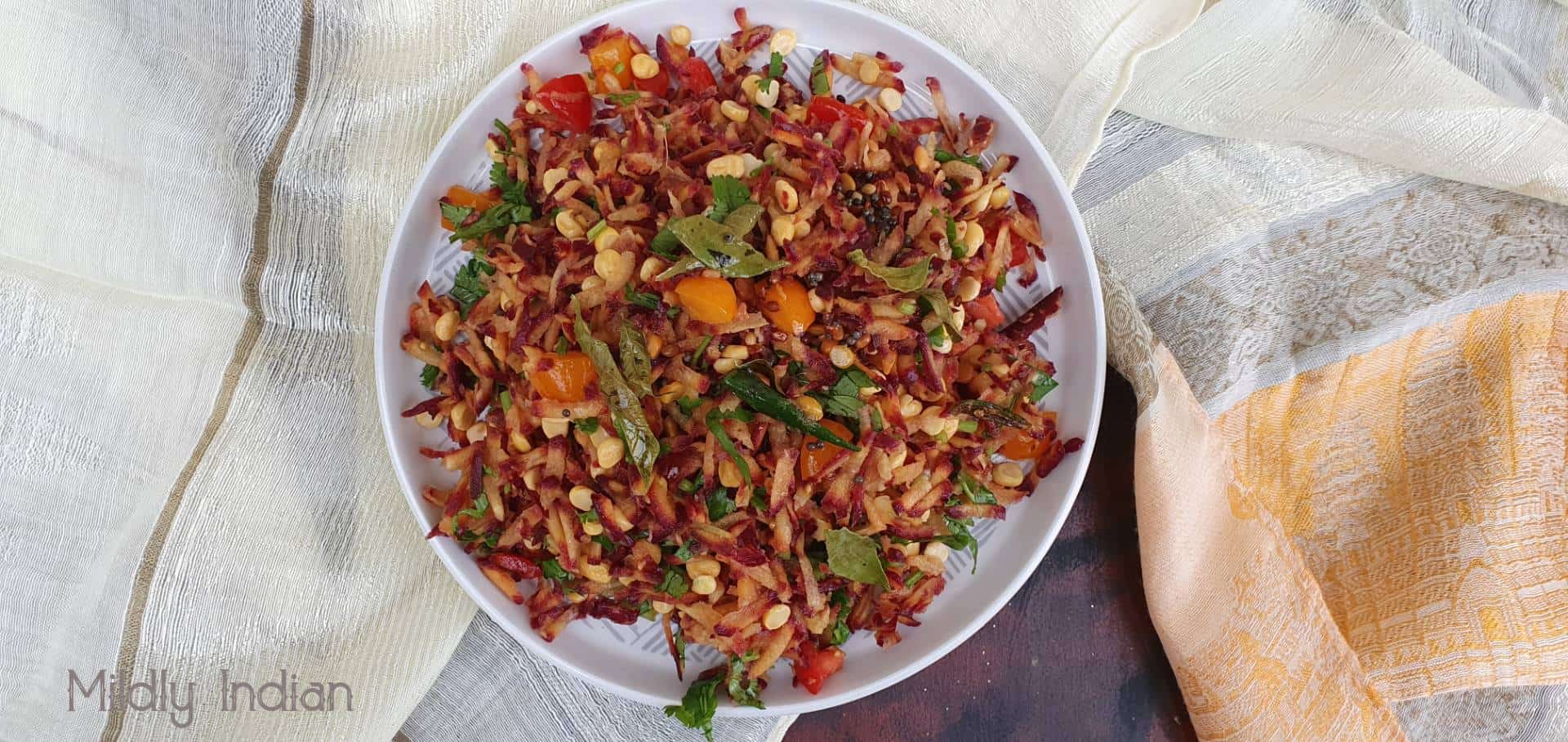 Kadalebele kosambari salad
Split chickpeas and carrot
Ingredients
soaked chickpea
1/2

cup

Channa Dal

( split chickpea, bengal gram)

2

cups

drinking water
for the salad elements
2

medium

carrot

( grated )

4-5

cherry tomatoes

sliced in half

3

tbsp

coriander leaves

chopped

3

tbsp

Lemon juice
tempering
1

tsp

coconut oil

1/4

tsp

mustard seeds

1/4

tsp

Channa Dal

1/4

tsp

Urad Dal

1

pinch

Asafoetida

10-12

curry leaves

2-3

Green chillies

slit
Instructions
Wash and soak the split chickpea for 60 minutes till it is soaked well.

Shred the carrot, chop the coriander and slice the tomatoes and add into a mixing bowl.

Drain the soaked chickpeas and wash it again. Add that to the mixing bowl.

Add the lemon juice and salt and mix it well, Set aside

To prepare the tempering heat the oil in a small pan, add the mustard.

As the mustard splutters add the urad dal ( black gram dal), channa dal ( split chickpea) and allow it to turn golden.

Add the hing, curry leaves and slit chillies and let them sizzle.

Remove from heat and add to the mixed salad.

Mix well and the salad is ready to be served.