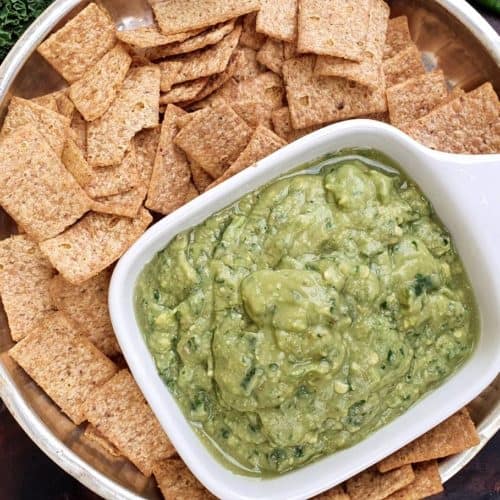 Kale guacamole.
Gluten free, vegan easy to make dip. Dont miss to try.
Ingredients
2

medium sized

avocado

4-5

leaves

kale

I have used curly kale

1

medium

green chilli

I used serrano pepper.

1

tbsp

coriander leaves

chopped

1

clove

garlic

( optional)

2

tbsp

Lemon juice

salt to taste
Instructions
Clean and chop the kale leaves.

Add this to the foord proceessor with clove of garlic and a pinch of salt.

pulse till the kale is proceesed into a fine mince.

Scoop out the flesh of the avocado and add it to the food processor, with lemon juice.

Serve with chips and save the rest in airtight container in the refrigerator.
If you have gone through the sections of this blog you would quickly figure out that I love salads. But there is one that I really cannot chew down. The salad with fresh kale. Somehow, I find it really hard to keep chewing it though it may have the best of nutrition or most wonderful dressing. Either way, I am out. How ever, I love the green idea of kale and it is one of the easiest available greens for me. So it still tops my list of good greens.
I am tolerable to kale in my smoothies too. it is a work in progress, but getting there. When I was thinking of more ways to add it in this is the thought that ran in my head. Most kale salads have avocado in them So how about a handful added to a good base of guacamole, say make it kale guacamole?



Let's get to make kale guacamole.
To start with I resorted to the dark leaf, deep green curly kale that was cleaned and deveined.  I went a couple of more steps to make that kale not do difficult to chew on. Pulsed it till it was cut really smooth in the food processor before adding the avocado. Then for the guacamole, I love the simplest form if the guacamole yo use a dip. The ripe avocado, salt and spicy pepper. I am using the same base for this recipe. 
Thank you so much for the love you show to our blog. The comments you send in, the readership and the subscription are our boosts to go forward. We are blessed to have you with us on our journey. Keep reading and let us know which recipe you love the most.