Sip through the warm cinnamon-laced hot corn drink, that just has the consistency of silk running down your throat. Try out the perfect winter warmer, Mexican atole recipe today.
It is lovely to be surrounded by many different cultures here in Australia. I certainly benefit from these lovely associations. The recipes I learn directly from them are authentic. Not only that, they know the nooks and crannies to source the real ingredients than the packaged stuff. This exchange is mutual for us. There is a long list of people to share my masala powders with and vice versa. It is from one of my colleagues that I learn a couple of winter special drinks that are far better than the three-in-one coffee. One of the soothing drinks that I learnt from colleague who shares her enthusiasm for cooking is the Mexican Atole (at-ooh- leh). Since winter is coming up soon and the chill in the weather is evident, this Mexican drink looks perfect to be shared.
What is atole?
The breakfast drink popular in Mexican breakfasts during the cooler months is Atole. Eaten as a part of big breakfasts this hot corn drink can be enjoyed by anyone. What you need to find though is not actually the premixes in the boxes but masa harina and pilloncilo (check below in the ingredients to know more).  In fact, atole is a drink taht has two sacred ingredients corn and cinnamon. Therefore drink is made for all Mexican celebrations days like Navidad, Day of the Dead, New Years Day, las posadas etc.
History of Atole
The origins of atole can be traced to the Stone Age when a small bit of agriculture had developed and communities form around the farms. Corn was a crop of interest and the kernels were hard to cook alternate methods if using dry corn were to be looked at. The Grinding stones proved to be a blessing, powdering the grain, making it more palatable. The ground corn was far easier to cook and tastier to drink. Slowly, milk, cinnamon and vanilla were added to it making it more and more delightful. Finally, at Azetac ages, the drink atole was a staple.
Ingredients to make this hot corn drink
Masa harina: Masa harina is powdered corn but not just any powdered corn. This is corn cooked with lime and then powdered. The process is called nixtamalization. This process creates partial denaturation of protein and partial starch gelatinisation which inturn makes it easier to assimilate.
Piloncillo: the sweetener used in atole is piloncillo. This is unrefined sugar cane juice, made exactly like jaggery. This conical-shaped mould of sweet, molasses-flavoured sugar provides that delightful colour and sweetness to this drink.
Milk: full cream milk gives a rich creaminess s you sip this on a cold day. Though you can absolutely make it with half and half or skim milk, i would recommend full cream milk for this one. 
Cinnamon- good quality cinnamon is something you want to keep in your pantry. Good quality cinnamon comes as quills that are softer and break off easily, rather than the thick bits of cassia that are often sold in the markets. 
Vanilla; I have moved on from the vanilla essence to true vanilla extract or the pods directly. Though this doesn't have that overpowering vanilla flavour, the subtly delicate flavour is much better to be enjoyed. For this recipe, I have used a piece of the pod to be simmered along with the milk. 
Let's make atole
It is a very easy process to make atole. Therefore, this recipe is a good beginner recipe and perfectly dorm friendly ( check the cheats version if it is difficult to get all the ingredients).
Make the mix – Make a lump-free mix of the milk with masa harina. This is key to that smooth drink as the end result. Add a piece of cinnamon and a small piece of vanilla to this mix.
Simmering- with constant stirring simmer this mix till the masa starts cooking and slowly bubbling. Now add the crushed piloncillo and whisk well. Let this cook a bit further and the drink is ready to be served.
How to tell if Atole is ready?
As you cook Atole, it starts thickening. Once it coats the back of the spoon and you are able to draw a line in the centre and it holds, the atole has the right thickness.
Cheats version to make atole.
Right, now if you cannot source the two important ingredients, masa harina and piloncillo, this cheats version comes close, but not the original. This version used corn flour in place of masa harina. For piloncillo, jaggery (Indian grocery) is the closest flavour or dark brown sugar. Follow the recipe just as the original ingredients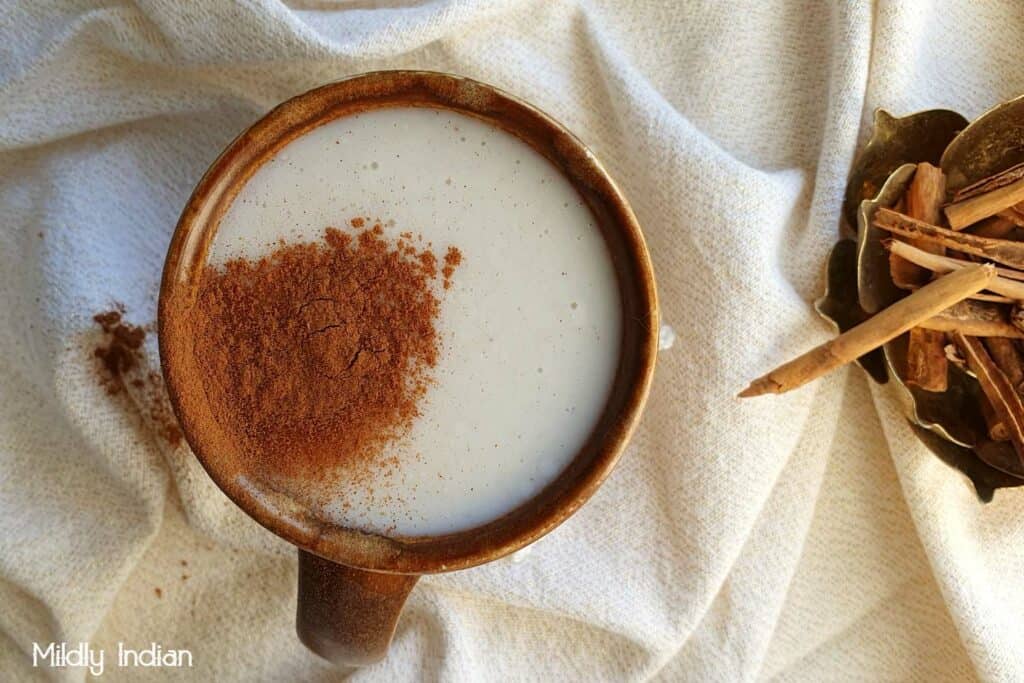 Atole
Equipment
saucepan

measuring cups and spoons
Ingredients
1/4

cup

masa harina

or 2 tbsp corn flour

3

cups

water

1

cup

milk

1/4

cup

Piloncillo

or brown sugar ( jaggery)

2

inch

cinnamon stick

1

inch

vanilla pod
Instructions
Whisk the milk, water, masa harina to a smooth mix.

Place it on medium heat and add the cinnamon stick and vanilla pod.

Let this simmer and cook for 10 minutes. Whisk contiously.

Add the pilloncillo and cook a bit further.

The drink is now ready to serve.

Dust a bit of cinnamon on top to enhance the flavour.
Serving ideas for atole
At any given time, Mexican breakfasts are big and sumptuous. Huevos rancheros, chilaquiles or frittatas feature on the table with drinks like atole laced with cinnamon on top, champurrado or spiced coffee. It always is best for brunch, a picnic or just to curl up with a book. Atole makes a great midnight snack, the one that will lull you back to sleep. For us, Atole tastes great with spicy carrot and cheese bites.
Winter warmer drinks from our blog 
Stay connected
Atole is an easy winter drink that most home cooks can make at home. With the right ingredients, the best of the cuisine can be experienced in the simplest way. When you try out this recipe for Atole, share with us your experience. If your family has been making this hot corn drink differently, let us know how you make it in the comments. This corn drink is fantastic if you are on a soft diet too.
Meanwhile stay subscribed or connect with us on Instagram, Twitter or Facebook.
See you at the next post.
Pin this up for later