Try out this khatta meeta poha made with gluten-free riceflakes. This vegan street food is easy to prepare and delightfully flavourful.
The past two weeks have been a roller coaster, change of workplace, new people,  longer travel, travel back for husband, numerous school activities, uni finish ups etc. These things look really tackled, but together create a bit of a stressful environment. It is the quick and easy home food that keeps us going, knowing we are there for each other. Since all our taste buds craved some street food,  here it is, the simplest,  indori poha.
Exploring indori poha
If that poha jalebi combo is one that you love the indori poha is what you must try. With the unique chaatvali flavours coming from the jeeravan masala and the crunch from the farsan topping, the poha is a perfect street-style breakfast. Indori poha is a popular breakfast along the streets of Indore.
How is indori poha different from kanda poha?
First of all the flavours of both the variety of poha are different. The indori poha, is sweeter than the Kanda poha. Yhe poha here is steamed to ensure it stays fluffy and soft. The onions are used as a topping in indori poha and are not sauteed. The jeeeravan masala adds the chaat feeling along with the crunchy farsan added on top. Both these are absent in Kanda poha.
Ingredients and substitutions
Poha: flattened rice flakes, chiwda, pauwa, avalakki, aval or poha is a common ingredients in Indian kitchens. It comes in nylon,  thin, medium or thick varieties depending on how much the rice has been flattened. To make poha, the dehusked rice is parboiled and barely dried off. This is flattened using rollers to the desired thickness and then dried. The variety of poha used for this preparation is of medium thickness. You can choose the red or white variety available to make this recipe, though as a street food you will see it only made with white poha.
Oil: any neutral oil will work perfectly to make this indori poha, it is only an agency to carry the spice flavours.
Spices: turmeric powder mixed into the poha before steaming gives the characteristic colour.
mustard fennel, green chilli and ginger are all sauteed to add to the poha to create a base flavour.
Salt and sugar: since the indori poha has a sweet and sour flavour to it, the salt-sugar balance is absolutely necessary to create the taste.
Onion: freshly chipped onion is added on top of the hot poha.
Pomegranate arils: the freshness and sweet-tart burst of flavour make this street food click.
Jeeravan masala: is the characteristic flavour of this khatta meeta poha making it the most loved street food.
Farsan: the classic crunchy toppings include spicy indori sev, masala boondi or ratlami sev. These are so valuable to this recipe as it adds to the crunch factor.


Steps to making the poha
Steaming the poha – The first and important step that makes the variety of poha extra fluffy is steaming the poha. For this rinse the poha two to three times under running water. Set aside for 5 to 10 minutes to allow the poha to soften To this add salt, sugar and turmeric powder and fluff well using a fork. Set a steamer ready and steam the poha for 10 minutes. Once the poha is ready proceed to step two.
Flavouring the poha: Into a pan add oil and splutter the mustard seeds, roast the fennel seeds along with chillies and ginger. Add peanuts if preferred (I did not) now add the steamed poha and mix well. Take care not to make the poha mushy.
To serve: to a plate flattened out a portion of poha onto a plate, sprinkle jeeravan masala powder, freshly chopped onions and pomegranate arils. Top it with crunchy spicy indori sev or ratlami sev. Squeeze a generous bit of lemon juice on top and the poha is ready to serve.
Indori poha
Try out this khatta meeta poha made with gluten-free rice flakes. This vegan street food is easy to prepare and delightfully flavourful.
Equipment
colander

Kadai

Steamer

ladle
Ingredients
2

cups

rice flakes

thick poha

1/2

tsp

turmeric powder

1

tsp

salt

1

tsp

unrefined sugar
for tempering
1

tbsp

oil

1

tsp

fennel seeds

1

tsp

mustard seeds

1

small

green chilli

1/2

inch

fresh ginger root

chopped fine.
Garnish
1/2

cup

sev

2-3

tbsp

red onion

chopped

2-3

tbsp

pomegranate seeds

jeeravan masala

1

tbsp

coriander leaves

chopped

1

lemon
Instructions
Add the poha to a colander and wash a couple of times.

Sprinkle a bit more water and set aside the poha for 10 minutes.

Add turmeric powder, sugar and salt and mix the poha well.

Mix this well with a fork and add it into a steamer basket.

Steam the poha for 10 minutes.

Set a wok on medium heat add the oil.

As the oil heats up add fennel seeds and mustard seeds.

Once the mustard seeds crackle add the green chilli and ginger and saute well.

Add the steamed poha and mix well.

Remove a portion of the poha on a plate and sprinkle with jeeravan masala.

Top with sev, onions, pomegranate arils, coriander leaves and sev
Stay connected
While you are exploring flavours from Indore, don't forget to try Kopra patties. They are the perfect teatime snack. We have added this recipe to the current Shh cooking Challenge, a street food collection by Preethi. Watch out for our facebook update of the whole collection so you can try out a variety that we put forward. 
Stay on with us by subscribing to our site. Please leave your thoughts and comments in the discussion below. If you have tried out this recipe, do let us know the adaptations you made. We would love to hear from you in our discussions.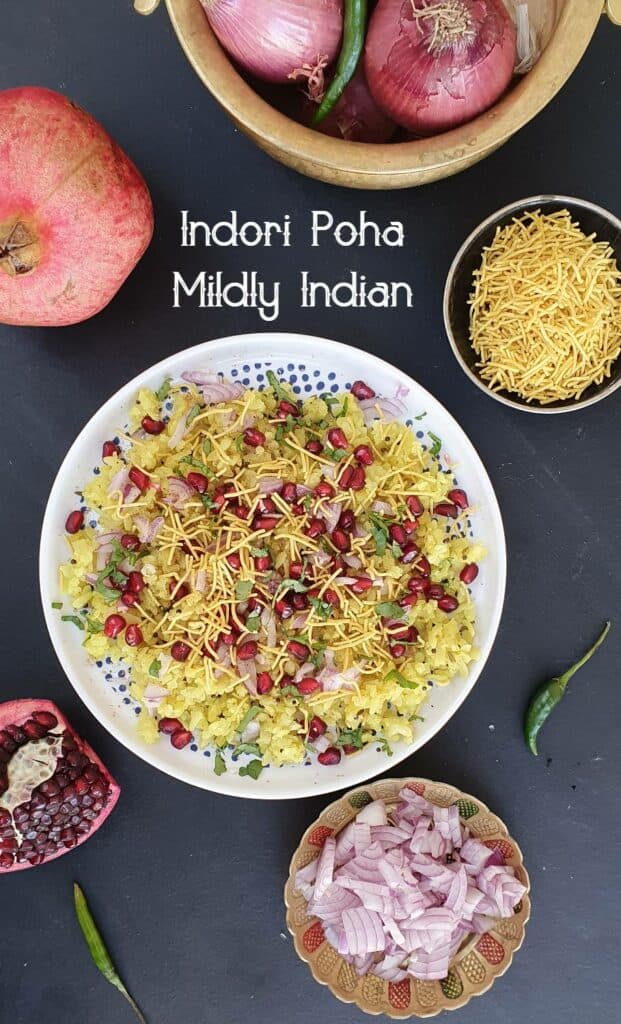 Stay safe and keep visiting us.