Enjoy a slice of intensely soft, summer-special mango cake that is a show stopper. Flavoured with cardamom, this mango mawa cake tastes as good as it looks.
Celebrate with mango mawa cake
Mango season is one of my favourites. It takes a while to wait for Indian mangoes but the Australian mangoes are plenty in spring and summer. Come autumn the Indian mangoes start arriving. This means there is only a small break in the mango season while being in Sydney. This itself calls for a celebration.
Mango mawa cake is one I love making once the Indian mangoes arrive coz it is cold enough to stand by the oven whereas the summer mangoes go straight into fresh mango no-cook recipes. With the classic mango cardamom flavour this soft cake is perfect for all occasions or even just for tea.
What is mawa?
Mawa or khoya is evaporated milk solids that are added to a lot of Indian desserts. Slowly simmered milk till most of the moisture has evaporated leaving the solids that you can roll in and store for a longer shelf life. Mawa or khoya can be smooth or granular. 
Which mangoes are best for mango cake?
There are two cultivars I prefer to make mango cakes. The Kesar and Alphonso. Both varieties being intensely sweet and with a deep oranges colour to the pulp are good to make this mawa cake. Both these varieties have another advantage when it comes to the thickness of pulp and less stringy fibres. Among the Australian varieties, the Kensington and honey gold are the ones I like for baking. I have used Kensington to make the steamed mango muffins earlier.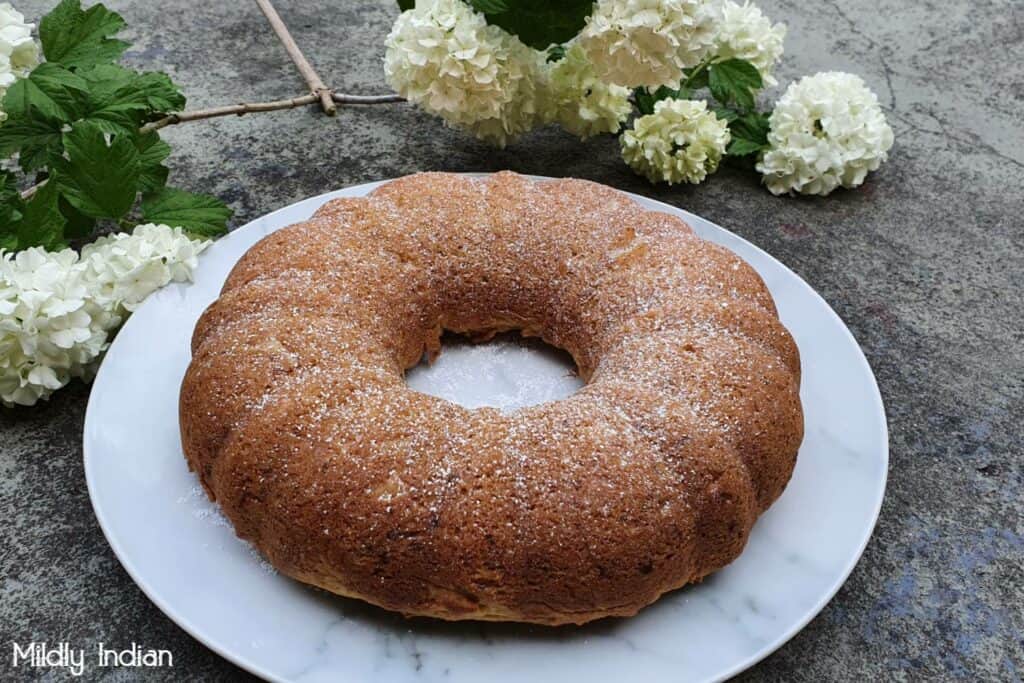 Ingredients needed to make this mango mawa cake.
The mango mawa cake needs a few ingredients other than the mango and the mawa. Get them all together to make this delicious cake. 
Wet ingredients
Mango pulp: there is no way we are making this mango cake without mango pulp. Blend the mango flesh in the blender to get a smooth paste.
Milk: smooth batter needs some liquid to get it going. Milk makes the cake more moist.
Butter: butter or oil in a cake gives that creaminess. In this cake, butter is more suited than using oil.
Sugar: Sweet offerings need a bit of sugar love. I have used unrefined ( raw) sugar to make this cake.
Dry ingredients
Khoya: the milk solids give that delicious flavour and smoothness to this cake. 
Whole wheat flour: sifted whole wheat cake is the base of this recipe.
Leavening agents: here I have used baking powder and soda to fluff up this cake.
Cardamom: unlike vanilla-flavoured cakes, I have used cardamom powder to bring the unique Indian mithai flavour to this cake. 
The recipe card below has the step-by-step instructions you can save. Pin on onto your board from here to use in your mango season.
Mango mawa cake
Enjoy a slice of intensely soft, summer special mango cake that is a show stopper. Flavoured with cardamom, this mango mawa cake tastes as good as it looks.
Equipment
bundt pan

measuring cups and spoons

mixing bowls and spoons.

Whisk
Ingredients
Wet ingredients
1/2

cup

butter

melted

3/4

cup

sugar

fine granular or powdered

1/2

cup

milk

1/2

cup

Mawa

(khoya)

1/2

cup

mango puree

1/2

tsp

green cardamom powder
Dry ingredients
1.5

cup

flour

1/2

tsp

baking soda

1/4

tsp

baking powdr
Instructions
Preheat the oven at 180 degrees for 10 minutes.

Grease the budnt pan really well

Grate the mawa and set it aside till needed.

Into the mixing bowl add the room temperature butter, sugar, milk, mango puree and cream well.

Whisk smooth till the mix is smooth.

Add the grated mawa and cardamom powder. Mix well

Sift in the flour, baking soda and baking powder.

Gently mix the flour into the wet mix.

Scoop the batter into the greased bundt pan.

Place the pan in the preheated oven and bake for 20 minutes at 180 degrees.

Once the cake is ready, insert a skewer and it comes out clean.

Remove teh cake and let it cool.

Remove the cake from the mould. The cake may need to be separated from the sides with a knife.

Slice the mango mawa cake and serve for tea.
Tips to make perfect
There is no substitute for mawa in this cake. Mawa or khoya, is the one that makes this cake soft and spongy. It has no substitutes so get some mawa and get set started.
Cardamom is the flavour of choice,  when you substitute it the flavour will not be the same. However, cinnamon, basil or saffron too makes tasty mango cake.
Mawa cake needs no cream or frosting. One of the best features of this cake is the cake itself. So there is no need to prep for frosting. Dust a bit of icing sugar if you feel like and that's it. However, if you serve it with a bit of mango custard,  it is heaven on earth.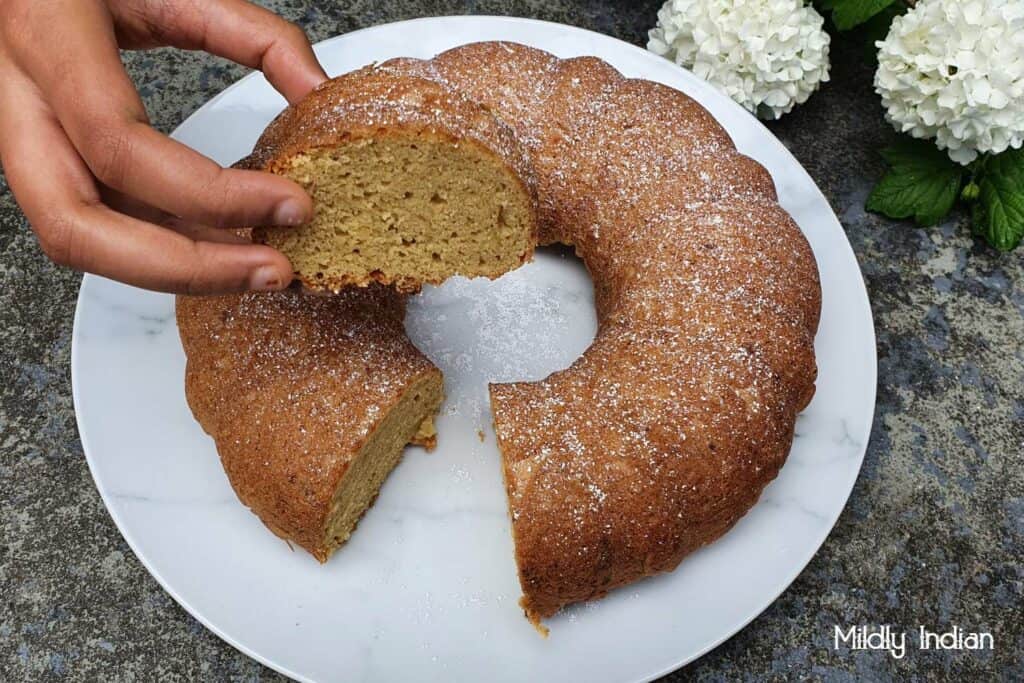 Prep ahead
The mango cake is one that you really can prep and keep without losing the softness. The cake stays fresh for a week and a half in the fridge in a tight container.
To freeze, slice the cake and pack it in a freezer-safe box. Deep freeze for up to three months. To thaw, leave the box in the refrigerator and then microwave with a small bowl of water on the side to provide moisture as it steams. The cake will be as fresh as you have made right now.
More ripe mango recipes from us
Here are some recipes to try with mangoes and the different varieties of mangoes.
Mango salsa: Though most sweetened recipes attract attention,  the mango salsa is perfect for savoury lovers.
Classic aamras: Aamras is that simple dessert that exhausts the beauty of mango. Try our versions to see which one you like best.
Steamed mango muffins: make mango muffins whether you have an oven or not. These spongy steamed muffins are delicate and delightful.
Papaya mango refresher: enjoy a full tropical feel with the combination of sweet red papaya and mango.
Basil mango sorbet: clear out your calendar on that hot summer day to enjoy this delish, no-sugar-added treat.
Mango lassi: if you have ever tried an Indian restaurant this would have been the recommended drink of choice. Blended to perfection and loaded with protein and flavour, the zero sugar-added mango lassi is for any time of the day.
Mango papaya jam: save up a bit more of the tropical flavours with a quick microwave jam.
Mango custard: the smooth eggless custard to go with the mango season with mango bites in it is one for a potluck too.
Stay connected
The mango mawa cake is one that you will find people attracted to try. I love to share this for tea. Usually, I do find that we always try a sneaky piece while waiting for teatime. So enjoy. I have made this mango mawa cake, in collaboration with Shh cooking secretly blogger group for the Mango theme. My partner for this theme is Aruna who made a delicious mango curry. 
When you make this recipe do tag us on your Instagram or Facebook. Leave us a comment and rating below so we can work on improvements if any.
As often as possible we try to bring you content that you have asked for. Stay subscribed to get these directly to your inbox.
See you in the next post.
Pin for later