Sometimes my husband feels veggie shopping is calming. He picks onions endlessly with an eye of a photographer, perfect tomatoes and especially picks the veggies we have not seen usually. Guess what came home this time… A huge purple kohlrabi. So far,  we have cooked only the greenish-white kholrabi before. These purple kholrabi really looked a bit spooky, perfect for a Halloween decor.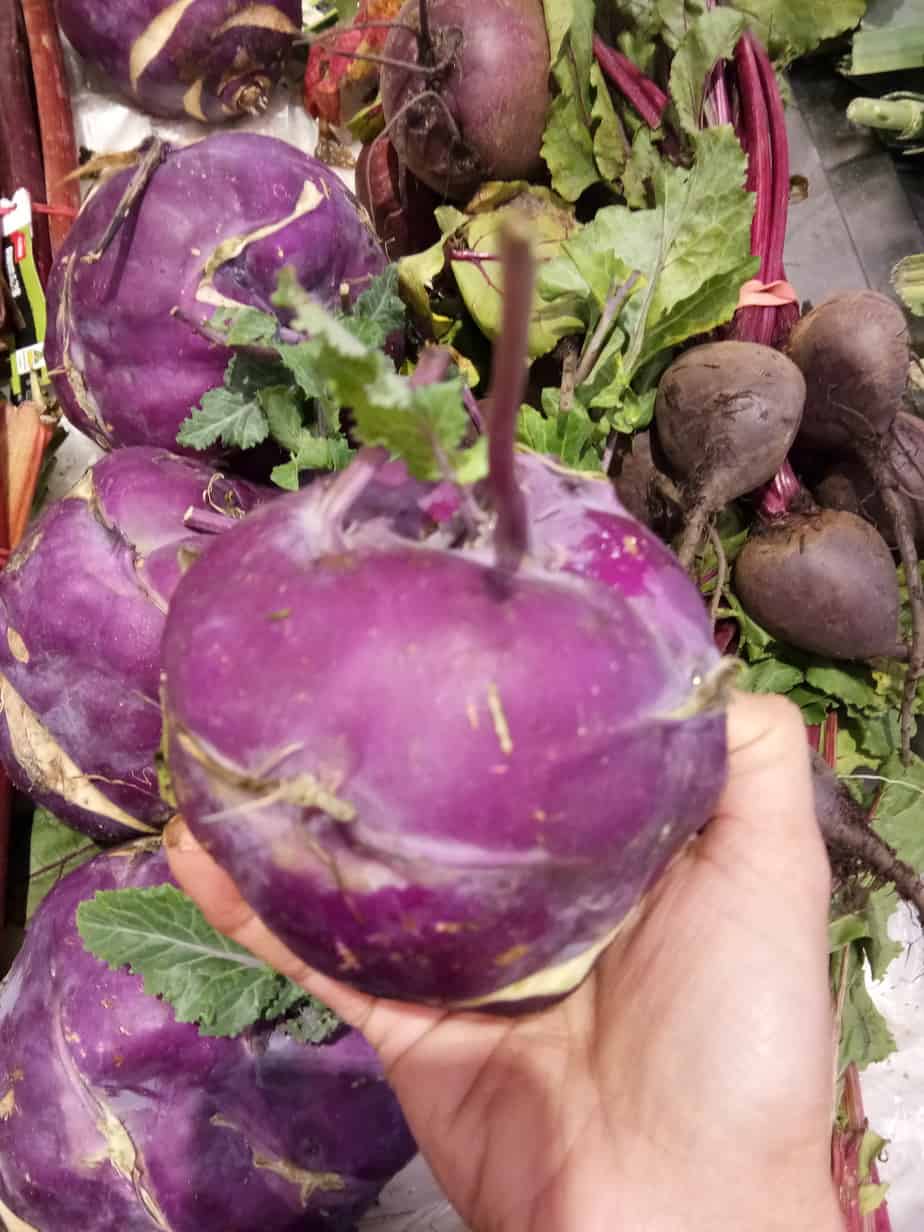 Well, jokes apart we both were proudly expecting it to be the beautiful purple inside too. So the grand unveiling of the colour was scheduled. Our hearts thumping and my mind racing with ideas to showcase the purple beautiful flesh of that giant kholrabi. We made big hoohaa of it all and circled everyone around the vegetable cutting board. A centre slice of the vegetable sank all our hearts. It is the same old white inside
. All that excitement vanished and we now had the slain vegetable the kitchen board!!
Within seconds the onlookers in the kitchen vanished and were back on to their busy world and left me to finish the task. Totally disheartened, I went for the absolute familiarity factor, Knolkol poriyal.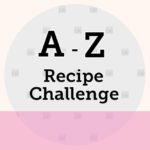 However, the end result was so comforting and absolutely worthy of adding to the A To Z recipe collection for the letter K.
In this group we bloggers try to put together recipes from.a common alphabet, this month being letter K. The initial thought for me was to go the Kale way, but once the Kohlrabi came, there was no turn back. If you are looking for Kale, here is one
Kohlrabi – Knolkhol
Belonging to the cabbage family, this cruciferous vegetable comes in green and purple. Both are a bit sweeter than cabbage and cauliflower. This is not a root vegetable but the stem that bulges to store food. This vegetable is so rich in Vit C and fibre and also a low-calorie vegetable. Just like any other cruciferous vegetable,l it is rich in glucosinolates and isothiocinates. It helps to reduce inflammation and reduce plaque formation.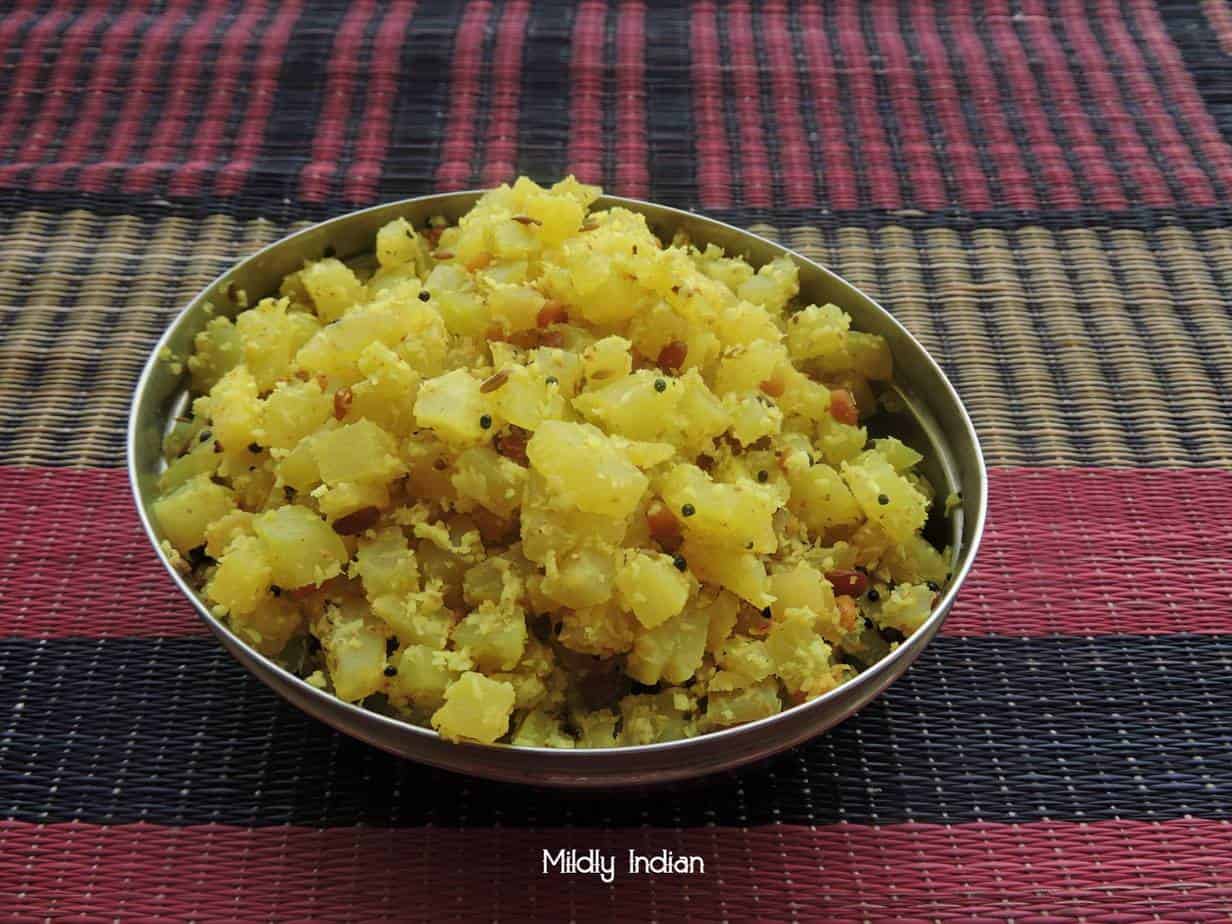 Though it is a quite common recipe in my inlaws, it is a very tasty and flavourful one. Paired with rice, sambhar or rasam it is a complete meal. The curry leaves add a wonderfully subtle taste with the sweetness of the coconut. Hope you enjoy it as much as we enjoyed making it and if you see purple kohlrabi with a purple heart… Don't miss to show yours. Here is the rasam recipe I will serve it with.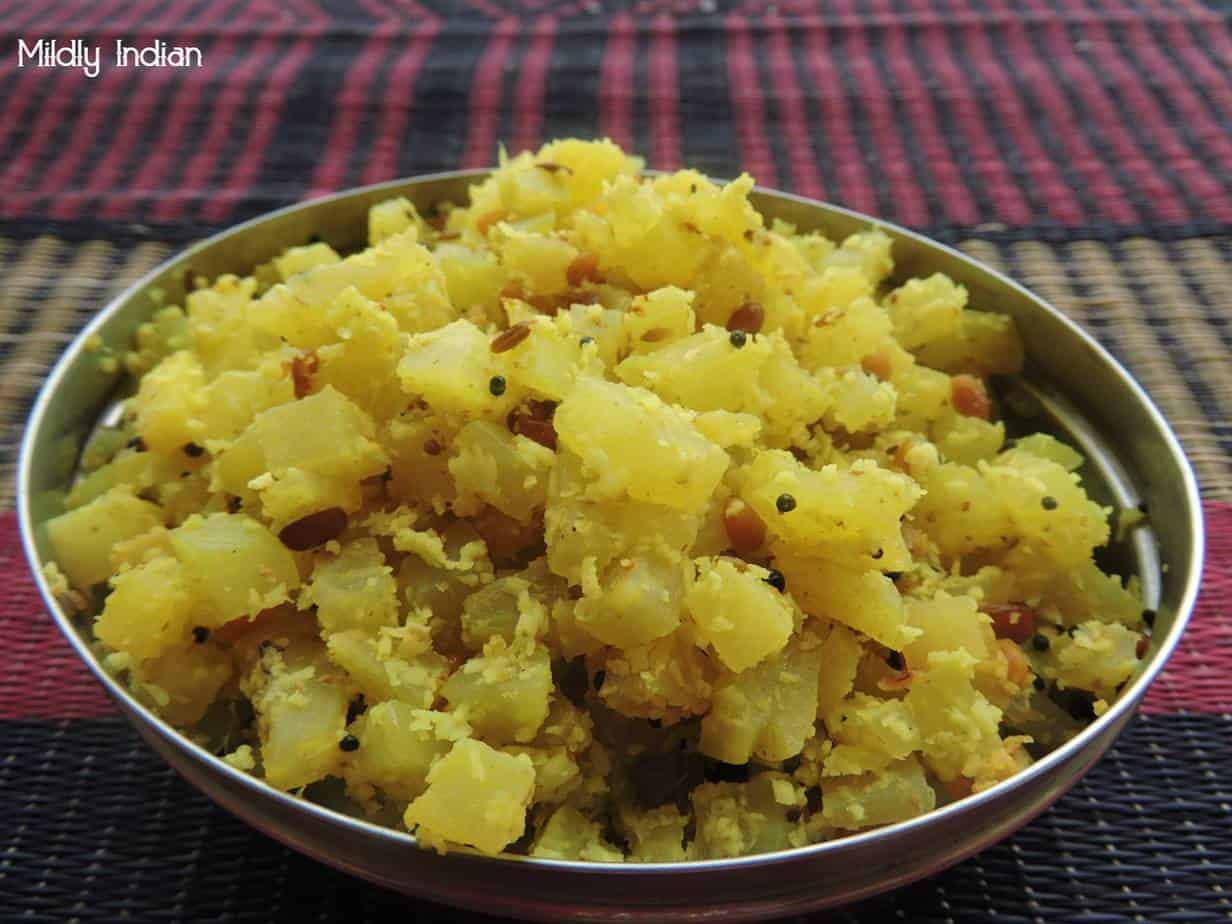 Knolkhol poriyal
Purple Kholrabi stirfry
Ingredients
for tempering
1

tbsp

coconut oil

1/2

tsp

mustard seeds

1/4

tsp

cumin seeds

1/2

tsp

Urad Dal

5-7

curry leaves
for poriyal
2

cup

knolkhol

small dices

1/4

tsp

turmeric powder

salt to taste
Instructions
Peel the skin of the knolkhol and dice the flesh into 1 cm or smaller cubes.

Heat the oil and add the mustard seeds and cumin seeds. the mustard seeds when splutters add the urad dal and the curry leaves.

Add the diced knolkhol and add salt and turmeric powder.

Saute well and sprinkle a bit of water. Cover and cook for about 5-7 minutes till the knolkhol is tender.

Keep watching the water level.

Once the cubes are fork tender, stir in the freshly grated coconut and saute for another two minutes.

Remove from heat and serve warm
Notes
I have used the tender leaves of the kholrabi as well. They taste really lovely as well.