Kothavarakkai poriyal is a basic stir fry made with cluster beans. Valued for its medicinal properties this cluster beans stirfry is a gluten-free, vegan addition to your everyday Indian meals.
The visit to Bengaluru this time has seen so many changes. My mother-in-law is finally hooked on blogger world. She is now curious about the new idea. She was talking about bloggers, YouTubers and plenty more who have daily appearances on her devices. So, the suggestion to be videoed while she was making the daily food was welcomed instantly. So as a start, we have kothavarakkai poriyal from her kitchen.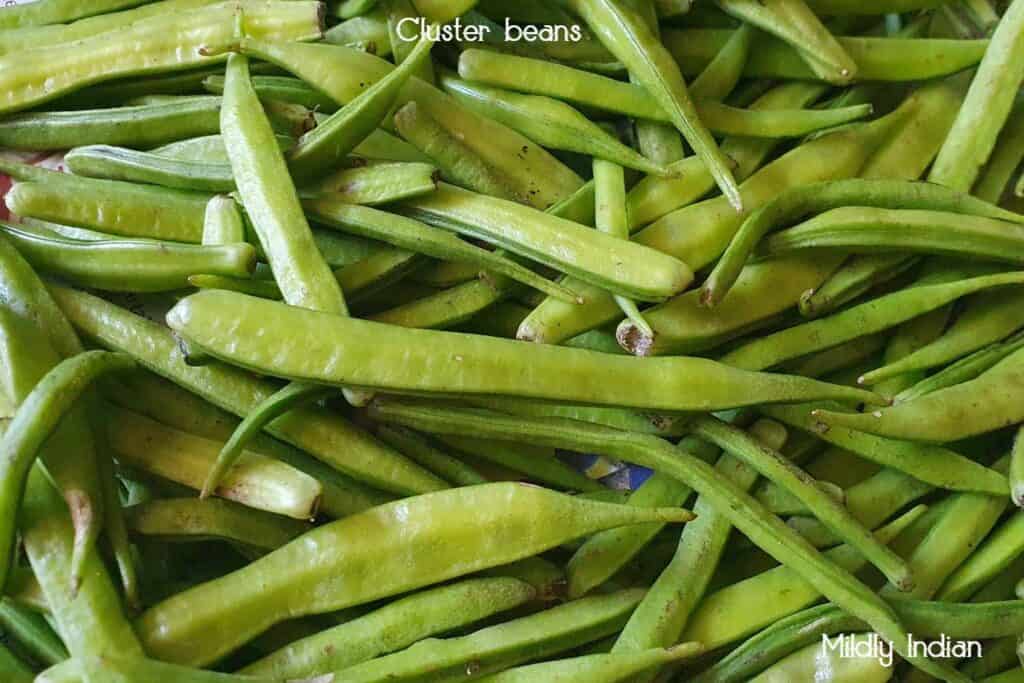 What is kothavarakkai?
The tender pods of Cyamopsis tetragonoloba are used as a vegetable known in regional languages as guar, gawarfali, the green seed pods that grow in clusters are the product of interest. Grown in crop rotation the guar plant notably provides the legume but also improves the soil by nitrogen fixation. The low-calorie pods are a good source of fibre and potassium.
Did you know?
The much-valued commercial flour improver guar gum is extracted from the endosperm of the mature dry seeds of this plant. This is used in breadmaking, the cheese industry and ice cream manufacture.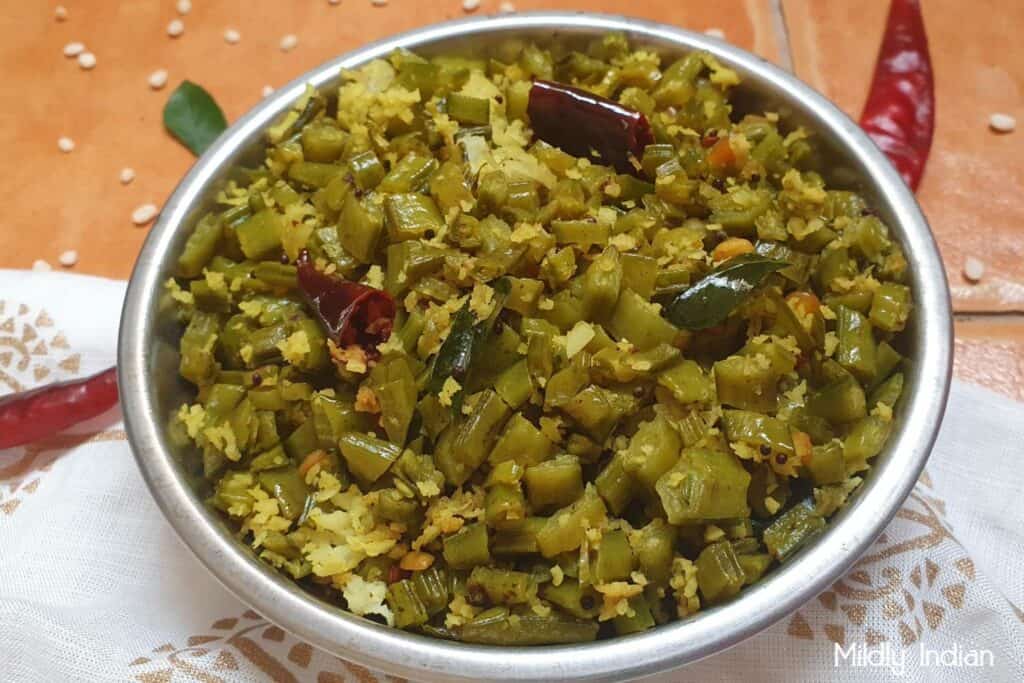 Ingredients for this kothavarakkai poriyal
This kothavarakka proiyal is made by my mother-in-law. It is one of the simplest stirfries yet very very tasty. Here is the list of ingredients you need to prepare this
Cluster beans or kothavarakkai is the main ingredient in this recipe. Wash and clean the beans. Remove the beans from the thick stalk. Pinch off the tail as it tends to be a bit chewy. Now slice the beans as thin as you like.
Tempering: the classic south Indian tempering is of mustard seeds that crackle to flavour the coconut oil, a touch of dals (split lentils ) for the crunch, followed by curry leaves and red chillies that further flavour the oil.
Seasoning: the recipe is usually just seasoned with salt. However, if you like it spicy use about half teaspoon of cayenne pepper powder can be added.
Garnishes: the final addition of the freshly grated coconut adds a lot of difference to the dish. Honestly, it doesn't feel the same with the desiccated coconut. However, grated frozen coconut still manages a good bit of flavour.
Additional adds:
Shallots: sliced shallots can be added along with the curry leaves. This gives a wonderful aroma to the poriyal. However, this is not common in Tambaram kitchens so my mother-in-law doesn't use it.
Cumin: if you don't have mustard seeds, use cumin. The cumin (jeera) gives a different flavour to the oil.
How to make the poriyal?
As a part of this new journey, we have made a short mature video of how the poriyal is prepared. My mother-in-law is the one who is making this so the measurements in the video are approximate. However, you can follow the recipe card below to get the exact measurements and step-by-step instructions. Hope you will like and share this video too. 
Kothavarakkai poriyal
Equipment
chopping board

Knife

Kadai

ladle
Ingredients
2

cups

cluster beans

chopped
For tempering
1

tbsp

coconut oil

1/2

tsp

mustard seeds

1/2

tsp

urad dal

1/2

tsp

Channa Dal

1

small

dry red chilli

curry leaves

we did not have any.
seasonings
1

pinch

turmeric powder

salt to taste
Instructions
Wash and trim the cluster beans.

Chop the cluster beans into small bits. Set it aside till needed.

Into the khadai add coconut oil and set on medium high heat.

As the oil heats up add the mustard seeds, urad dal, channa dal and red chillies. Add curry laves and stir fry till mustard seeds splutter.

Add the chopped cluster beans and stir fry for a minute.

Now add the turmeric powder, salt and mix well.

Add 1/4 cup of water and cover and cook for 5-7 minutes.

Once cooked, add the grated coconut and stir fry for another minute or two till water is completely absorbed.

The kothavarakkai poriyal is now ready.
Serving suggestions
Kothavarakkai poriyal paired with steamed rice, quinoa or millets with a classic gravy like sundakkai thengaarachukozhambu or podipotta sambhar is a perfect South Indian meal.
To make an easy wrap use a spinach phulka as the base and fill up with this poriyal. If you have cooked potatoes mash add it up to give a  filling wrap.
Meal prep and storage
The poriyal can be made and saved for about 3 days if refrigerated. If storing for a week, I avoid adding the coconut. Since the coconut added is fresh add it after thawing. The cluster beans stirfry is not the best to be frozen. It turns a bit rubbery if texture.
Stay connected
As we are exploring new ideas this year, hope you stay with us by subscribing to our newsletter. When you try this recipe don't forget to let us know in the comments how you like it and rate the recipe with a 5-star rating. We will love to stay connected with you. Follow us on Instagram or Facebook to receive updates more often.