Check out how to make this easy lentil vegetable stew, an easy sambhar recipe, that is vegan and gluten-free. Pair it with your savoury breakfast, lunch menu or evening snack, podipotta sambhar always finds a place in the meal.
Walk into a tambhram house anyday there will be sambhar on the menu. Yet the sambhars are all different. There is arachu vitta sambhar, podipotta sambhar, pasi parippu sambhar, thenga paal sambhar, sada (ordinary)sambhar, pressure cooker sambhar, udupi sambhar, darshini sambhar, nammathu (home)sambhar, ashalathu (neighbour's) sambhar and a million more versions. In spite of all these versions, the podipotta sambhar is usually the one that the homecook relies on to make his/her life easier!  In my house, we have all these versions too coz we have one very happy sambhar lover. Though not every day, sambhar, therefore, appears more often than ever on the home food list. To top the list on a weekday, it just two, pressure cooker sambhar and podi potta sambhar. Since we have blogged the former, here is to the comfort of podipotta sambhar.
What is sambhar?
Simply put, sambhar is a vegetable stew with cooked dal added in. The souring agent is tamarind and the tangy gravy forms the best pour in to mix with rice. Once you are used to making this you will quickly figure out that this has become the favourite South Indian staple because of the flavours and the wholesomeness of the dish.
Is sambhar vegan and gluten-free?
Sambhar is a simple vegetable stew. All the ingredients that go in are plant based. The final tempering is done in coconut oil. So it is one of the best vegan stew recipes. The asafoetida that is used can contain gluten. To avoid this use the brands that are gluten-free or avoid it totally  (you won't miss it much in the end result).
Gather the ingredients for podipotta sambhar
Lentils–  the split pigeon pea dal is used in sambhar. In regional languages, it is called tur dal, thuvaram parippipu or huruli bele. The dal is pressure cooked  (or instant pot) with excess water for 20 minutes on high, followed by natural pressure release. The cooked dal is soft and mashes easily. Once this is ready set it aside. While cooking the dal you can add a pinch of turmeric powder to it as well.
Souring agent– the sambhar is a tangy curry and the sourness comes from the tamarind extract that is added to it. The dried tamarind pods are soaked in warm water and squished to extract the juice. The vegetables then get cooked in this juice with some spices. Here is a short video of how to extract the tamarind pulp.
Vegetable mix –Traditionally, okra, moringa pods, wintermelon, radishes or pumpkin is added to make this sambhar. However, carrots, beans, kohlrabi, zucchini etc also taste amazing in the combo. You can either add a single type of vegetable or a combination. Keep in mind the cooking time of each so that it doesn't disintegrate. Today we have used moringa pods and daikon radish to make this sambhar. 
Spices- used The main flavour comes from the sambhar podi spice mix. This is a unique combination of spices like coriander, fenugreek and chillies with some roasted dals. The mix when powdered together created a deep orange-coloured mix that can be stored for a while. The recipe for homemade sambhar podi is here on the blog. Along with the sambhar podi, turmeric powder and salt are used.
The tempering- As the final touch mustard, curry leaves and fenugreek seeds tempered in oil are added to the bubbling sambhar. This infuses the second layer of flavour that actually hits your senses prior to tasting the sambhar. Into a small pan, add a teaspoon of coconut oil. As this heats up add the whole black mustard seeds and they will crackle instantly,  quickly add a few fenugreek seeds, curry leaves and one or two red chillies. This sizzles. Remove from heat and pour over the bubbling sambhar. Cover the sambhar and take it off the heat. Let this sit for 3 to 5 minutes so the aroma infuses well. To get the authentic sambhar feel, don't miss this step.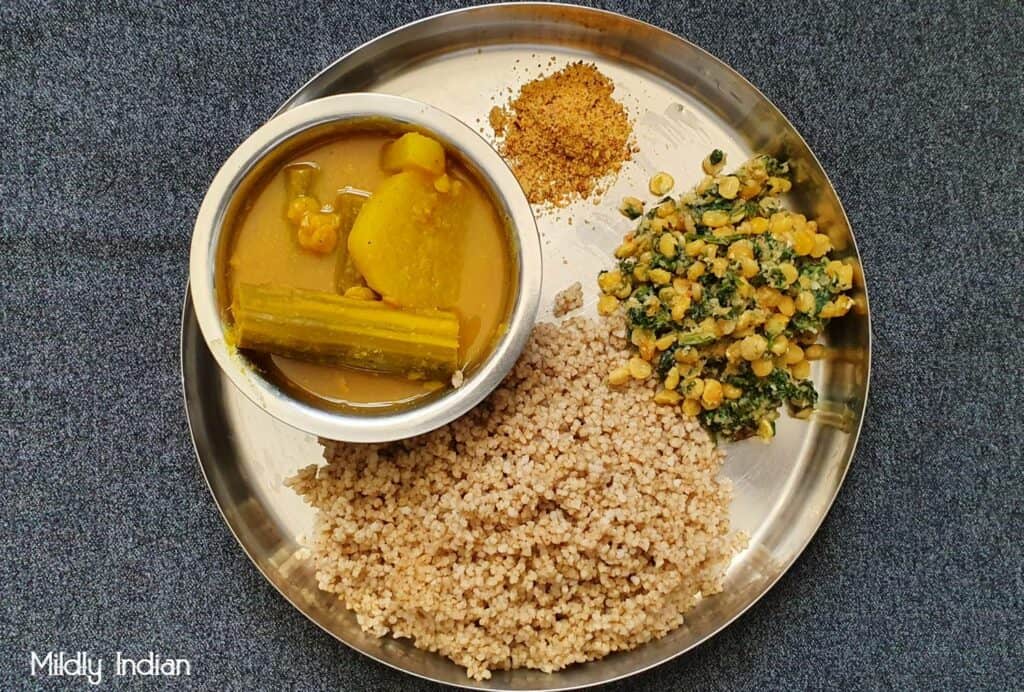 Podi potta Sambhar
Equipment
Pressure cooker

deep pot

ladle
Ingredients
for cooking the dal
1/2

cup

tur dal

2

cups

drinking water
for the tamarind extract
1

lime sized

tamarind

1

cup

warm water
Vegetable mix
1

medium

radishes

2

long

moringa pods
Spice mix
2

tbsp

sambhar powder

1/2

tsp

turmeric powder

salt to taste

1

pinch

Asafoetida

10

curry leaves
for tempering
1

tbsp

coconut oil

1/2

tsp

mustard seeds

1/4

tsp

fenugreek seeds

1-4

curry leaves

1-2

dry red chillies
Garnish
1

tbsp

coriander leaves

chopped
Instructions
Wash and pressure cook the dal.

In the instant pot set for manual high pressure, 20 minutes or in the Indian pressure cooker 4-5 whistles

Allow the pressure to release naturally.

Once released mix and mash the dal and set it aside.

Meanwhile. Soak the tamarind in warm water.

After 15 minutes, squish the tamarind and extract the juice.

Strain and set this aside.

Peel and slice the daikon.

Peel and cut the moringa pods into two-inch pieces.

Add the vegetables to the deep pot and add the tamarind juice and set on medium heat.

Add a cup more water, turmeric powder and salt and let the mix come to a boil.

Cover and cook the vegetables till they are fork tender.

Now add the sambhar powder and cook for another 2-3 minutes.

Once the mix is in a bubbling boil add the cooked tur dal.

Stir well and let the sambhar cook further for another 5 to 7 minutes.

Add the coriander leaves and remove from heat. Cover and set it aside.

In a separate small pan, add the coconut oil and mustard seeds and let them heat up.

When the mustard crackles add the red chillies, fenugreek and curry leaves. Once they are aromatic, pour this mix over the hot sambhar ( be careful, can splutter).

Cover the sambhar and set aside for 5 minutes.

Mix well and the sambhar is ready to serve after 5 minutes.
Meal prep the sambhar
Podipotta sambhar is something that I make in a larger pot. It stays well in the fridge for 3 to 4 days. When frozen I make it a bit thicker than usual. The frozen sambhar stays good for 2 months. once thawed, do not refreeze it. So, I place them in smaller freezer-safe containers in the freezer.
Serving suggestions for the podipotta sambhar
The easy sambhar, podi potta sambhar starts the day with fluffy soft pongal, malligaipoo idlies or bamboo rice idlies. Then carry on the same to add to your South indian thali or a simple rice bowl with vazhuthananga mezhukkuperatti or keerai thandu poriyal. Towards the evening, snacks like vadai or bajji find the gravy as an easy dip. Make your life easy at dinner with thousand holed set dosa and the podipotta sambhar to dip in. This is how this easy sambhar lends itself throughout the whole day.
Now for busy working mums, split those up over a couple of days so you can focus on other much-needed deadlines. This week we have prepped podipotta sambhar, fluffy cooked Kodo millets, dhaniya podi and poriyal.
Stay connected
The regional cuisines certainly develop a lot of easy homestyle vegan recipes based on what is available around. You will find a lot of those in the recipe mains section on this blog. If you are looking for a specific recipe, reach out to us in the comments so we can try it out for you. The best part of food blogging is after all being able to connect and learn more about each cuisine. Tag us @mildlyindian when you make these recipes and share them with your family and friends. Leave us a rating and comments on your experience with this blog.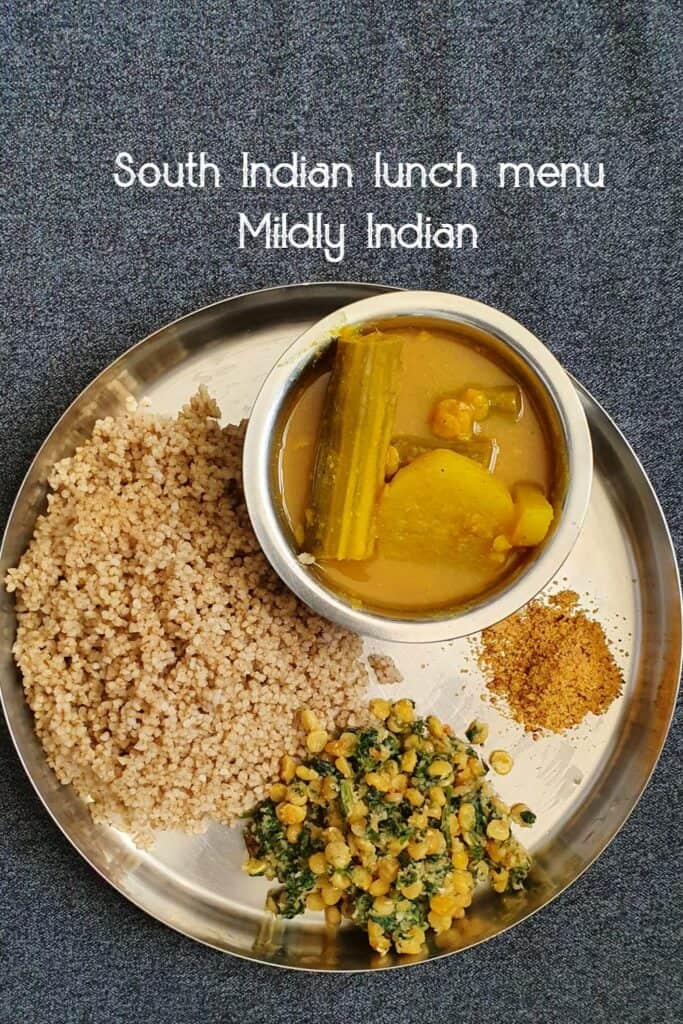 Looking forward to hearing from you, happy cooking.