One of the simplest age-old lemonade version in southern India is "panakam" which means sweet liquid in Sanskrit.  This is the traditional offering on Rama Navami day along with Neermooru ( watery buttermilk) and Kosumbari salad. Panagam is also made on the last day of Navratri bommai golu, before the dolls are rested. 
Often I wonder,
Why such a minimal offering for a celebrated god in the Hindu mythology?
Most of the other gods have elaborate delicacies prepared for their birthday. Ramnavami is quite the opposite. This may be because Rama is portrayed as the epitome of virtues. He is said to have lived a simple life though being the efficient son of a king. this simplicity is reflected in the cuisine to celebrate the day. 
Or
In my opinion, the summer months are tough on the digestive system to be loaded with sweets and savouries which are fried. This calls for thirst quenchers more often than ever. The digestive system is in a stage of lethargy as per Ayurveda. To revive the taste buds and to reactivate from this tropical heat liquid diet is preferred. The ingredients of the panakam are perfect for the same. Since Ram Navami falls at the peak of the summer months, the recipes are carefully chosen to celebrate yet take care of oneself.
Have a look at the major ingredients for panakam
Jaggery – The pure sugarcane juice is evaporated to get the chunks of hard candy-like jaggery. This jaggery is unbleached and unrefined form. It is rich in Iron and minerals as not much processing has gone into them.
Lemon -one of the best-known sources of Vitamin C. Choose from the array of Meyer lemons, finger lime to the regular lime hey all give that boost to immunity. Lemons have always proved their properties in protecting from the common cold and allergic reactions. In combination with the jaggery, they bost the iron absorption and mineral intake.
Dry ginger – Though considered heat, dry ginger is a digestive aid. when added in small quantities ginger helps in combat of a number of respiratory illnesses and stomach ailments. The dried ginger that is used here is less pungent than the fresh form and helps in natural pain management.
Water – when 70 per cent of our body is made up of water, that is the key ingredient we cannot miss.  The whole purpose of these easy drinks is to keep your body hydrated. As drinking water alone in summer months is difficult, various combinations are brought forth to bring variety and still keep up the water intake.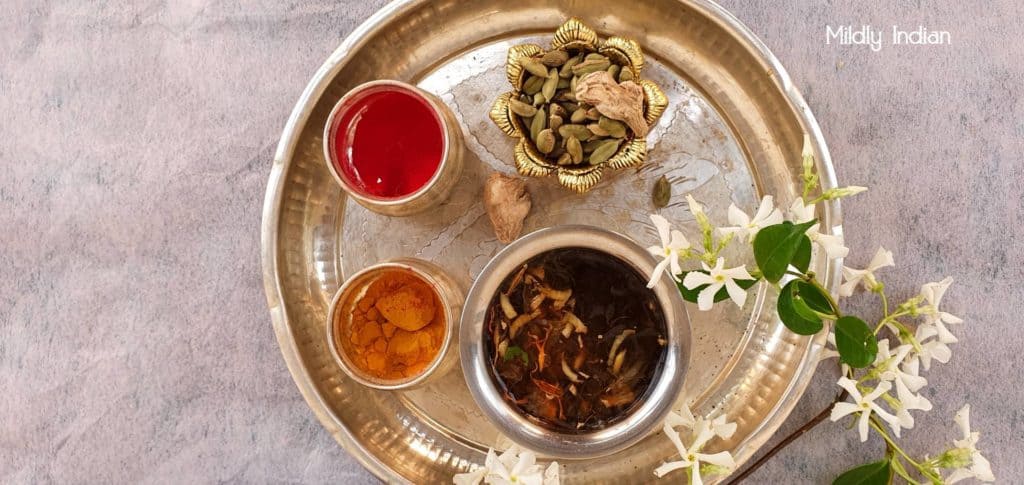 Here  are some other combinations for the day:
Sice neermoru and kosambari are the key for this celebration here is some to add variety
Though the celebration is simple, it is all about the joy and happiness you share. Share with us the thoughts running in your mind as you read these recipes or make them. Certainly, you will have different ones that come up in your kitchen and we would love to see them too. Leave us a comment or tag us on our Instagram profile –Click here for the Instagram handle.
The blogging journey is one of constant evolution. In the past 7 years of blogging, there is so much transformation that this site has gone through. Subsequently, we have brought out so many changes and this post has therefore been updated to incorporate these details as well. Hope you like it and stay on with us.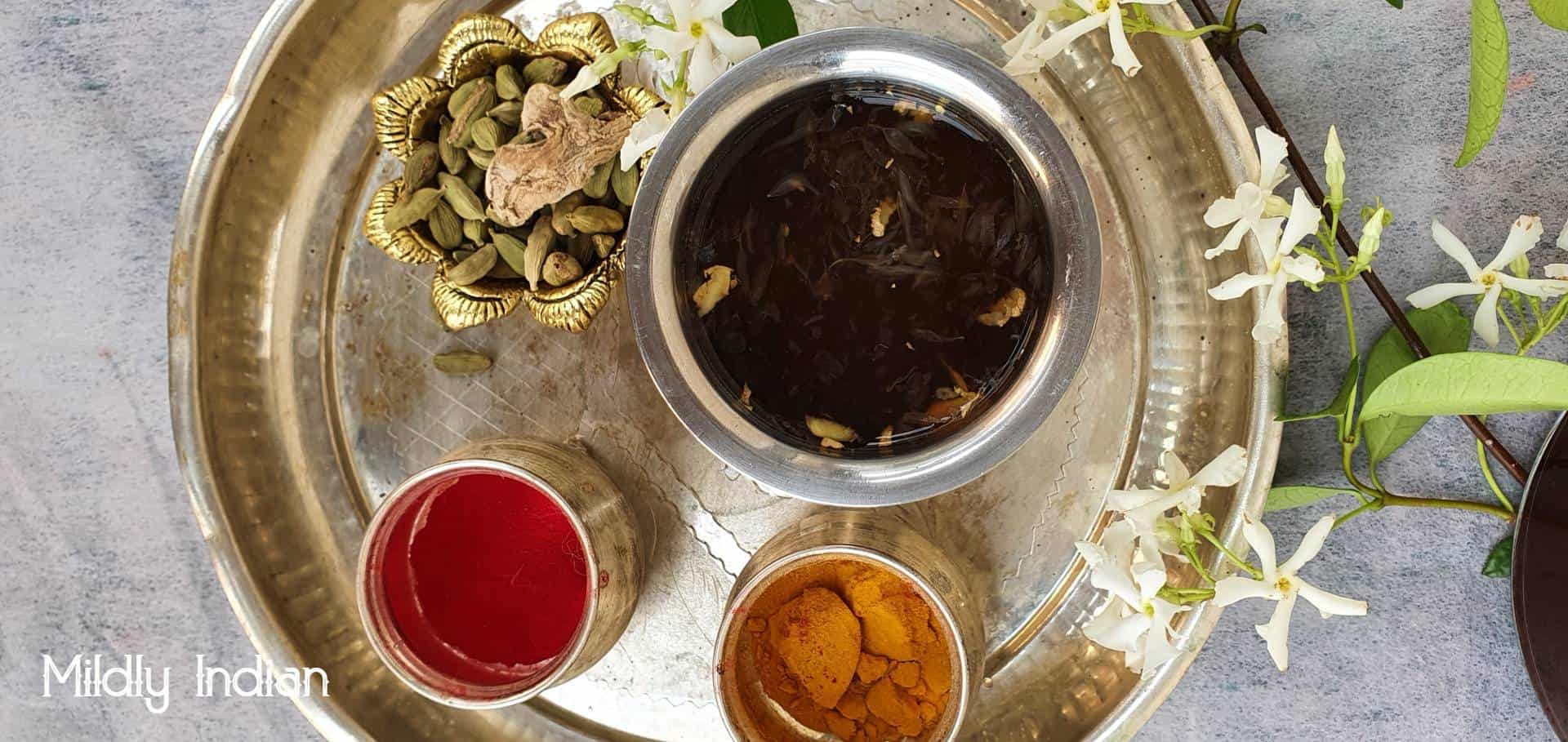 Panakam - Jaggery lemonade.
Perfect summer lemonade.
Ingredients
4

cup

drinking water

3

tbsp

jaggery

crushed, cane juice concentrated.

0.5

tsp

dry ginger

chukku podi, sonth

1

small

lemon

Use lime if you prefer.

1-2

leaves

holy basil

1

pinch

green cardamom powder

5-7

dry petals

marigold flowers

(optional)
Instructions
In a saucepan, add one cup of water and the jaggery, set aside for 5 minutes

Place this on heat and bring it to a boil, the jaggery will melt into it completely. Add the dry ginger powder to it and stir well.

Once boiled and well incorporated, remove from heat and add the remaining water to it.

Strain to remove any impurities from the jaggery solution.

At room temperature, add the juice of the lime, crushed basil leaves, marigold petals and cardamom powder to it.

Mix well and chill or cool for a while.

Serve at room temperature or chilled.
Notes
The Jaggery lemonade keeps well in the refrigerator for 2 to 3 days. 
Nutrition
Serving:
100
g
Sodium:
14
mg
Sugar:
13
g
Fiber:
1
g
Potassium:
358
mg
Calories:
74
kcal
Monounsaturated Fat:
0.01
g
Polyunsaturated Fat:
0.03
g
Saturated Fat:
0.01
g
Fat:
0.1
g
Protein:
0.2
g
Carbohydrates:
20
g