As my readers know, my parents have a better kitchen terrace garden than me and always have been more hard-working than me too. Every year mum plants a crop of ginger, turmeric and mango ginger without fail. Last time I visited her it was harvest time for these. Unearthing these mud clad underground stem and cleaning them was a day's work. Doing that gardening bit with them was still so amazing. What more there was tons of the rarity, mango ginger.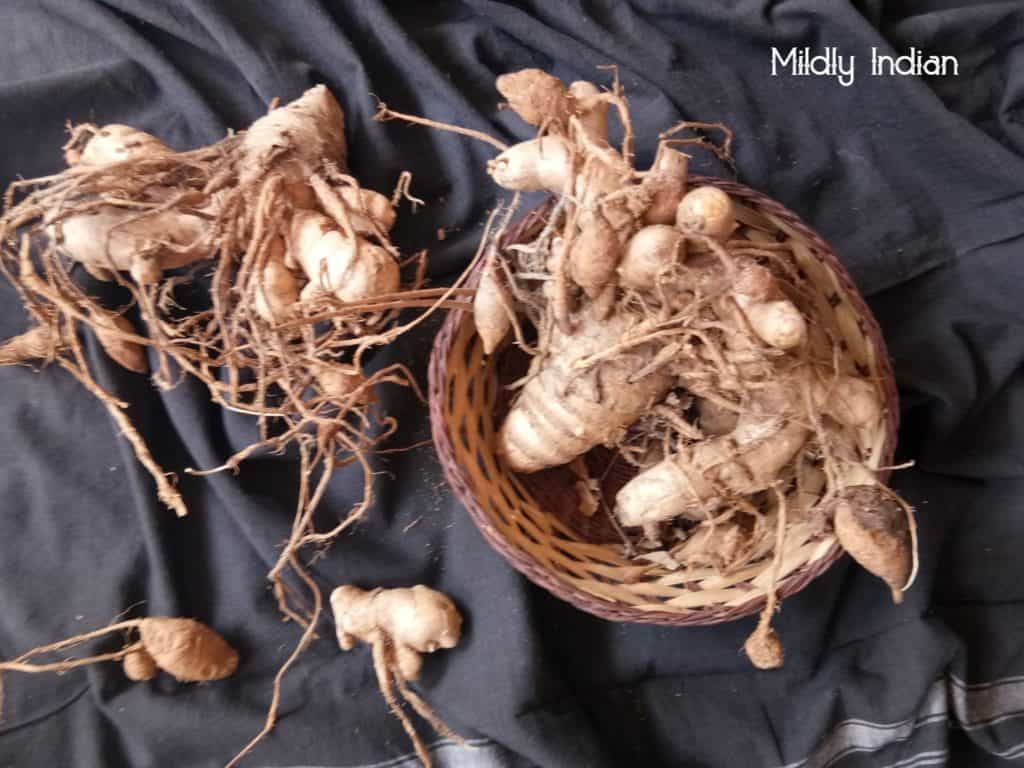 It is not mango and ginger.
Sometimes called white turmeric, mango ginger is a unique ingredient used in a lot of South Indian and Asian recipes. The flavour of mango ginger is unique. It lacks the pungent spiciness of the gingerroot and carries the fragrance of raw mango. called amba haldi  or maanga inji. This crisp to bite rhizome is amply researched for its base in ayurvedic and Unani medicine (see footnotes for a link on this research)
Confusing to a newbie kitchen enthusiast, yet aromatic this unusual spice does appear as pickles more often.  In my mother's kitchen, the first fresh lot always gets transformed into salads. She surely knows how to get us to work as she assigns us the job of scraping off the tough outer skin, while she quickly works through the other ingredients. She serves this salad with home made flatbreads or as a relish at lunch. 


Reeling it all in.
Their passion for homegrown was so infectious. This was my prompt to come back and plant a small one in my backyard here in Sydney. I have had no success to report on growing any ginger or turmeric. Let alone, mango ginger, I hardly see it here. So this recipe is directly from my mum's kitchen and pairs so well with some chips or crisps. If you are in a region where you can find fresh mango ginger, don't even hesitate. Pick up a few roots and experience the uniqueness. Share with us the joy of making these or the changes you made to it through a tag on
Facebook Page – Mildly Indian
Instagram Handle – Mildly Indian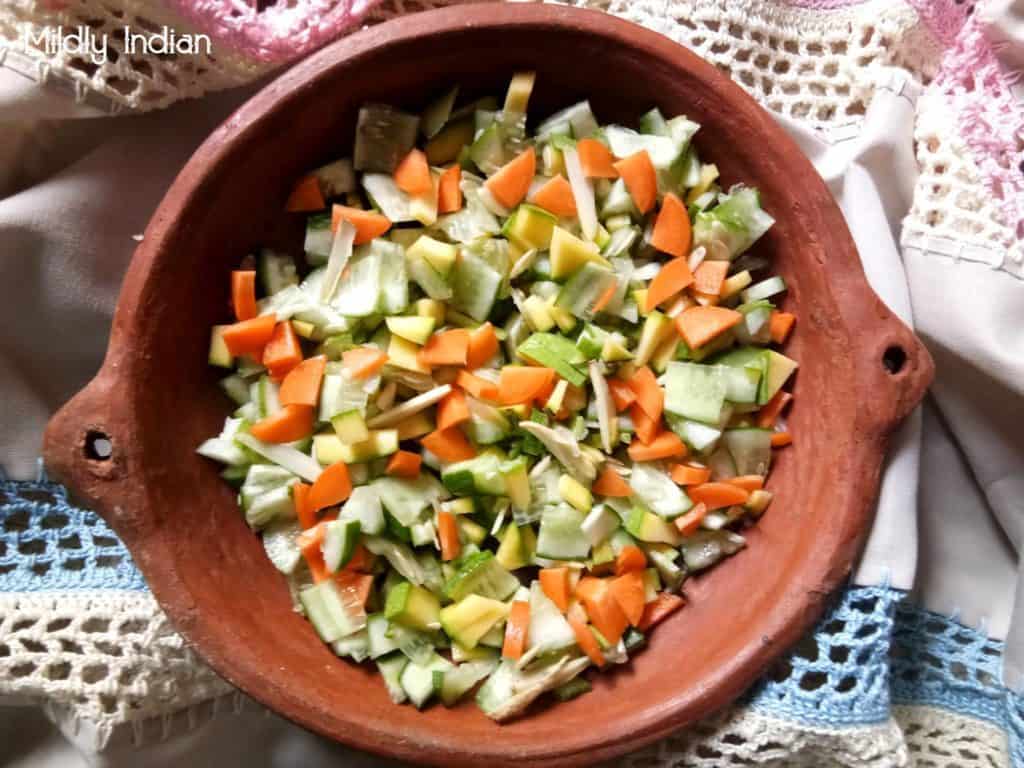 Stay on a while and check out some more on this blog. From my mother's kitchen, I have a few lovely recipes here. Click on the links to access them. 
Keerai molagutal- spinach stew
See you in the next post.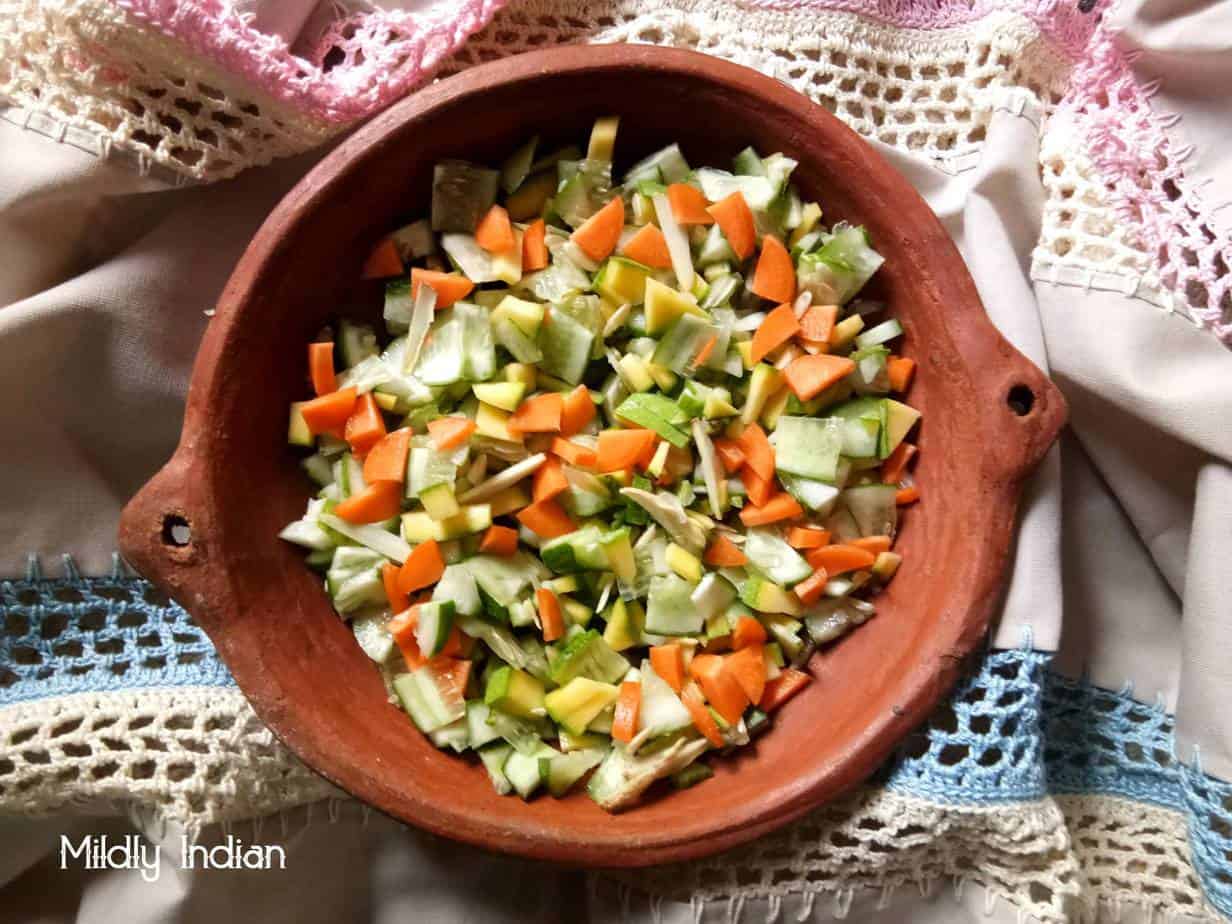 Mum's maangainji salad
Fresh mango ginger, oil-free Indian salad.
Ingredients
1

large

cucumber

1

large

carrot

1

small

Onion

we have used the white one here.

1

large

mango

raw, crisp one.

2

inches

mangoginger

1

clove

garlic

optional

salt to taste
Instructions
Wash and remove all the mud from the mango ginger rhizome. cut off all the thin anchoring roots and keep the swollen parts.

Scrape the skin off the rhizome, using a spoon. and wash it again.

Dice the mango ginger or julienne them and add to a mixing bowl.

Wash pat dry the carrot and cucumber.

Dice them as small as you can and add to the mixing bowl.

Peel the onion and chop that as well. Add it to the mixing bowl.

Clean the mango, remove the skin if preferred and dice the mangoflesh to add to the mixing bowl,. We have retained the skin as it is highly aromatic.

Grate the garlic clove and add it to the bowl as well.

Sprinkle salt and mix it well. With the back of the salad mixing bowl, slightly press the vegetables and the raw mango so as it releases a bit of its juices as this is the dressing.

Mix well and set aside for 10 minutes before serving.
Notes
The entire aromatic profile of this salad comes from the mango ginger. So, no herbs are usually added to it.