The men in my family have not shied away from cooking. I have always seen my dad make a cup of tea, chop vegetables, have the best combination of vegetables to make some recipes. My husband making the crispiest godhambu dosa, fragrant rasam and sambhar and of course tempting us with a colourful tri capsicum dahi chutney.
Both of them have happily taught their better-halves the tips the trick and all the know-how.  So that part of the partnership is fine. It is one of these recipes which my dad taught amma and she passed it on to me that I am writing about today.
Recipes from appa- Porichakozhambu
Appa had a difficult childhood. Losing his father early on and generally, poor war times did not make it easy for him. Hence the recipes that he talks about using the absolute local ingredients yet made tasty. There is one thing about Appa's recipes, they turn me into a fire breathing dragon. He likes them spicy and tangy. He manages to take that spice level even today.
When monsoon starts outside appa will come home with some of his favourite veggies like snake gourd, winter melon, elephant yam, bitter gourd and long beans. Then he will tell mum that we will make poricha kozhambu. He will help her clean and cut most of the vegetables except the elephant yam (that is itchy). Mum will work her magic and a huge portion of the curry will be there for dinner.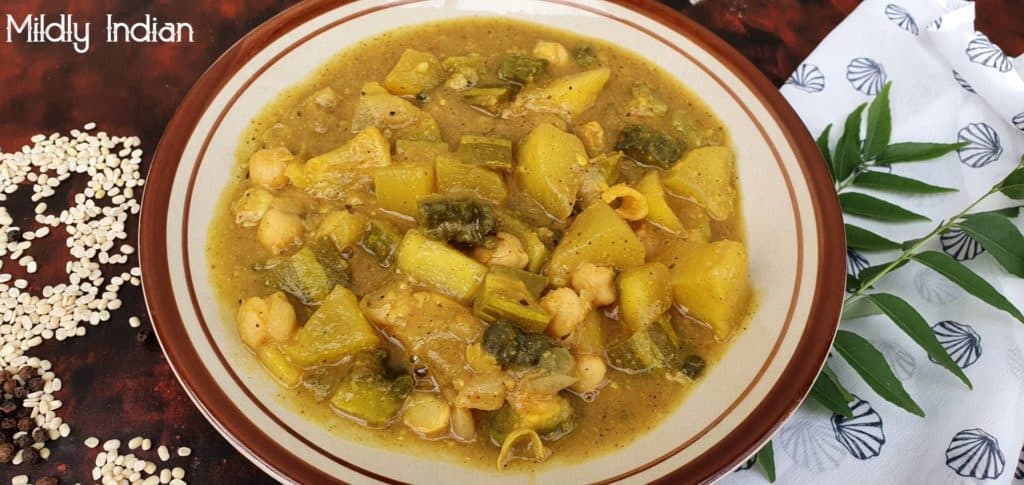 This poricha kozhambu
While having this spicy, peppery tangy gravy he will tell us about his time at Mancombu and how each little thing was precious. I have heard this pretty much every monsoon. I enjoyed these stories as those torrential rains tore through the state and with the first wind the power went off ( that is quite a regular thing in Kerala).
The recent rainy winter days made me miss this recipe a lot. My family has never had this before and were happy to try it for Father's day. My version is, however, quite different from amma's one, it is much toned down ( check the recipe notes for the hotter addition) Unlike the popular poricha kozhambu recipes that you will commonly encounter, this recipe has no added coconut. The fiery gravy is a blend of black pepper and lentils. Together with the tamarind, they make this vegetable curry a unique combination.
Here are two more Indian curries that are unique
Dudh Shukto
Rosep aon
Try this poricha kozhambu with red rice or with spinach bread, especially on a cold winter day. The recipe does keep well for a week in the fridge and frozen for 3 months. So make it in a huge batch and enjoy the lip-smacking pepper gravy from my father's collection.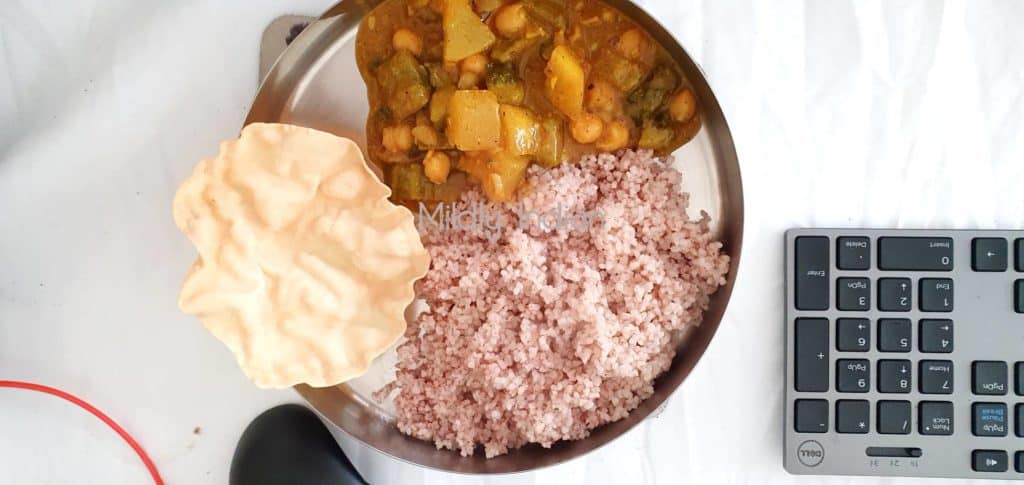 When you make this recipe don't miss to tag us. My dad will be super proud and happy too. Here are our social media handles
Hope you will subscribe to our blog and keep in touch through the above portals.
Stay safe and see you soon.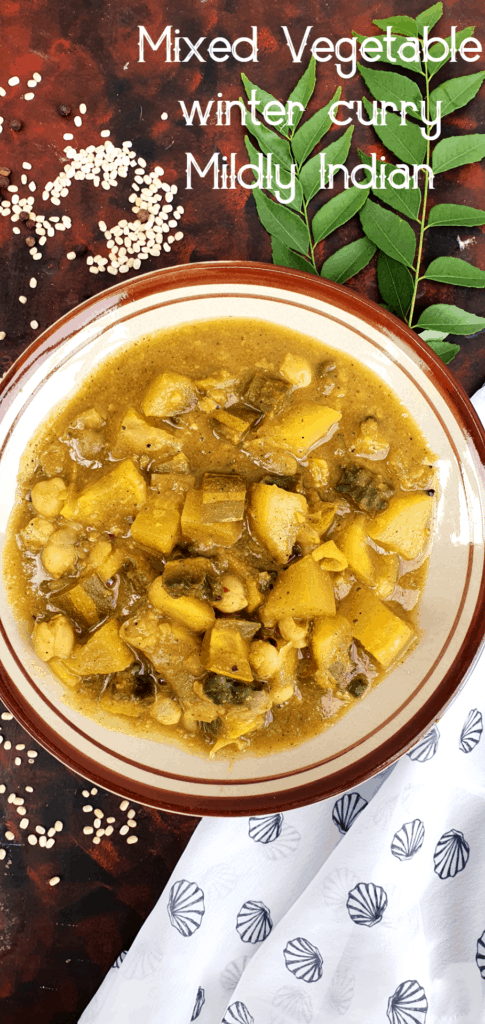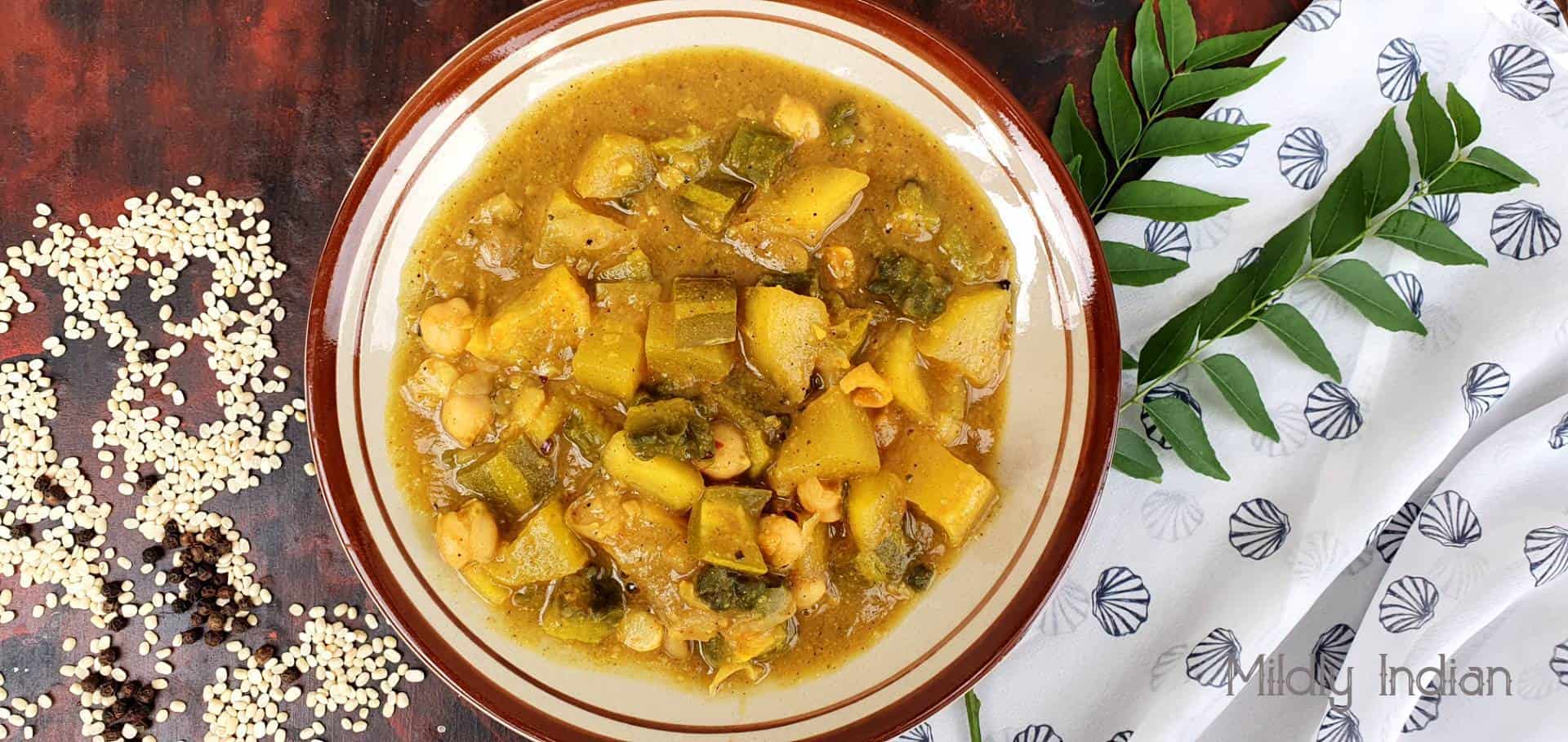 Dad's porichakozhambu
Mixed vegetable coconut free, gluten-free curry for winter
Ingredients
To prepare tamarind pulp
1

small lime sized ball

tamarind

1

cup

drinking water

( warm )
For the porichakozhambu masala
2

tbsp

Urad Dal

(black gram dal)

1

tbsp

Channa Dal

( split bengal gram)

1

tsp

Black pepper

1

tsp

dry red chillies

( i used flakes)

15-20

curryleaves
vegetables needed
1

cup

wintermelon

Diced and loosely packed

1

cup

snake gourd

diced and loosely packed

1/2

cup

bitter gourd

diced and losely packed
for the chickpea
1/2

cup

chickpea

( pre-cooked or from a can)
to cook the vegetables
2

cups

drinking water

1/2

tsp

turmeric powder

salt to taste
Instructions
for the tamarind extract
Soak the small lime sized ball of tamarind in the warm water and set aside for 10 minutes

Once soft muddle the tamarind and extract the soft pulp in the water. Remove the unwanted hard bits and strain the tamarind pulp. Set aside until use
prepare the vegetables
Wash and clean the vegetables needed.

Remove the central part of the bitter gourd, the snake gourd and winter melon. Dice the vegetables about 1-inch cubes.

In a cooking pot add two cups of water, the diced vegetables, salt and turmeric and bring to a boil.

Add the precooked channa ( chickpea) to the vegetable combo. ( you can use yams in the place of channa)

Now add the tamarind pulp prepared to this mix

Cover and cook till the vegetables are soft.
for the poricha kozhambu masala mix
In a separate pan, dry roast the dals and the spices on a low heat.

Once they are crisp add the curry leaves and roast till the curry leaves snap.

Cool this mix and powder it in a spice blender.
Completing the curry
Add this masala mix to the cooked vegetable mix and stir in without any lumps.

Simmer this on slow heat till the gravy thickens and the flavours mix well. This takes about 5-8 minutes on low heat.

The curry is now ready to be served. Enjoy with steamed red rice and crisp vadams.
Notes
For the full fiery version
Use 1 tbsp black pepper and 7-10 red chillies in the masala mix to roast and powder. I have toned down this very much to suit my family.
To meal prep and freeze
You can leave this curry in the refrigerator for up to 5 days. 
If you like to freeze, cool the prepared curry into freezer-friendly containers and save for up to 3 months. defrost as required.