The amazing memories of fasting and feasting during my dear old Calicut days are never complete without a glass of thari kanji. This semolina based preparation is the next common item on an iftar table to the cooling watermelon and mandatory dates. Still holds the simplicity and beautiful flavour of Malabar cuisine. Every season of iftar, the flavour of thari kanji revisits my memory and I make it more often. Sometimes it is such a comfort to gulp down than a cold smoothie on a winter day.

Malabar cuisine
Malabar cuisine is such a beautiful amalgamation of cuisine from different middle eastern countries due to the extensive spice trade. This richness in history brings for the culinary finesse to this region as well.
When the coconut, the black pepper, cardamom and other spices added on from the Kerala coast, the cuisine blossomed into one of the best.
From my point of view, there is no other kitchen which can beat the industriousness of a Malabar kitchen. Layers of flavour, the thinness of the pathri, the richness of the masalas and perfect texture of the short grain Kaima or Jeeragashala rice. This is an unbeatable combo. Saying this the spread on a Malabar table will have such heavy dishes paired with simple filling drinks that you will be so full soon. One such is the thari kanji.
Here is the recipe for another dessert tea, The Malabar spiced tea -Sulaimani
Sulaimani – Spiced black tea from Malabar
Back to the recipe
The aroma of the roasted semolina is not what you will experience in the recipe, but that of the roasted shallots and subtle cardamom.  The fried shallot in the topping is unique to Malabar and adds a distinctly sweet flavour. Often sweetened with sugar which I have avoided today, this sweet preparation is flavoured with chopped dates. Try this preparation today and experience the simple side of Malabar cuisine. Someday I will add more complicated ones.
Don't forget to subscribe to this blog or stay in touch via our FB page. Here is the link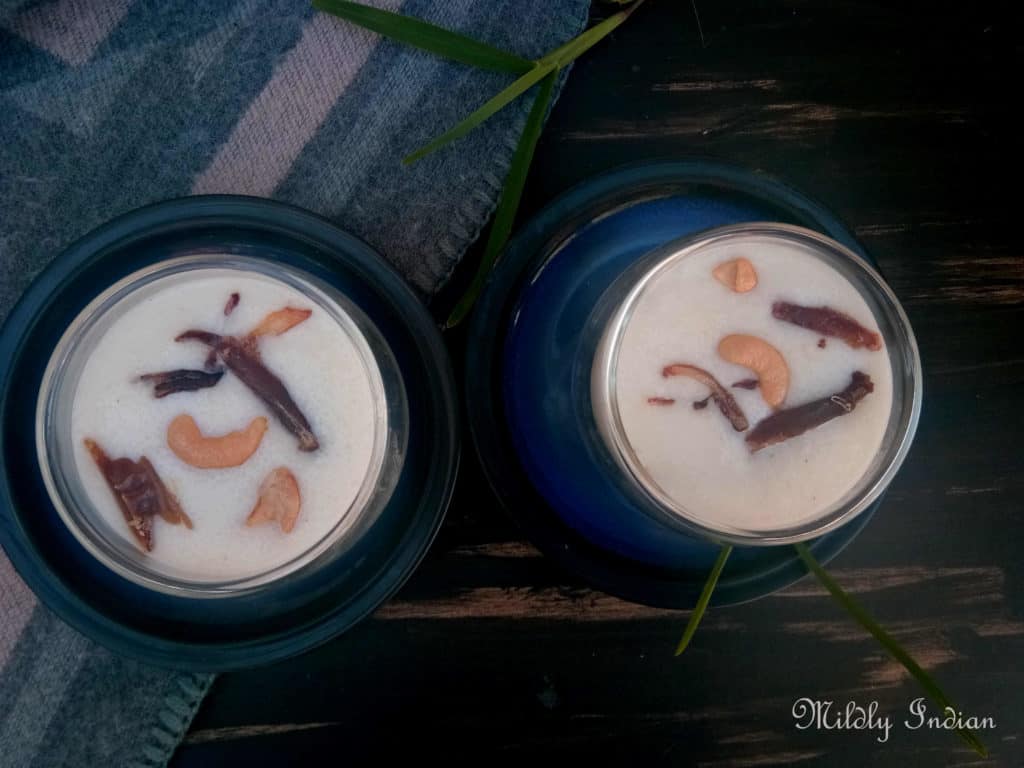 Print Recipe
Malabar cuisine Thari Kanji
Yum
semolina pudding with shallots
Remove a tbsp of the thick portion of the coconut milk and keep aside. Mix the water with the rest of the coconut milk to form a thin coconut milk.

Now add the thinned out coconut milk as a stream and keep stirring so no lumps are formed.

Once cooked add cardamom powder, stir and remove from heat.

Stir in the thick coconut milk and keep covered.

now add Cashewnuts to this and roast further. Add the chopped dates and remove from heat
You can make the same recipe with milk too. It is just a preference.
If using fresh coconut milk use the thinned out (second ) milk to cook the semolina and then add the thick milk as soon as you remove from heat.