Meet our alphabet series 'B for Brussels sprout'  this month.
Brussels sprout is a vegetable with quite a queer reputation..when one half of the population sneer at them, the other half looks at brilliant additions to the preparation for dinner with these little buddies.  With such varied reputation, these little bundles are enough to polarise a dinner table.
To me, they come as bite-sized cabbages which I  can steam, shred, roast or serve raw. The second best thing I like about this mini version is the fact that it doesn't fall apart when it is roasted. liking it a bit better now?
The obnoxious reputation of this beautiful vegetable probably comes from the sulphurous taste that it takes on when it is overboiled. This may be the cause of the big divide in the palatability.
Nutritionally sound Brussels sprout
These long-stemmed cabbage-like plant buds are very low in calories.

The content of fibre is significant to a daily addition to your meal.

Brussels sprout is highly valued for your eyes as they have the component leutin which protects your eye from age-related degeneration.

With glucosinolates higher than broccoli and cabbage, it meets your necessary sulphur content and at the same time reminds you not to overboil them.

The chemical nature of Brussels sprout helps in reducing inflammation due to oxidative

damage .

Along with the good content of Vit K, there are good cardiovascular system benefits too.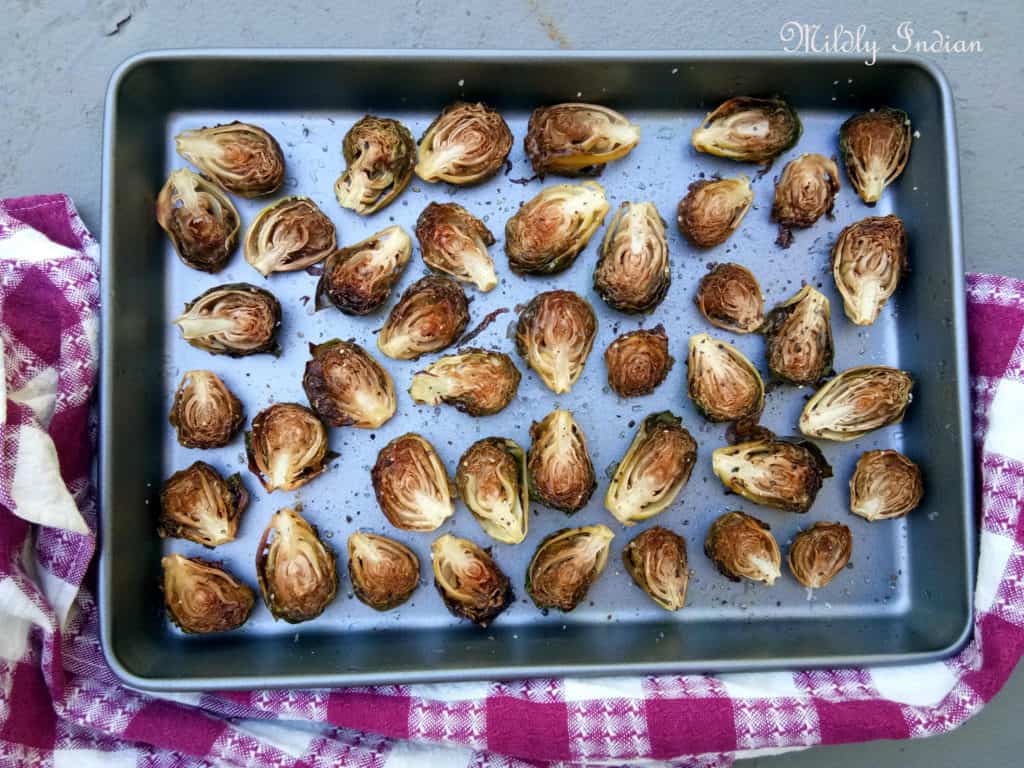 With good enough reasons to support the little sprout, its now time not to dismiss it as a Christmas garnish on the plate. The recipe here is the best to capture the crisp nature and tone down the sharpness. The slightly charred exterior with the deliciously soft inside was a good textural contrast. Hopefully, you will give it a chance this time and not still go by the boil until its pale scenario again.
There are some more of these kinds of not so popular veggies I have captured on my blog
Thank you for your continued support on the different social media. It is exciting and encouraging to read your comments and sessions. Please do leave a note on how you like the post or what you would suggest making a change.
 Submitting this recipe to the A_Z recipe Challenge for the month of July 2018. Watch out the collection for Alphabet B soon on my facebook page.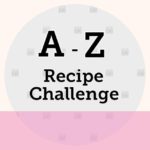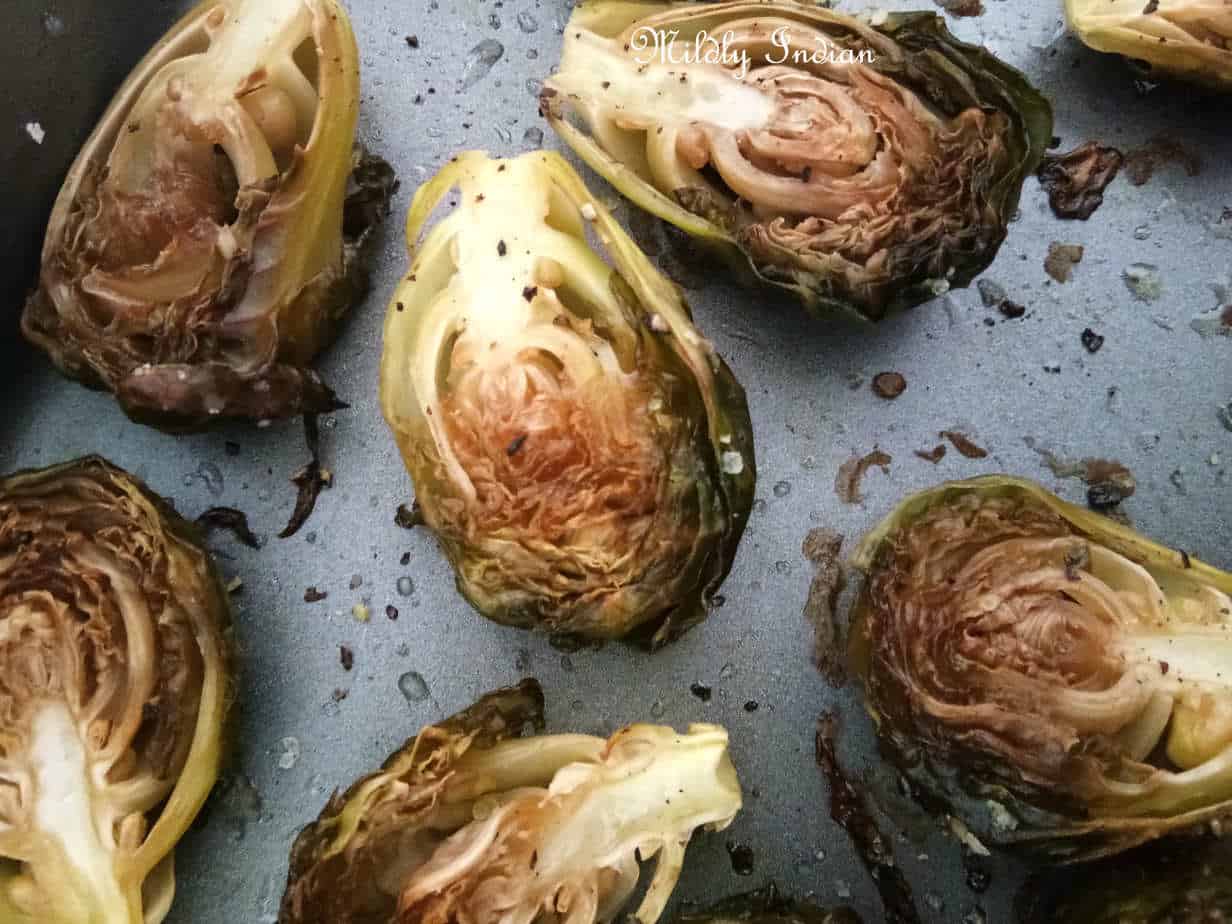 Maple roasted Brussels sprouts
a little wonder with minimal effort
Ingredients
For roasting
250

g

Brussels sprouts

1

tbsp

coconut oil

salt to taste

(use flaky sea-salt)
For flavour
1/2

tsp

dry ginger powder

1

tbsp

maple syrup

(use honey if you don't have)

orange zest

crushed black pepper
Instructions
Preheat the oven at 180 for 10 minutes

Whisk together, the maple syrup, ginger powder, orange zest and black pepper and set aside

Cut off the knobby ends of the Brussels sprout and remove any discoloured leaves.

Wash pat dry and slice them in half

Add the sliced sprouts into a mixing bowl and add oil and salt and gently rub till the sporuts are evenly coated.

Arrange this on the baking tray

Bake till the centre becomes a bit soft at 180 degrees.

splash the prepared dressing on the steaming brussel sprouts and bake again for another 5 to 7 minutes till it forms a slight char on the outer leaves,

Remove the baking tray and cool to serve

Enjoy the crispy outer layers and the creamy inner core
Notes
If using honey you may need a few drops of water to help you make the sauce.
Nutrition
Serving:
50
g
Calories:
94
kcal
Carbohydrates:
12
g
Protein:
3
g
Fat:
5
g
Saturated Fat:
4
g
Polyunsaturated Fat:
0.1
g
Monounsaturated Fat:
0.4
g
Sodium:
22
mg
Potassium:
339
mg
Fiber:
3
g
Sugar:
6
g