Once winter sets in roasted vegetables are such a delightful addition to the meals. Lots of veggies, warmth from the oven and the kind of attention the kitchen gets feels like home. I guess this is the whole reason why these are the top-rated recipes for the holiday season and thanksgiving.
Among the roasted veggies, one of my personal favourites is Brussels sprouts. Hence tend to add a bit more of the sprouts to this maple roasted Brussels sprouts recipe when other veggies are added.
Brussels sprouts-what are they?
The edible buds of the Gemmifera cultivar belonging to the cabbage family are Brussels sprouts. The slightly green tight leafy buds are  Obviously,  the name gives away where it was popularly grown. It comes on a long stock, but at the supermarket, you may just get the buds. ( source)
The sprouts unfortunately carry a bad rep for being bitter and unpleasant. Predominantly,  this comes from over boiling them, which releases the sulphurous compounds and the unpleasant taste.
How to prep some Brussels sprouts?
The loose outer leaves and excess stem are clipped away and these easily burn while roasted leaving an unpleasant taste. Soak the sprouts in water for about 5 minutes, wash them and set them to drain. Pat dry and the sprouts are ready for use.
How do these roasted Brussels sprout taste?
Brussels sprouts tend to become soft in the centre when roasted, yet the outer leaves are crisp. This combines with the sweetness from the maple and a few spicy hints from paprika take off any bitterness that you may expect from this vegetable. The end result is slightly smokey, slightly sweet complexity of flavour. If you are still on the fence, try it and don't be scared of this lovely vegetable. We have lovingly sorted out a  baked pasta recipe too that incorporated brussels sprouts along with broccoli.
Ingredients for this maple roasted Brussels sprout.
There are no exotic ingredients needed for this recipe as the star is just the Brussels sprouts. Once the sprouts have been cleaned and prepped, it is just slicing them in half. Good quality coconut oil and sea salt is what you need next. I like flaky sea salt for this recipe as it has a depth of mineral content than table salt. The maple syrup fragrance while baking will remove any unpleasant odours while the sprouts cook. It will also take away the slight bitterness that these sprouts may have. Then to spice it all up the faint hint of paprika that last hits the mouth make all the difference in flavour. This is all you need to make this roasted Brussels sprout recipe. 
Check the recipe card below for the detailed step by step guide for making this roasted Brussels sprout.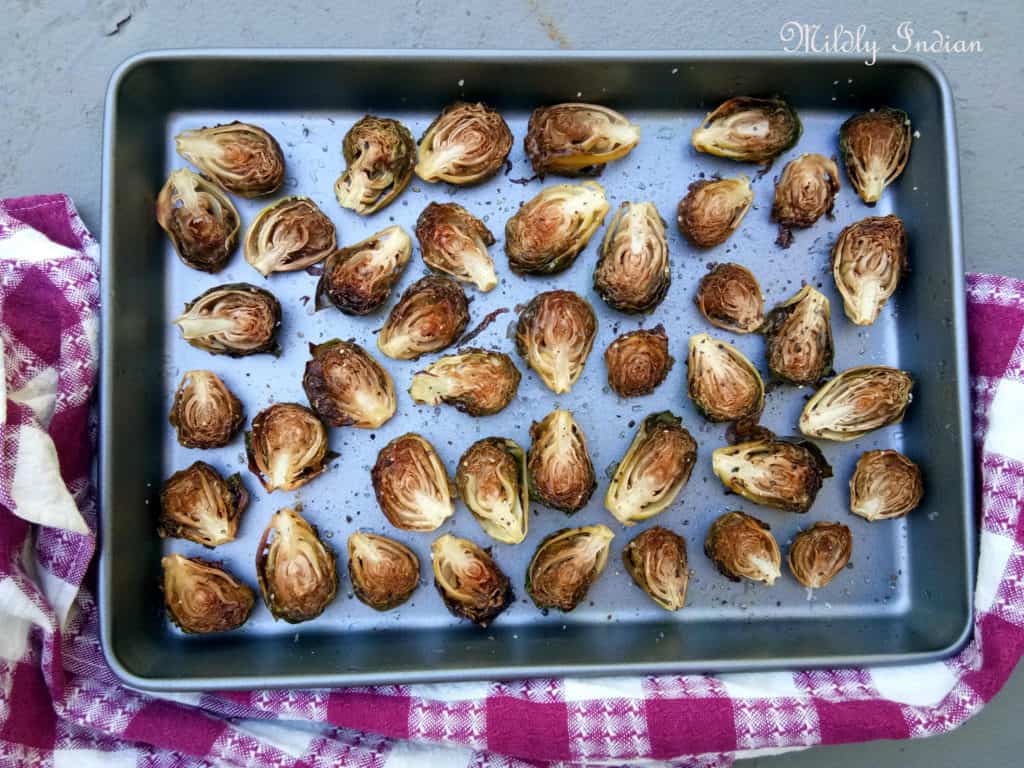 Maple roasted Brussels sprout
A delightful roasted sprout recipe for the cooler weather days. Enjoy this vegan gluten-free recipe for maple roasted brussels sprout.
Equipment
1 mixing bowl.

1 Baking tray

1 measuring cups and spoons
Ingredients
For roasting
250

g

Brussels sprouts

1

tbsp

coconut oil

Sea salt
For flavour
1

tbsp

maple syrup

1/2

tsp

paprika

1

tsp

Lemon juice
Instructions
Preheat the oven at 180 for 10 minutes

Cut off the knobby ends of the Brussels sprouts and remove any discoloured leaves.

Wash pat dry and slice them in half.

Add the sliced sprouts into a mixing bowl and add oil and salt and gently rub till the sporuts are evenly coated.

Arrange this on the baking tray.

Mix together the maple syrup, lemon juice and paprika.

Remove the half roasted Brussels sprouts from the oven.

Brush the maple mix on the sprouts and place them back to bake.

Bake till the centre becomes a bit soft at 180 degrees for about 10 minutes.

Remove the baking tray and scoop into a serving dish.
Nutrition
Serving:
50
g
Calories:
71
kcal
Carbohydrates:
9
g
Protein:
2
g
Fat:
4
g
Saturated Fat:
3
g
Polyunsaturated Fat:
1
g
Monounsaturated Fat:
1
g
Sodium:
16
mg
Potassium:
257
mg
Fiber:
2
g
Sugar:
4
g
Vitamin A:
491
IU
Vitamin C:
55
mg
Calcium:
32
mg
Iron:
1
mg
What more to add to these maple roasted Brussels sprout?
Nuts – walnuts or pecans chopped or broken bits of nuts after roasting the Brussels sprouts add so much crunch and nutrition. The subtle sweetness of maple works with the nuts really well.
Sweet potato – The soft roasted sweet potato is by far the best add on roots vegetable to this roast. I love the colours of the two together as it just screams autumn for me.
Furthermore, you can add carrots, parsnips, cauliflower too to make this a huge bowl of roast. If you pass the bowl to me, I will still pick out all the brussels sprouts before I choose the others.
Stay connected
We hope you will love to share with us your thoughts about our Brussels sprouts recipes and post. Do leave your comments for us to improve and also notes on the ones you love.  Take a moment to visit our youtube channel. Leaving you with our Facebook page  (click here) and Instagram (click here ) so you can take a peek. Don't forget to follow us as we update these to the best of our efforts. Subscribe, share, like and evermore come back.
Collaborations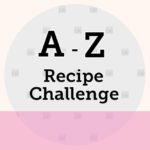 For the monthly ingredient-based challenge of A- Z recipes, here is my addition to the letter B. being a unique ingredient Brussels sprouts seemed the best fit to bring to my audience. Though not so common in India, I am sure my global friends will like to try this recipe.
Stay safe and see you at the next post.