"The greatest happiness of life is the conviction that we are loved; loved for ourselves, or rather, loved in spite of ourselves."
– Victor Hugo
A yogurt fruit verrine is the simplest and most satisfying form of dessert breakfast you can share with your loved one. This gluten-free, under 20 minutes, no-cook dessert is the highlight for February. 
As you grow in a relationship,  it ages well, especially when you are able to understand the likes and dislikes of your partner. Once the immature squabbles move over and give way to common ideals and companionship, the commercial celebrations do not hold much value. It is rather looking after each other and spending a few minutes of enough chaotic life together that makes sense. therefore you are looking at spending quality time than wasting it on making elaborate plans. Here is that layered verrine recipe that makes you smile as you make it and then makes the morning look fresh and lovely together.
What is a verrine?
Verrine is described as a small serving of an appetizer or dessert served in a glass. "Verre" meaning glass is the word base of verrine. The layered food in a verrine celebrates the colours and textures of the food that is put in. With the layers displayed well, it is one that catches your eye first before you eat it. Since it is a small portion it is perfect for serving on occasions or to a crowd too. 
What fruits can I use in this fruit verrine?
This recipe for fruit yogurt verrine is a free-form one. Based on the season or your personal liking it is perfect to swap what fruits you like to add. I like the ones that have berries, cherries, kiwi, melons etc. You can add apples, peaches, mangoes, nectarines etc. What you may want to avoid are probably grapefruit, gooseberries or limes.
Ingredients needed to make this layered dessert
Yogurt: the creamy yogurt is the whole base of this recipe. It can be plain greek yogurt or a natural set depending on your preference. Over the years I have tried this verrine recipe with flavoured yogurt too. I like chocolate or peanut butter-flavoured ones over the others.
Fruit cuts
: choose a fruit combo that you like. Usually, I go with this base idea, one mild fruit, one slightly on the sour side and one with a burst of flavour. going with this theme, today I Have chosen rock melon (cantaloupe) for the mild fruit, green kiwis for the sour side and cherries for the burst of flavour and colour. Wash and chop your fruit into bite-sized bits to add to this dessert.
Basil seeds: this is a good twist. The cooling bloomed basil seeds are a unique feel in this dessert. To bloom these basil seeds, simply soak them in cold water ( check the proportions in the recipe card). If you don't have basil seeds, use soaked chia seeds. If you have leftover bloomed basil seeds use them in some rose milk as we have done.
Sweetener: Since you are preparing a dessert, sweeten the simple layers as you build them up. Use honey or maple syrup. If using stevia, I prefer to mix it into the yogurt so it is evenly distributed.
Layering this verrine
Since Verrine is a layered dessert you can't just dump them into a bowl and say, "all done". Rather you will have to work through it a bit special. I promise you it is not as daunting as it sounds, but rather a great experience.
First, choose your glass. Verrines are served in small glasses. history doesn't really say whether these were rounded, shaped or fluted, so I guess it is up to our imagination.
Once the glasses are chosen it is onto the cutting chopping and then layering. You certainly want to be able to gather a few bits of the fruit and the yogurt together in the spoon. So chop up the fruits a bit smaller than you usually do, but please don't mince them. You can pre-chop the fruits and layer them too if you are looking to feed a crowd. 
Now that you have gotten through that part, let's begin layering. I Start with the melon, followed by the pears and kiwis. Next the cherries. Top the cherries with the basil that is kept ready. Add the honey or maple syrup. This is topped with a generous amount of yogurt of your choice. As a final touch add a bit more basil seeds and you are ready with your dessert.
Note: keep in mind the size of your glass as you layer the. Usually, I go with halfway of the fruit. In this way I know I will have place enough to use a spoon without spilling it over.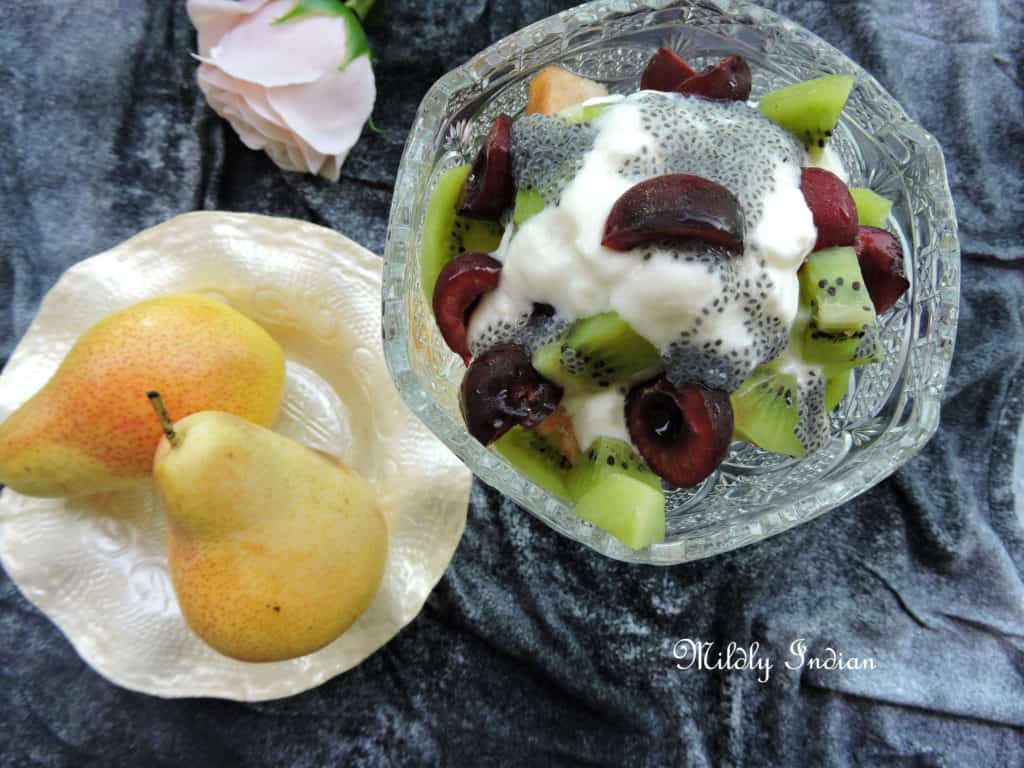 Fruit and yogurt verrine
A yogurt fruit verrine is the simplest and most satisfying form of dessert breakfast you can share with your loved one. This gluten-free, under 20 minutes, no-cook dessert is the highlight for February.  
Equipment
chopping board

Fruit Knife

measuring spoons
Ingredients
1/4

cup

kiwi

chopped

1/4

cup

pears

chopped

1/4

cup

rock melon/ musk melon

chopped

10

cherries

pitted and halved.

1

cup

low fat yogurt

1

tbsp

honey

or stevia

1/2

tbsp

basil seeds

soaked in 2 tbsp water
Instructions
Clean and set your fancy glasses.

Soak the basil seeds  in water for 15 minutes

Pit the cherries and slice them in half remove the seed.

Chop the melon and the pears and set it aside.

Layerth fruits one by one till you reach halfway up the glass.

Drizzle the honey or maple syrup

Add the bloomed basil seeds

Garnish with a bit more of the basil seeds.

The dessert is now ready to be served.
Can we make this Vegan?
Oh yes, please do. The coconut yogurt is phenomenal in this treat. Use flavoured or plan depending on your liking and sweeten with stevia or maple syrup. Yum!!
More layered desserts for you to try
Stay connected
These easy parfaits and desserts won't make your valentine's mornings hopelessly busy. Rather puts you in a great spirit to see what you can look forward to together. We are going for a bushwalk soon. Share with us which layered dessert in our collection you liked. Use the star rating to rate this recipe. If you haven't subscribed so far to our site, please do so as we are eager to bring you lots of recipes and travel ideas. 
Happy Valentines Day to you and your loved one.