The moment you realize holidays are over and you are back to work is indeed a moment when a lot of reflection and laziness precedes your every step. I have a few solutions that I worked on this time, did not think about it ( failed as you can see below) planned my lunch box so I won't feel so miserable ( working so far) and yes!!! the cookie jar is filled.
But, that sugary cookie makes me very very guilty. So how about a quick chewy healthy cookie. A chewy good cookie to try and drag that moment as much as we can. Now that's the idea of this simply yummy cookie to chew on and hold on to the good feeling. The best part about this cookie is you can pretty much use up all the mushy banana and mask it with those choco chip. So it is not seen..so not there – Just the greatest cookie in the world.
That quick mix and stir and into the oven made it all so easy. Loved the process and the ease of it too.
Now that this cookie is a success I am sure this will be a new one to go in the snack box for school too. Fits perfectly doesn't it… it is nut-free, coconut free, if you watch the oat you use to be gluten-free, it is that too…
Afterthoughts for the oat banana cookie
Here are some thoughts we will implement subsequently…
 The honey is the recipe is not needed if you have all those overripe banana (as I have done here

Oat flour may look a tad bit prettier as a cookie

 Next time we will flip the cookie halfway through and bake the other side well too.. kid if so that all the sides are evenly golden.

Swap those choco-chip to cranberries or fruit bits… just because we can.

Ditch the Choco chip, and honey and the cookie is pet-friendly too and we made some for our favourite fur buddy in the neighbourhood today.




Now that's a good recipe isn't it… like one size fits all.

There is however one drawback with this cookie, the cookie doesn't really stand for a week as the oat just makes it too rubbery, so Zapp and eat type one. this doesn't bother us as there are none left each time and a great use for that weekly leftover banana.

What are you waiting for, get that cookie going, I am sure you are happy there is one more to do with the leftover bananas. If you are still hung up on that banana bread, here is the recipe.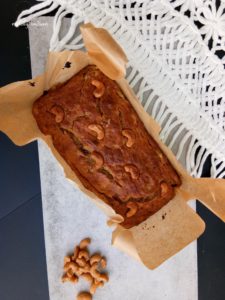 Banana bread- with the whole wheat goodness.
Here are more you can do with those ripe bananas
Unni madhuram- Sweet banana dumpling recipe
Kele ki Kachalu Chaat – Street food style Banana
Banana Sheera – Sweet Banana Pudding
Shahi kele ki raita, a delicious banana yogurt cream.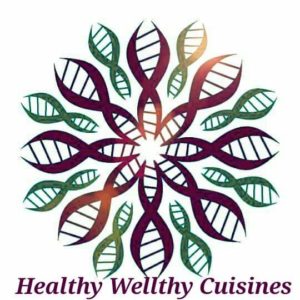 Since I have made this with leftover overripe bananas, I believe this is a perfect recipe to submit for "#81 Leftover Makeover" at healthy wellthy  cuisines group of bloggers. In this group, we work together on common themes and watch out this space for some amazing creations from our fellow blogger here soon.
Listed below is our collection to the theme chosen by Namita. her blog is a collection of lovely recipes predominantly classic Indian.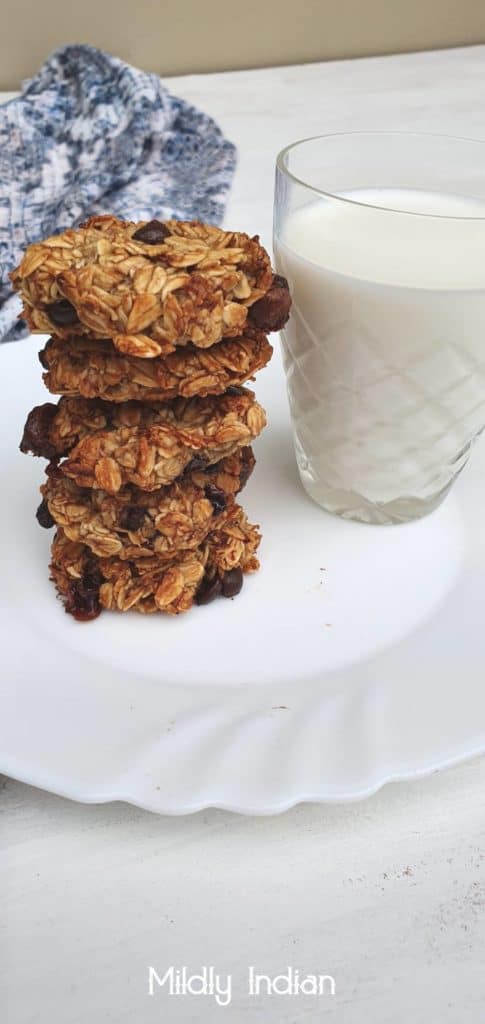 here are the ones that we share for this theme
Spicy Rava cutlets
Hope you enjoy these.
See you soon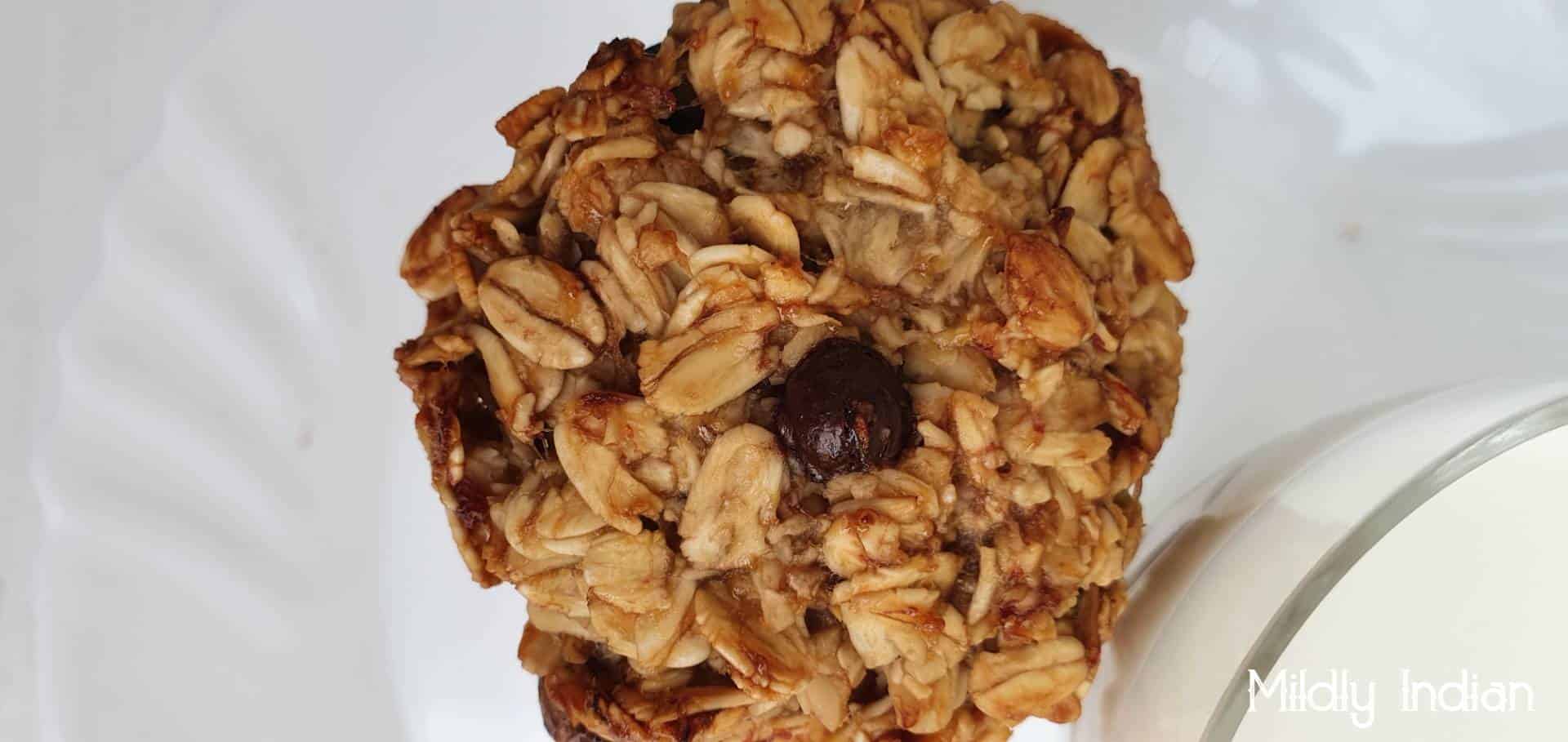 Quick fix Oat cookie
with choco chips, yumm
Ingredients
2

large

Banana

( over ripe)

2

cups

oats

( I have used rolled oats)

1

tbsp

honey

(totally optional and check my notes in the afterthoughts))

1/2

cup

chocolate chips

( I have used a mix of dark and milk ones)
Instructions
Pre heat the oven at 180 degrees for 10 minutes

Prepare the baking tray lined with baking paper

Peel and mash the banana to a semi liquid consistency

Now add the rolled oats and mix well.

If adding honey add and mix again

Toss in the chocolate chip and mix well. Now the dough is not liquidy or pourable nut of a scoop and roll consistency

Scoop out a tbsp amount of the dough and roll into a ball.

Place these on the baking tray, prepared ahead

Press gently to form a small cookie shape.

You can place these cookies about 2 cms from each other as they do not spread much

bake for 20- 30 minutes or till golden in colour.

Watch out for the choco chip as they burn easily.

Cool the cookies taken out of the oven, on a wire rack

Enjoy the cookies with a cup of milk or pile them into that snack box.