"Nalumani  palaharam"( as we call in Kerala or 4 o'clock tea time snacks are quite an important one. I find this very useful time to eat. It reduces  the extreme hunger towards dinner.  Giving me the sense to make time for portion control and sensible choices for dinner.  Most days I manage this with fruits.. And then it comes to some days which really plagues  my head with all the elaborate  yummy yummy I see on other blogs or instagram…
It's on these days when my head craves for those crazy deep-fried ones. I try a trade with my heart loved one… "Aval  nanachathu,", sweet rice flakes. There are my arguments I put forth to myself to do the convincing, which you could try too…
It is :
Fresh
Sweet is treat
No slog
No cooking needed
Light eat
And I don't tell myself it is healthy.
I hope now you too are thinking about it.  Now, let me tell you a dessert under 5 minutes is definitely god send.
Yes,  you will find a tiny bit of this rice flakes dessert on the little piece of banana leaf you receive at the temple  if you are lucky with a piece of banana. It is a very of prasadam or naivedyam.
Now for the combinations
You could  additionally flavour this
with a pinch of cardamom or nutmeg
chop up a banana to it
 a two of sesame seeds to it
 some crushed basil.
I often keep it plain and simple as I love the taste of freshly grated coconut.
I hope you love this recipe too as much as I do.  Watch the process through this videolink and scroll down for the exact measurements and ingredients.
And before a aideu  for this week… Never miss your meals.
Check out a few more quick and easy snackables
Enjoy your week.
Xoxo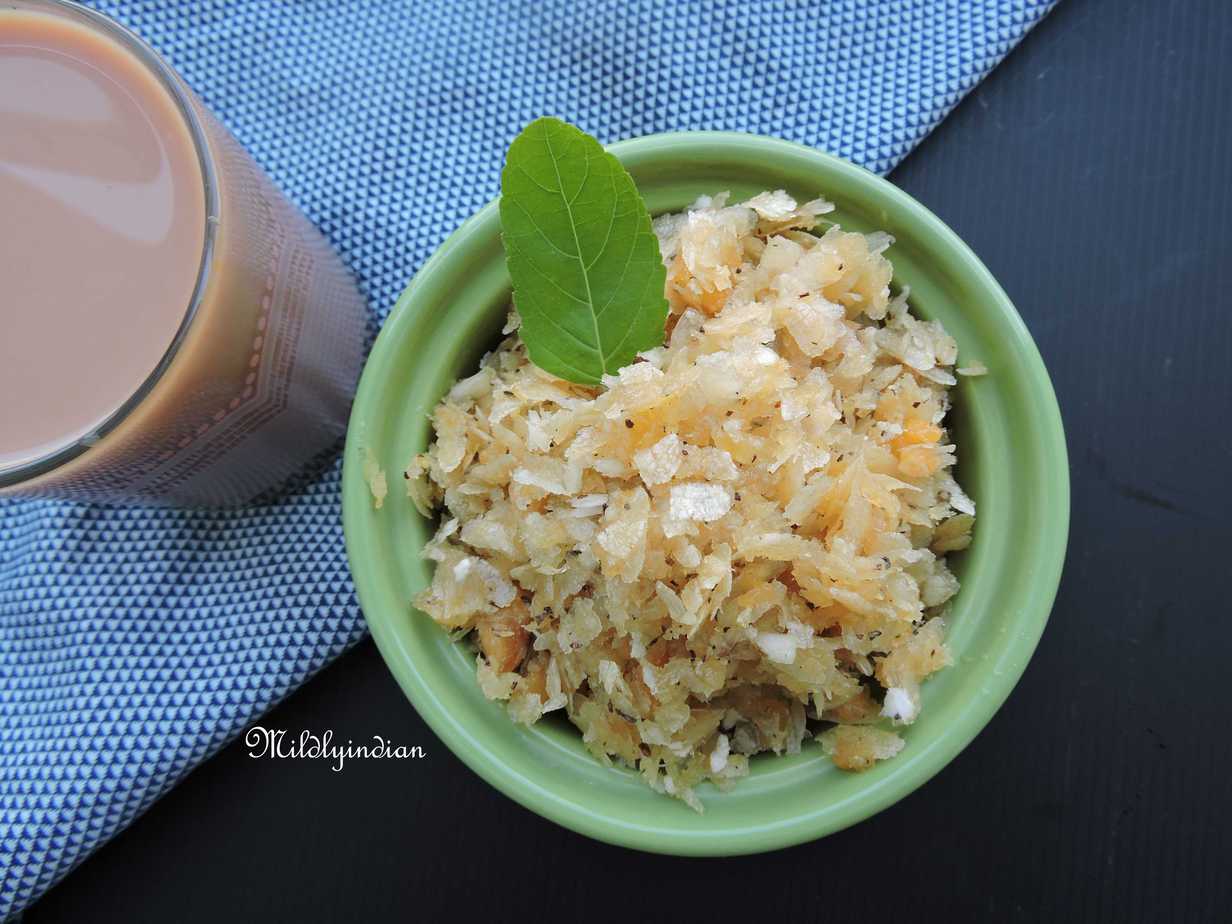 Aval nanachathu
Sweet Rice flakes snack
Ingredients
1

cup

rice fakes

(Poha, Aval, Avalakki)

1/4

cup

jaggery

or unrefined sugar

5-6

tbsp

grated coconut

2-3

tsp

coconut milk

or other plant based milks

1

pod

cardamom

optional
Instructions
Reserve one tbsp of grated coconut for garnish and use the rest for the recipe

Into a mixing bowl add the rice flakes, coconut grated, cardamom seeds and jaggery.

Mix this well and pound gently so as to crush and mix the jaggery with the rice fakes.

Sprinkle coconut milk when needed and pound. the coconut milk helps to soften the rice flakes.

Serve immediately or refrigerate up to a day...
Notes
You could make this overnight and keep for an easy breakfast option.
If not fond of coconut, substitute with almonds or other nuts of choice.