Talk about apricots and for sure you will find my tongue wagging. I have a serious fetish for apricot drink.
When I saw the picture of the apricot drink  "Qamardeen" in Rafeeda's blog "The Big Sweet Tooth." I had daydreams cuddling a cup of that. Then, dropped the perfect moment,  Ramadan month,  yipee.  Loads of dry fruits in the markets. I headed straight to the sweet sweet sunshine apricots.
Back at home I couldn't wait.  I also felt my friends may like it for iftar so had to do it immediately. Well that's just an excuse… I can't wait, Now that's the real reason.
You could check out the original recipe here,
 and the scroll down for my version.
Changes in my version
 I made a small quirk to the recipe  as I don't get any apricot leather , so,  used soaked  dry apricots. The result was fantastic with a touch of orange rind and rose water.
 I have a huge batch of this baby now which at the rate that I am "tasting ",  I just believe may not last for more than a day.
Don't miss the beautiful  apricots this season and do try out this recipe. Send me pics of your creations.
Check out more easy to do drink recipes in the link below
https://mildlyindian.com/blue-berry-avacado-princess-potion/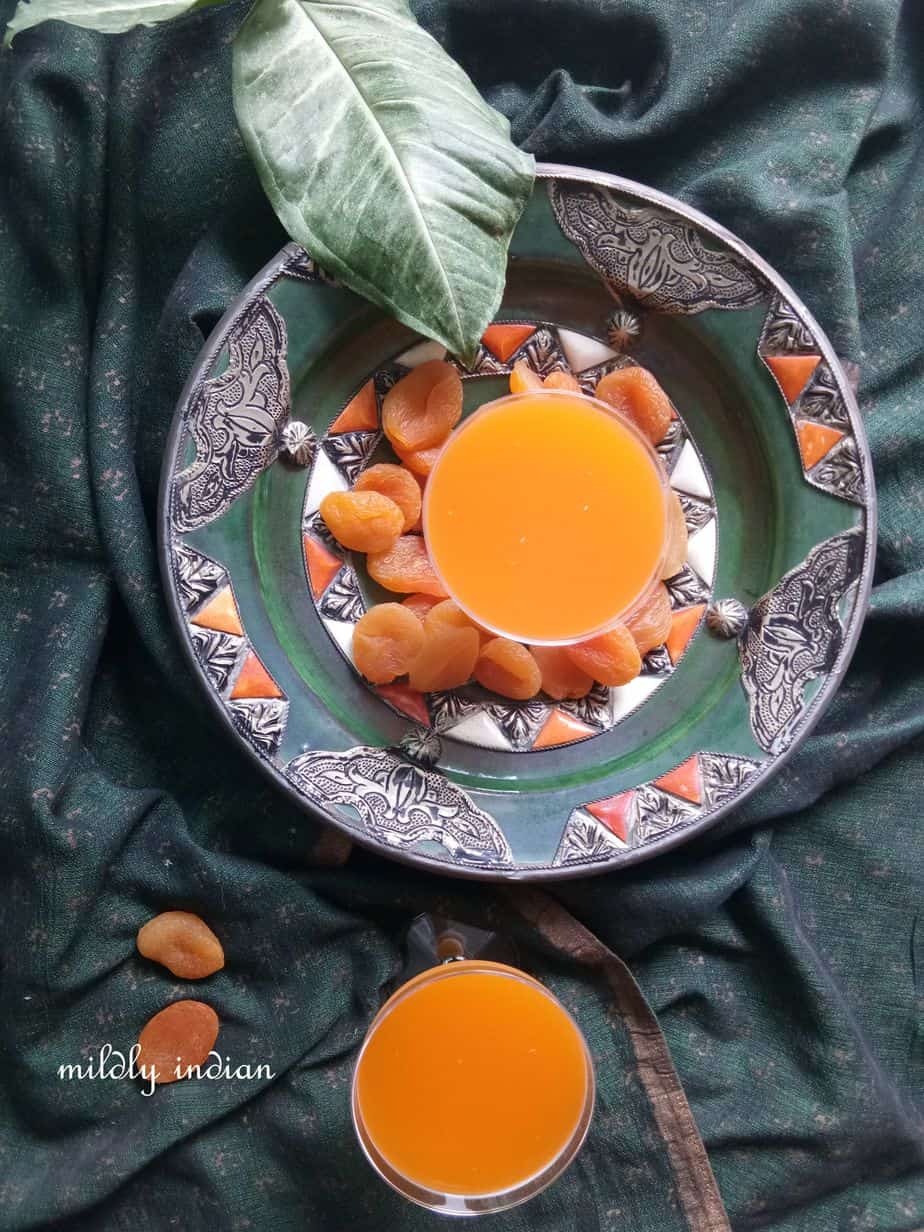 Qamar al deen
Dry apricot drink from the middle east
Ingredients
90

gm

dry apricots 

approximately half cup

1

cup

warm water

1

tsp

rosewater

1/2

tsp

orange zest

3

cups

drinking water
Instructions
In a bowl add the dry apricots 

Soak in the  warm water for one hour.   

Into a blender add the soaked apricots the water it soaked in, orange zest,  rosewater,  and one more cup of water and pulse

Chill in the refrigerator  till serving time. 
Notes
The amount of water can be altered based on the thickness of the juice you like.
Nutrition
Serving:
50
g
Calories:
54
kcal
Carbohydrates:
14
g
Protein:
1
g
Fat:
0.1
g
Saturated Fat:
0.004
g
Polyunsaturated Fat:
0.02
g
Monounsaturated Fat:
0.02
g
Sodium:
6
mg
Potassium:
262
mg
Fiber:
2
g
Sugar:
12
g