The grocery visits do take us on leisure strolls at times. At times we do make it a bit of fun, comparing what a fruit or vegetable may be thinking about currently. The last time we walked the fruit aisle, the quinces were making faces. A couple of them were scornfully most of them grumpy! Since we never picked up a quince before, we decided to bag the scornful ones.
What is a quince?
The yellow pomes of Cydonia oblonga are called quince. Pronounced as "kwins" these fruits are the underlying reason for the Trojan war!! (I still can't get over, who wanted to fight over these!) Called in history golden apple these fruits develop a deep golden from a lime yellow colour when they are ripe. These fruits are the underlying reason for the Trojan war!! (I still can't get over, who wanted to fight over these!) Called in history golden apple these fruits develop a deep golden from a lime yellow colour when they are ripe.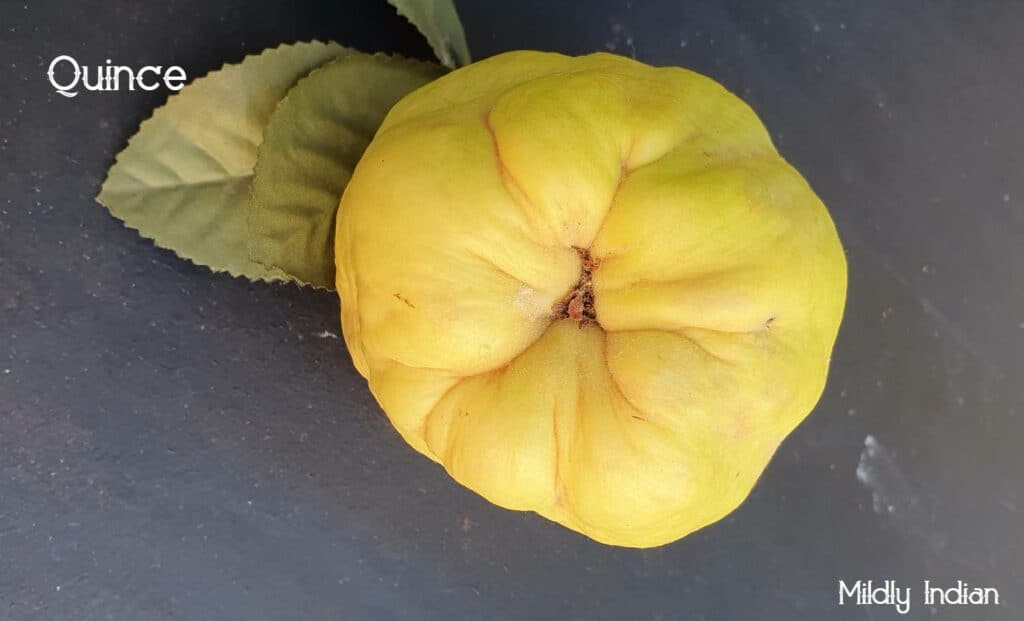 How does quince taste?
Quince is propagated as a low-calorie fruit idea. According to me, no point! Coz the fruit as such is not really edible though it looks golden delicious. These in the raw form are tough more with a tannin stain when you bite into them (yes! Tried and tested and washed the mouth a million times to get rid of that stain feeling).
Stewed, simmered or baked with sugar the quince transforms into a delicious fruit base. They have a pear-like texture with more of an earthy musk fragrance.
The chutney idea
The only time we had quince before was the Maggie Beer quince paste we bought a while ago to put together a cheese platter. It tastes ok with the cheese board, but nothing much stood out to make a memorable experience. Since quince us all about slow cooking we wanted to try it with some spices to see if that works better for us. The thought process was if apples and pears make delicious chutneys, quince can't be far behind.
Ingredients to make quince chutney
Quince- Peel and core the quince and chop the flesh into small pieces. Don't keep this for long as it is will turn brown. 
Raisin- the golden raisins are a lovely burst of sweetness. The combination is lovely and it provides the sweetness that the quince lacks.
Spices and flavours – Since it is a sweet and sour chutney a few gentle spices are necessary. Whole spices like cumin, turmeric powder, bay leaf and black pepper provide the flavours. The underlying flavour of shallots and fresh ginger root that gets simmered is another layer of flavour. The mild heat is provided by the chilli flakes. 
Sweetener- Jaggery is my go-to sweetener for this recipe. However, you don't need a lot as raisins will provide half the sweetness.
Lemon – Meyer lemon flesh is absolutely essential to give sourness to this sweet and sour chutney. If not, use citric acid for long-term preservation. 
Let's make it together
Roast the whole spices with ginger and shallots. Then add the chopped quince, chilli flakes, turmeric powder and raisins. Mix and cook this for a couple of minutes. If it is too dry use a tablespoon or two of water to let that come together. Cover and cook till the quince softens and can be mashed gently with a fork. To this mix add the jaggery and cook further. The chutney will be ready once the ingredients all combine well together.
The recipe card below gives you the measurements and step-by-step instructions to make quince chutney. If you like making this chutney,  rate us in the comments. You can save this recipe onto your pinboard from here to use when you get some funny face quince.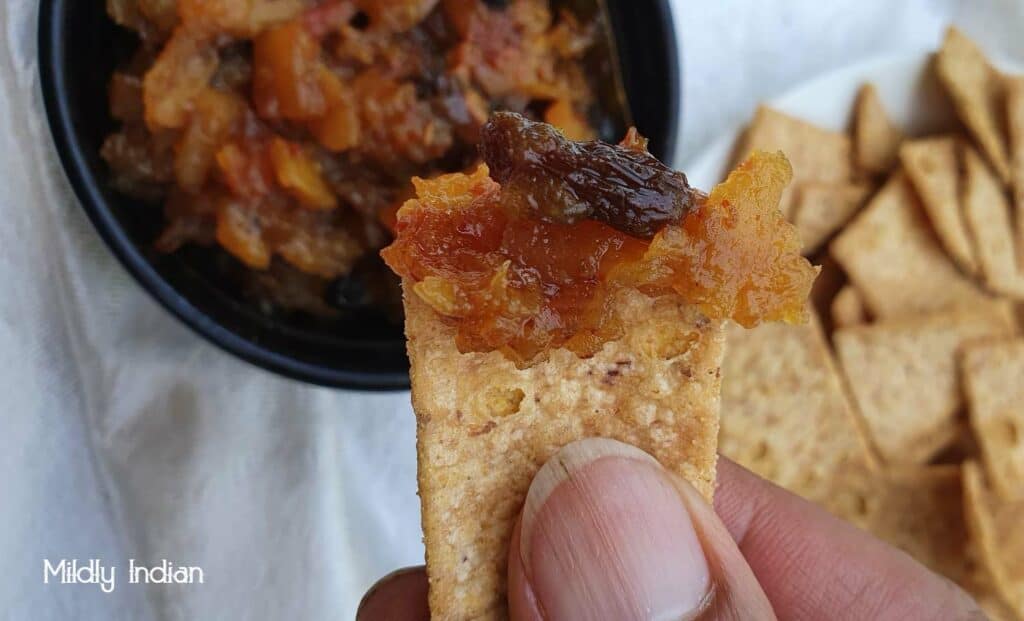 Raisin and quince chutney
Equipment
frying pan

ladle

chopping board

Knife
Ingredients
1

medium sized

quince

peeled and chopped

1/4

cup

raisins

1

tsp

cooking oil

1

small

shallot

1/2

inch

fresh ginger root

1/4

tsp

cumin seeds

1

bayleaf

1/2

tsp

chilli flakes

1/4

tsp

turmeric powder

use fresh turmeric if you have some

8-10

peppercorns

salt to taste

2

tbsp

brown sugar

or jaggery

2-3

lemon wedges

Remove the peels,
Instructions
Peel and chop the quince and set it aside till needed.

Chop the shallots, grate or chop the ginger.

Into the frying pan add the oil, cumin, peppercorn, shallots and ginger and let this fry.

To this add chopped quince, raisins, salt, red chilli flakes and turmeric powder.

Sprinkle a bit of water. Cover and cook till the quince becomes soft.

Once the quince is fork tender, add the sugar ( or jaggery), lemon and cook down further.

This further breaks down the mix and brings it chutney as a soft preserve.

Cool the prepared quince chutney and store in clean bottles.

The chutney is now ready to be served.
What more with quince?
Quince can be successfully poached in a slow cooker revealing its beautiful pink hue. It is a delicate dessert, much worthy of this fruit. Quince can be reduced to jam, baked or even added to cakes. Slowly and steadily we plan to add up some to this collection. As of now if you have tried and tested quince recipes, share with us as we are beginning to like this fruit.
Stay connected
The medieval fruit doesn't really appear in GOT series!! So you will have to find it for yourself. If it is your first time,  grab just a couple, as you need to test it out to see if you like this fruit. So far the chutney is the best idea we have tried. Tag us @mildlyindian or use #mildllyindiankitchen when you make some quince chutney with our recipe. Don't miss subscribing to our blog to receive updates on the new ideas we try.