In the midst of the hot summer months, if you visit any Kerala house or restaurant you will be served with "vellam."This is warm (sometimes nearly hot) pinkish to red coloured water is Karingal vellam(vellam meaning water)  Fret not, this is water infused with herbs and roots and bark and seeds.
If this is not the choice then there will be jeerakavellam or a faint infusion of cumin in water. When you have had a full sumptuous banana leaf meal, you need a cup of chukku vellam, warm water infused with dry ginger to aid digestion.
Why so many varieties of vellam?
Wow, the water varieties, I mean "boiled water varieties" you get in Kerala, really makes you think why so many? If you are looking for cold water you need to ask for pacha vellam (literally meaning green water, just means plain drinking water. Still, this will be having the faint aroma of ramacham roots.
 With all the newly acquired linguistic talents I am sure you are wondering, why in the sweltering heat do they serve boiled water.
This is an age of practice from Ayurveda, very much similar to the practice of having a mild seeped tea during meals in the Chinese traditions. These "waters", concoctions if carefully looked at are in fact similar to tea infusions.
'Ushnam ushnena shanthi'
(Heat will be removed by the heat)
says my dad who has been on this for as long as I remember.  We used to carry them in our waterbottles throughout our school days and our day begins with the big pot of vellam set to boil gently with these herbs as my mom sets to get on with the other tasks of the morning. The pot is stained definitely with the red tinge and the same goes for our water bottles due to constant usage.
As far as my acquired knowledge goes, these waters have unique properties.
First of all boiling, the water makes it consumption safe.
Warm water actually soothes the throat, but do check the tolerable temperature before gulping it down. It also stimulates bowel movements
Chukku or dry ginger, is a well known digestive agent, reliever of gas. Ginger has also been studied for a number of other properties like anti-inflammatory nature
Jeera or cumin helps in blood purification. It actually reduces body heat, itching and provides a faint bit of iron.
The reddish pink colour is imparted by the hardwood pieces of Pathimukam. Pathimukham (Caesalpinia Sappan) the East Indian redwood tree is researched for its abilities to reduce cholesterol, reducing kidney disorders and more.
Raamacham (Chrysopogon zizanioides,) commonly known as Vetiver a cooling  grass whose roots are collected for its immunomodulatory and digestive properties
It is also known for the reduction of sweat and body odour.  It also induces sleep,  which is a pretty difficult task in the hot sticky sweaty months.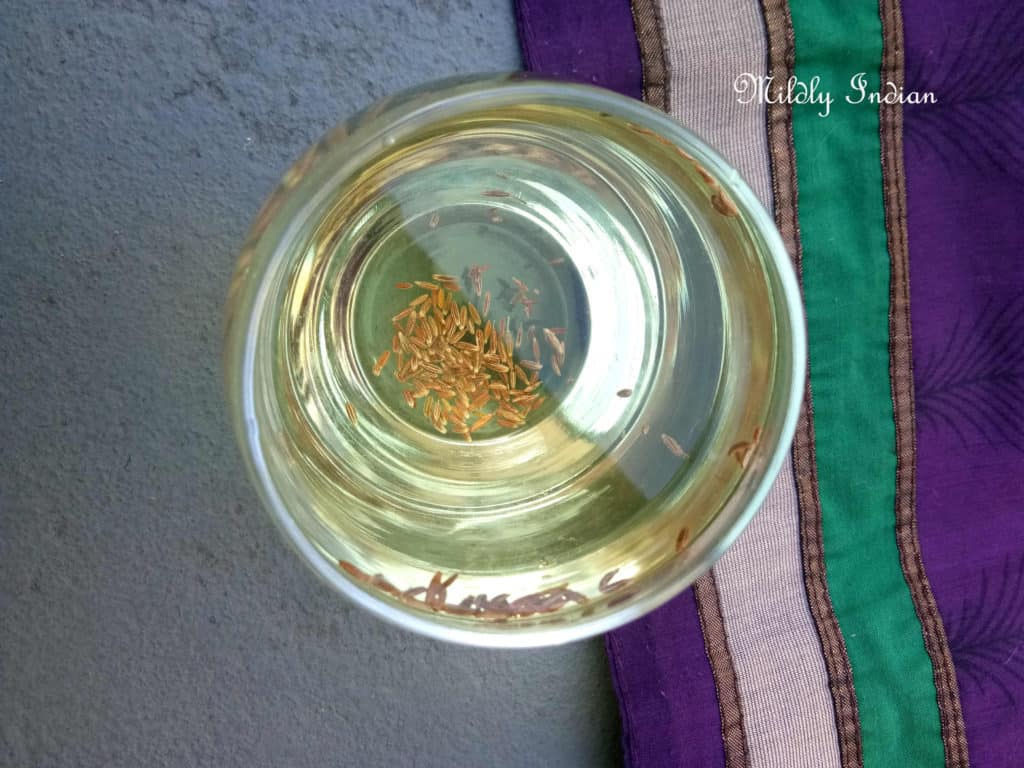 More flavours
There are more additions to the water in the various household,
my mother in law adds coriander seeds and jeera together when she feels uncomfortable with the weather.
My mom loves a bit of cardamom or cinnamon flavoured water once in a way.
They both say it is more palatable than the cold water.
Then again there are infusions of thulasi (holybasil) when your throat feels itchy, or methi (fenugreek) to cool down your body and for diabetics or detox thriphala (if you can put up with the bitterness)
A combined mix of these herbs seeds, roots, and barks are marketed often as daahashamani (thirst killer). The mix and be added to hot water and left to seep for 3 to 5 minutes, pretty much as you do tea. I do not have any brand or store affliations for this.
The practice of boiling the water is fast disappearing as the purification systems are on a high sale. Nothing of dispute there, but these indigenous practices should not be lost due to lack of knowledge of why they are being done.
I have to admit I am not regular with these too, first of all, I don't think I will find many of these along with my travels. But never the less, I make jeerakavellam or chukkuvellam when a make a  big feast.
Before we wind up…
If you have more information about these practices, don't miss to add them to the discussion below
I have a large collection of simple health friendly recipe on the blog. leaving a few links for you to explore from the Kerala collection.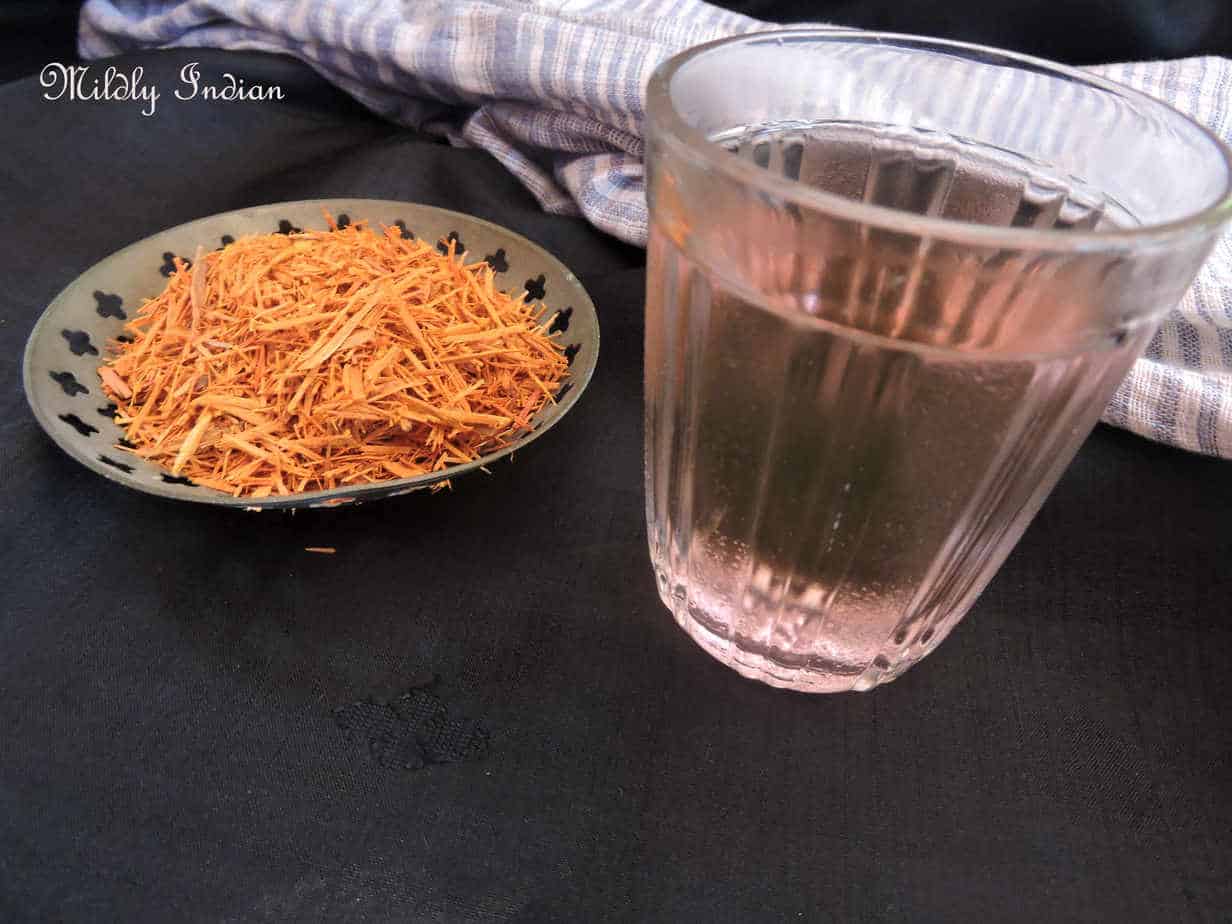 Karingali vellam
the herbed boiled water of Kerala
Ingredients
1

litre

drinking water

1/2

tsp

dry herbs
Instructions
Choose the herb or bark which you plan to infuse. It can be Pathimugam, Jeeragam, karingali, dahashamani mix or any of the above

Bring a litre of water up to a rolling boil and reduce the heat ( bring it to approximately 95 degree celcius)

Add the chosen infusion, and remove off the heat.

Allow the water to cool further and the aromatics to seep in

Cool the water to luke warm, strain and Use.