During the walk through the veggie market in Cameron highlands we came across
a squiggly white things
kept in most vegetable stores.At
first
I dismissed it thinking it is meal worm and wanted to do nothing with it. As I was standing to buy some other tubers, the curious cat in me jumped out to observe more closely. Upon close
examination
I confirmed it was not worm
….
Then what. With my broken
malay
Chinese..mix, I managed to get an answer
….
Ginseng.
My brain flashed…this definitely is not ginseng. We tried eating it
….
I felt it's like a tuber.
Nevertheless, decided to buy it…so bought a minimal quantity
..
Later back home   was on severe internet hunt to understand what this alien tuber was(I was convinced but then …it was a tuber)
Lo..and behold, my heart skipped a beat when I read it under gourmet produce….
vola..
I am going to make gourmet tuber…yippeee.
So here we are with just a handful of knot root / Chinese artichokes/ crones..ready to be appreciated in the simplest way I can think of sauteed in butter
 Try out some easier continental recipes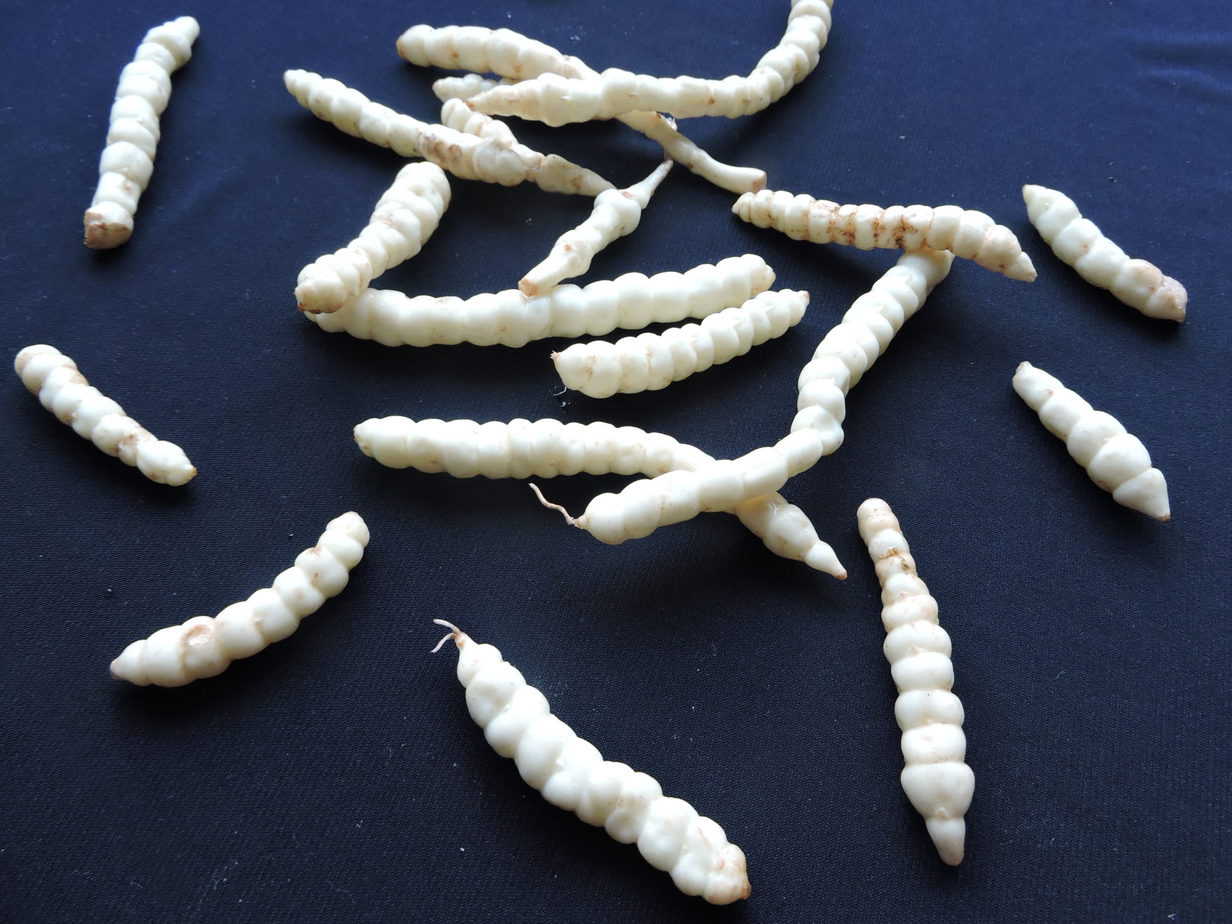 Sauteed Knot root/ chinese artichokes / crones
The knot roots though a tuber are not as starchy as the potatoes.
Ingredients
1

cup

knot roots

cleaned

3

cups

Water

1

tbsp

butter

salt

to taste

crushed black pepper

to taste

1

tsp

parsley

finelychopped
Instructions
To clean the knot roots, drop the in water and clean gently with a brush.

Set about two cups of water to boil.

Drop in the cleaned knot roots when the water starts boiling.

It takes far lesser time than boiling potatoes...check with a skewer

Check with a skewerabout 5 minutes If pierces without resistance..it's done. Drain and set aside.

Warm up butter in a pan. Add the cooked drained knot roots into the butter and saute gently.

The tubers take a roasted aroma.

Sprinkle in salt and pepper to taste. Garnish with parsley ..and serve.