Taste the Chettinad dessert flavours through this black rice dessert. The Kavuni arisi halwa is a memory-retaining halwa experience with the forbidden rice cooked in coconut milk and flavoured with jaggery. 
Once you have confidence cooking rice, you should try black rice. Among the Indian cuisines that celebrate this rice is the Chettinad cuisine, which established this rice in the South Indian paddy fields via trade from Burma (Myanmar). Eventually, the black rice-based dishes occupied a significant position in the cuisine as exclusive to Chettinad cuisine. Earlier we had explored kavuni arisi kara adai which was also from the Chettinad cuisine.
How did the Chettinad cuisine develop?
The strong business acumen and money lending capacity set the Chettiar community as strong traders who travelled far and wide, between countries and inland. These travels brought unique ingredients and cooking techniques adapted to the home cuisine. Since spices were of high value and very often traded, the best spices followed the Chettiyars to their native land. Therefore their dining table was always filled with aromatic and flavourful foods. The special spice blends with exotic spices and cooking techniques influenced by the travel brought uniqueness to this cuisine setting it apart from the Tamil cuisine.
Ingredients for this kavuni arisi halwa.
With the special features in Chettinad cuisine, the desserts were no way left behind. Though with simple ingredients, the black rice dessert draws similarities between south Asian cooking techniques. Personally, I experienced this dessert first during our stay in Penang, which was a vital hub of trade between the Straits Chinese and the Chettiyars.
Rice -no other rice other than the glutinous black rice (kavuni arisi) works for this recipe. You can use this rice in two ways. I cooked the whole grain and then proceeded to make this halwa. You can powder this rice and then cook it too. The latter provides a smoother texture to the halwa, whereas the former has a bite to it.
Coconut-most South Indian recipes heavily rely on cooking in coconut milk for the aroma and smoothness. coconut is easily available in the coastal regions where the chettiyar cuisine flourished and is  main ingredient in most recipes. It was the dependable source of creaminess. 
Jaggery- the traditional recipes did not use sugar but rather stuck with concentrated cane sugar or palm jaggery. This has a unique flavour, it is fine if you use sugar but the flavour is slightly different. 
Ghee- ahh!! The sticky mix of sugar and starch is converted to a smooth halwa with the fat content from the ghee. You could use coconut oil instead of ghee if you are looking for a vegan option. 
Cardamom – following the traderoutes, the valuable spices reached the chttinad pantry earlier than any other as they always followed the money path. The generous addition of green cardamom pods or crushed seeds to the desserts is followed religiously in this cuisine and in this recipe.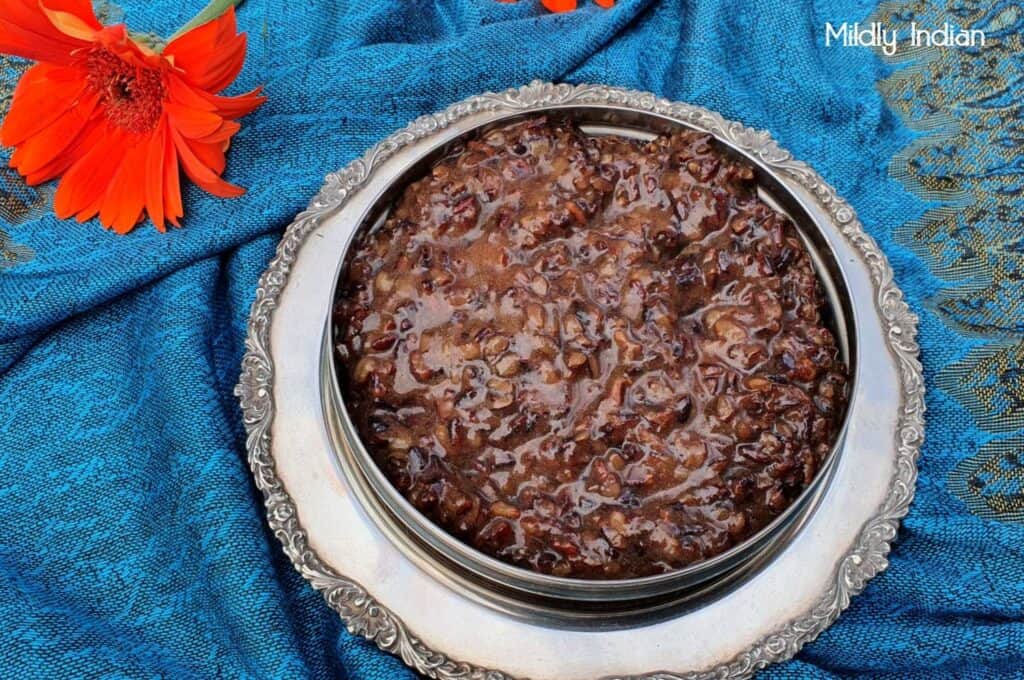 Kavuni arisi halwa
Taste the Chettinad dessert flavours through this black rice dessert. The Kavuni arisi halwa is a memory-retaining halwa experience with the forbidden rice cooked in coconut milk and flavoured with jaggery. 
Ingredients
For cooking the black rice
1/2

cup

black rice

3/4

cup

drinking water
For making the halwa
2

tsp

ghee

1/4

cup

coconut milk

1/2

cup

jaggery

1/4

tsp

green cardamom powder
Instructions
Wash and soak the rice for 15 minutes.

Pressure cook the rice with 3/4 cup of water for 20 minutes or 3 whistles.

Let the pressure cooker release naturally.

Once the rice has cooked, fluff it and set it aside.

Pound or crush the jaggery and set it aside.

Into the frying pan, add the ghee

As it heats up add the cooked rice, coconut milk and shredded jaggery.

Let this cook down and keep stirring so that it cooks through.

As it thickens, add the cardamom powder and keep cooking till you see the ghee leaves a bit.

Once it looks at a honey consistency, remove from heat and set it aside.

Transfer the halwa into a bowl and serve warm.
Serving the kavuni arisi halwa.
After the lunch or dinner meal, a small portion of this kavuni arisi halwa is served as dessert. This can be following a banana leaf meal or the classic kalan biryani. Don't forget the pending siesta that is necessary after this meal! The kavuni arisi halwa is also served at teatime. Accompanied by a crunchy spicy snack and that perfect filter coffee, the black rice dessert is a perfect pick-me-up. You can pack up about two tablespoons of the dessert on parchment ( baking paper) and chill it in the fridge,  it becomes like toffee. Add this to the lunch or snack box as a treat. 
Storing the black rice dessert
The halwa stays outside for a day or two if it has been cooked properly.  in the refrigerator for upto week, though it thickens a bit. I have not tried freezing this halwa. If you have do let me know how that worked.
Similar black rice desserts around the world.
Wherever the black rice crop was prevalent, the art of making a dessert with it was also popular. The availability of palm jaggery or a natural local sweetener also made huge similarities to the Chettinad black rice dessert. Here are three that I have tried and found similar.
Thai Sticky rice pudding , bee koe moy – Often called purple pudding this is nothing but black rice cooked with coconut milk and sugar and served with sliced mangoes. The dessert is usually served chilled and I don't have to tell you how amazing it is. 
Anglo-Indian Dodol – made during Christmas among the Anglo-Indian communities around Goa, the dodol is a sliced dessert combining palm jaggery and glutinous black rice. 
Indonesian burbur ketan hitam – The black rice cooked again in coconut milk and unrefined palm jaggery is burbur ketan hitam (hitam as in black). The dish is popular in Bali and parts of Indonesia where trade was common in history. It is unsure, who brought the dessert to whom in comparison with the Chettinad cuisine. 
Pinoy biko- the dessert translates to a sliceable rice cake form in the Philippines. The dessert is topped with roasted dried coconut ( a unique form made from coconut milk) and was my favourite during our stay. However, it is hard to find black rice biko as white glutinous rice is more popular. 
Collaboration
The Shh cooking challenge group this month has chosen Chettinad cuisine. Since the cuisine has very unique elements that set it apart from classic Tamil cooking. It is an area I love to read about and explore. Desserts occupy a huge part of the menu, so they had to be tried. Aptly, my partner for this theme, Priya, recommended rice and coconut as my ingredients. Then there was no looking back. Priya has made the aloo curry paired with classic dosas. So to set a platter, try the dosa -vengaya kose combo and finish the breakfast with halwa and filter coffee. Yes, you can have desserts in the morning and don't need any approvals.
More Black rice recipes
Since you have bought the bag of black rice try it a few different ways. Here are the recipes we have published so far on this blog using this forbidden rice.
Onigiri with lime avocado filling.
Chak hao amubi – Manipuri kheer
Stay connected
I hope you have subscribed to our blog to receive regular updates. We thank you for staying with us and encouraging us at every step. We would love to have you visit our Youtube channel that we recently updated. Please subscribe, like and share these videos and recipes and let us know what you like and dislike about them. If you are fond of Chettinad cuisine, share with us some vibrant recipes you like from the cuisine for us to try.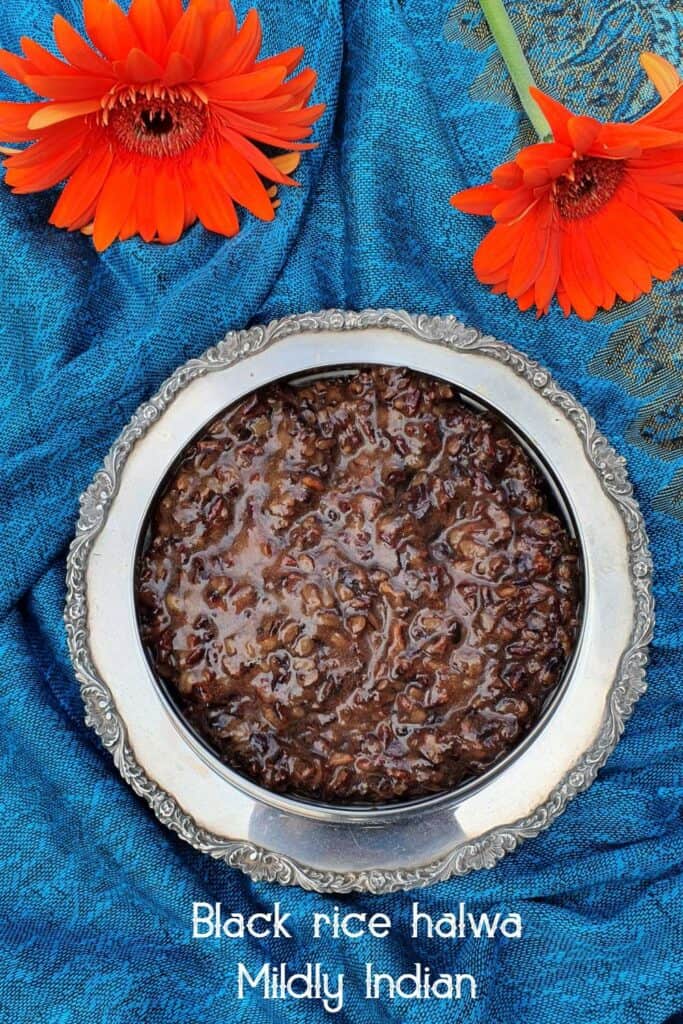 See you in the next post.