In the list of Navrathri naivedyams (offering) sundal makes an unavoidable presence. This bean-based savoury warm salad is which runs as a common thread in most households during this season. But each ones flavour is different. Some with a dry masala mix, some with a coconut based masala and some just with tempering and a splash of tart lime. This time try mine with a soybean version by scrolling down to the recipe.
Related post
The gluten-free high protein sundal is a perfect fill for the strict fast days of Navrathri. This is the season when all regular ingredients of everyday cooking are avoided to make space for the mineral-rich seeds and beans. The South Indian scenario is typically predominated with payasam (dessert), "kalanda saadam"(mixed rice) and sundal. The sweet and the sundal is offered to the guests who come home to witness and make the golu (doll)festival alive. Filled with music, swishing sarees, chatter and a lot of laughter this Navrathri  Bommai golu is something totally look forward to. The absence of traditional dolls in my collection have never deterred the idea of having golu where ever globetrotting we are. So, I am totally looking forward to this season of dolls too.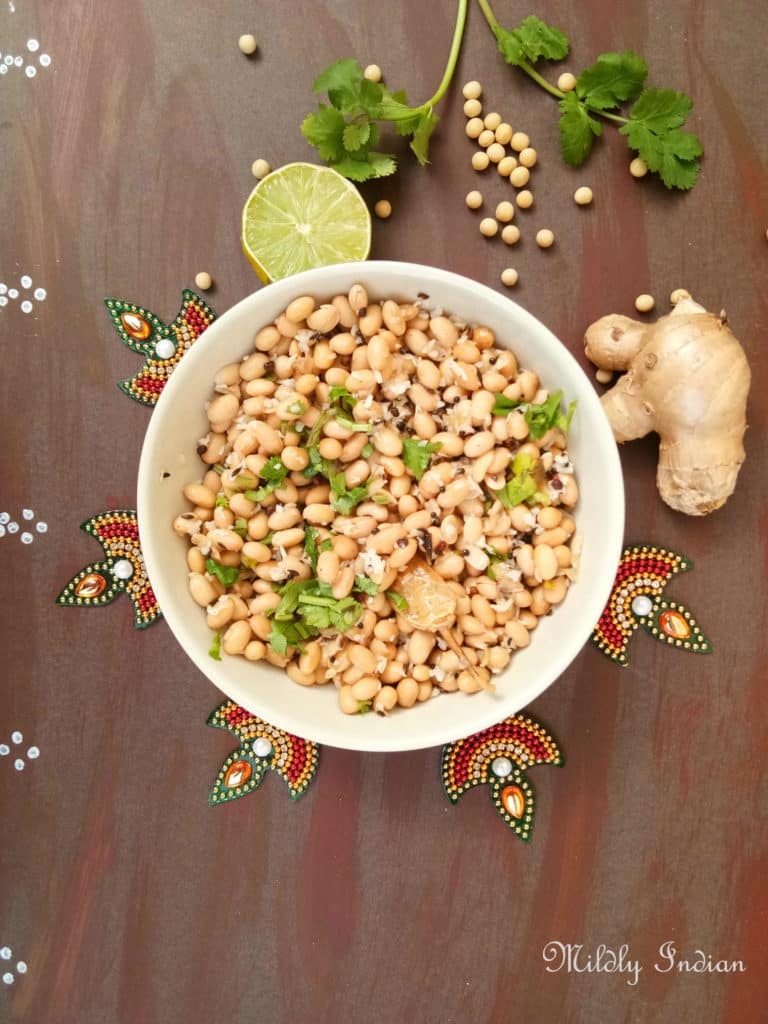 Here is my reminiscence captured with the secrets of the quick fix Sundal podi, don't miss this.
Hina Matsuri and Bommai golu
Living and travelling extensively in the Asian countries have zoned in the realisation that there are a lot of cultural similarities between these countries. It is through a cherished Japanese friend that I learn about Hina Matsuri, the dolls day. This is so similar to the Indian Bommai golu festival though they celebrated in two different seasons. Both are about the sequential arrangement of dolls in a step-like design.  Done by the women and celebrating the girls, these two festivals bring the women and the girls in the community together. These festivals celebrate the women in all their beauty and strength..one with colourful kimonos and the other with colourful  6-yard sarees.

 Lunchbox fixes
Sundal makes its appearance in my house and a salad or as a lunch box addition. Hence, the bean profile may not religiously follow the traditions of the Navagrahas, rather what we have at stock in the pantry. Stuff it in a sandwich, toss in a salad, you will find my secret in the lunchboxes originating from my house.
 This week I have a surplus of soybeans, so soybean sundal with tempered coconut masala is the one for #164beanpower theme chosen by me for the Foodie Monday blog hop. Hope you enjoy the recipe and let me know what you like to do with soybean. see you soon later this week.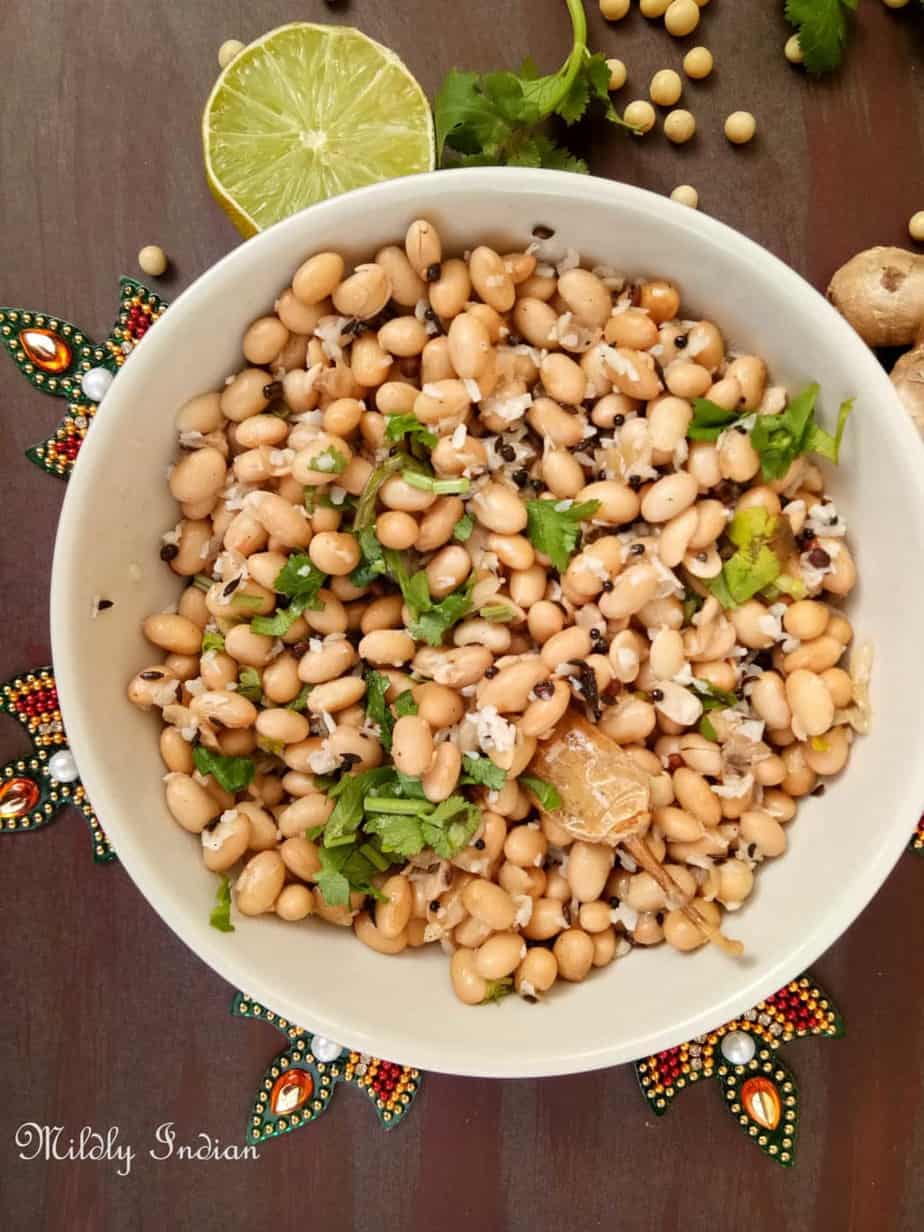 Soybean Sundal
a fusion one
Ingredients
100

grams

soybeans

dry

2

cups

Water

to soak
for tempering
1

tsp

coconut oil

any other used for deep frying is fine

1/2

tsp

mustard seeds

1

dry red chilli

or use yogurt cured chilli, broken into bits.

1/2

tsp

fresh ginger root

grated

5

curry leaves

3

tbsp

coconut

grated

1

tbsp

coriander leaves

chopped

salt to taste

2

tbsp

Lemon juice
Instructions
Wash and soak the soybeans in two cups of water and refrigerate this. This is because the soybeans tend to ferment while soaking if left at room temperature.

After about three hours, drain the water, add fresh water and salt and pressure cook for about two whistles.

The beans would have cooked, but soybeans will noy cook mushy so easily, so will stay firm to the bite.

Drain the cooked beans and save some of the cooking water.

In a pan add the oil followed by the mustard.

When they splutter add the chilli, ginger grated and curry leaves and roast them well. now add the coconut and give a quick swish around.

Add the beans, a tbsp of the cooking water and mix all well together.

Garnish with corinader leaves and the lemon juice and toss well. Adjust salt if needed

Serve warm.
Notes
100 grams of soybeans is approximately half cup measurement
About 45 grams of the cooked bean will form one serving.
You can use the same recipe and alter the bean to make any other type of bean sundal, like chickpea, peanut, green gram etc
Nutrition
Serving:
45
g
Calories:
194
kcal
Carbohydrates:
11
g
Protein:
10
g
Fat:
14
g
Saturated Fat:
8
g
Polyunsaturated Fat:
3
g
Monounsaturated Fat:
1
g
Trans Fat:
0.001
g
Cholesterol:
0.04
mg
Sodium:
131
mg
Potassium:
470
mg
Fiber:
4
g
Sugar:
1
g