It all began with ice cream
It all began one fine evening. I decided to take a break, from the routine as the school had just ended for the term and left my beloved husband in charge. He is a great cook and did whip up some delicious yummy stuff for lunch and then finished off with some absolutely tasty store-bought ice cream for desserts.
Coming back late I was tired and quite didn't realise that they had forgotten they had left the ice cream on the kitchen counter. The soft and fluffy frozen dream has transformed into a pourable goop. Well, it was a large tub of ice-cream and my mind was racing against wasting such a large quantity. Refreezing wouldn't work as it just becomes dense and then no one likes it…Nevertheless, popped it into the fridge to think about it in the morning.
When I woke up, remembered reading a recipe long ago. Dug up the same with the help of the trusted Google and dusted up my baking skill and trust me… I love cheat bakes. I do have a few on the blog you can search for using the search section…
Trails and tragedy
Back to the ice cream, I was quite unsure if this goopy goo, mixed with the flour, would actually transform into a loaf, kept my fingers crossed. 40 minutes start to finish I had some lightly sweet, great loaf with specks of oreo and chocolate chip.  We polished it off for tea, that day and not a single one suspected the ice cream in it…it was magic.
The recipe is perfect for a loaf tin and as the ice cream pretty much contains most of the ingredients you need for baking, it works. Subsequent trials showed me that any flavour of ice cream would work but low-fat wouldn't bake very well, it is too dense.  The recipe comes out better in the loaf tin than in a round baking pan. I have not tried a bundt pan. It works with sprinkle oreo, nuts or chocolate chip.
So no more fret over thawed or unset ice cream, thaw it even more for a fabulous new treat. I love the ideas to use up leftovers, don't you?
Here are fascinating ones with leftover cakes and bread.
This is where I found the original recipe
Does anyone have another tried version of the ice cream loaf? Please leave your link or recipe in the comments. I will like to give it a go.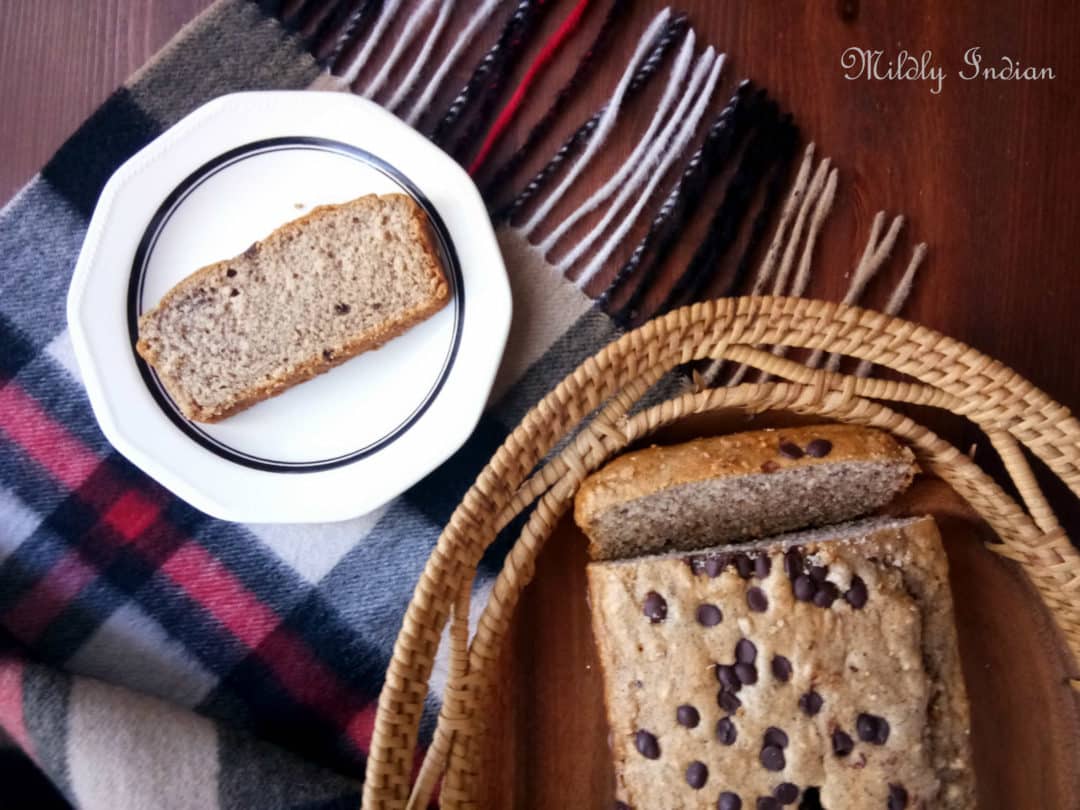 Ice cream loaf
Two ingredients and a super easy bake
Ingredients
2

cups

vanilla ice cream

Full fat, any flavour will do

1.5

cups

whole wheat flour

( not self raising)
Instructions
Preheat the oven at 180 ( chek your oven settings )

Grease an 8 inch loaf tin, and dust it with flour. ( or line it with paper). Set aside

Add the thawed pourable ice cream into a mixing bowl

Add the whole wheat flour and genly fold it in

Be careful not to over mix (as the bread gets hard), a lumpy mixed, sticky mixture is what we are looking for.

Pour the mix into the prepared baking tin.

Set for baking for about 40 minutes ( thats the time mine took)

Check the bake with a skewer for doneness.

Thaw the bake for about 10 minutes.

Unmould and Slice to use.
Notes
I have used cookies and cream ice cream... feel free to try your liking.
Nutrition
Serving:
45
g
Calories:
104
kcal
Carbohydrates:
16
g
Protein:
3
g
Fat:
4
g
Saturated Fat:
3
g
Polyunsaturated Fat:
0.1
g
Monounsaturated Fat:
0.02
g
Cholesterol:
17
mg
Sodium:
30
mg
Potassium:
41
mg
Fiber:
1
g
Sugar:
7
g