I distinctly remember as a novice asking mum, why she had to call the kootu by so many different names. Why is there pulikootu, parippukootu, Porichakootu, molagutal, kootukari, and so on and so forth? It was maddening to have these all confusing names. I am sure she tried to explain, but at that time, nothing made sense. I am sure I asked the same to my mother in law as she has added another 5 or 10 more to these varieties.
Years later, trying and testing recipes, feeding this brood of mine, I have come to the conclusion that these names are sensible. They tell you what exactly is the combination of dal or lentils, spices and vegetables in that curry. They pick out even the consistency it should be in.
Why all this now?
I successfully confused the teen who is to come up with some good combo to satisfy the dinner on the table need. Did I bother to explain? Not really. Told him the universal mothers super statement :
"You will learn"
So here we are with parippukootu. To put it in my world of understanding, here is the explanation.
All kootu have some form of dals and lentils in them. Mostly not visible as the ground masala takes over the consistency and they are mashed into a smooth mash. In parippukootu, the al dente cooked dal is visible. It can be felt to the bite. Often in this type of dal, a vegetable which is very soft is used, like green leaves or grated gourds. It is made in a semisolid consistency and served on the side with steamed rice and a bowl of rasam.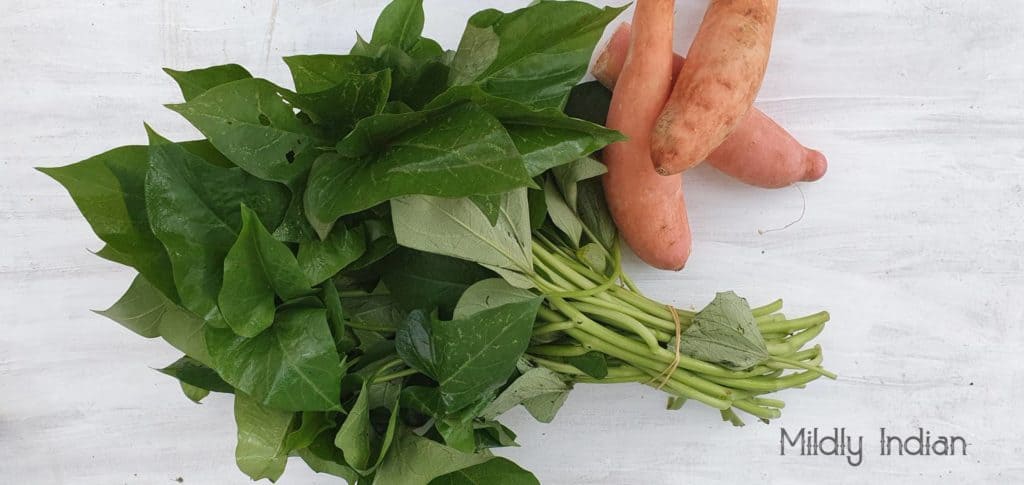 What is the vegetable of choice today?
I picked up a bunch of sweet potato leaves during the weekend. I learned to cook the sweet potato leaves when we were in the Philippines,  but mostly as a part of the soup. Now with much more confidence with my skills, It is appearing in Indian recipes too. The tender sweet potato leaves are really soft when gently steamed and a great addition to this recipe. Give this new addition a try and I promise you it has no bitter to taste. to the Indian palate, they taste a bit like palak.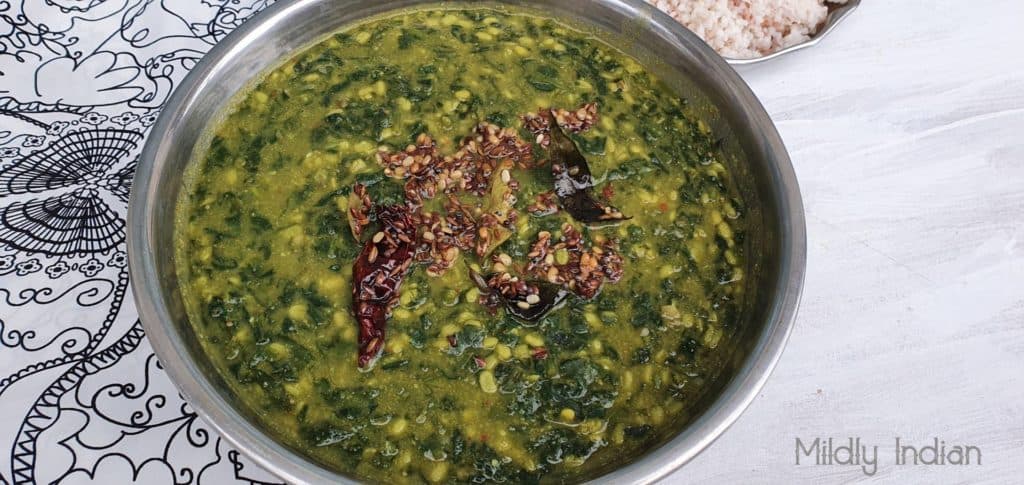 Here is a step by step of how we made this:
Before you scroll down to the details of the recipe, here is a sequence of how we cooked this. 
Since we are planning alphabet S for the A To Z recipe challenge, sweet potato leaves sound interesting, doesn't it? It is indeed exciting to see what all leaves we can use safely and this experiment has paid off very well this year. Thanks to this challenge, I brought back the sweet potato leaves from the market.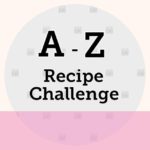 Keep safe, count your blessings, try out this nonspicy recipe with pineapple rasam, apple pickle and steamed rice and stay in touch. Don't miss to subscribe to the blog or keep in touch with the social media portals. If you like to pin this for future use, here it is.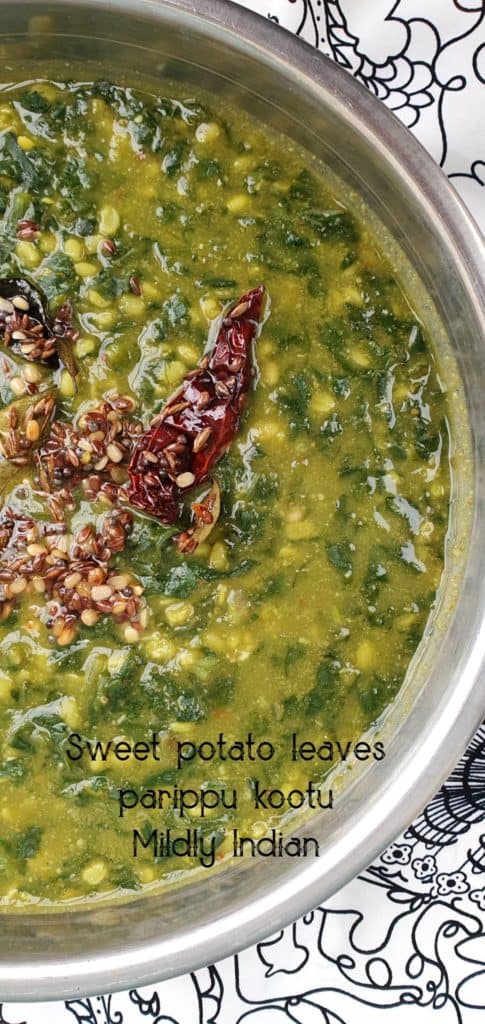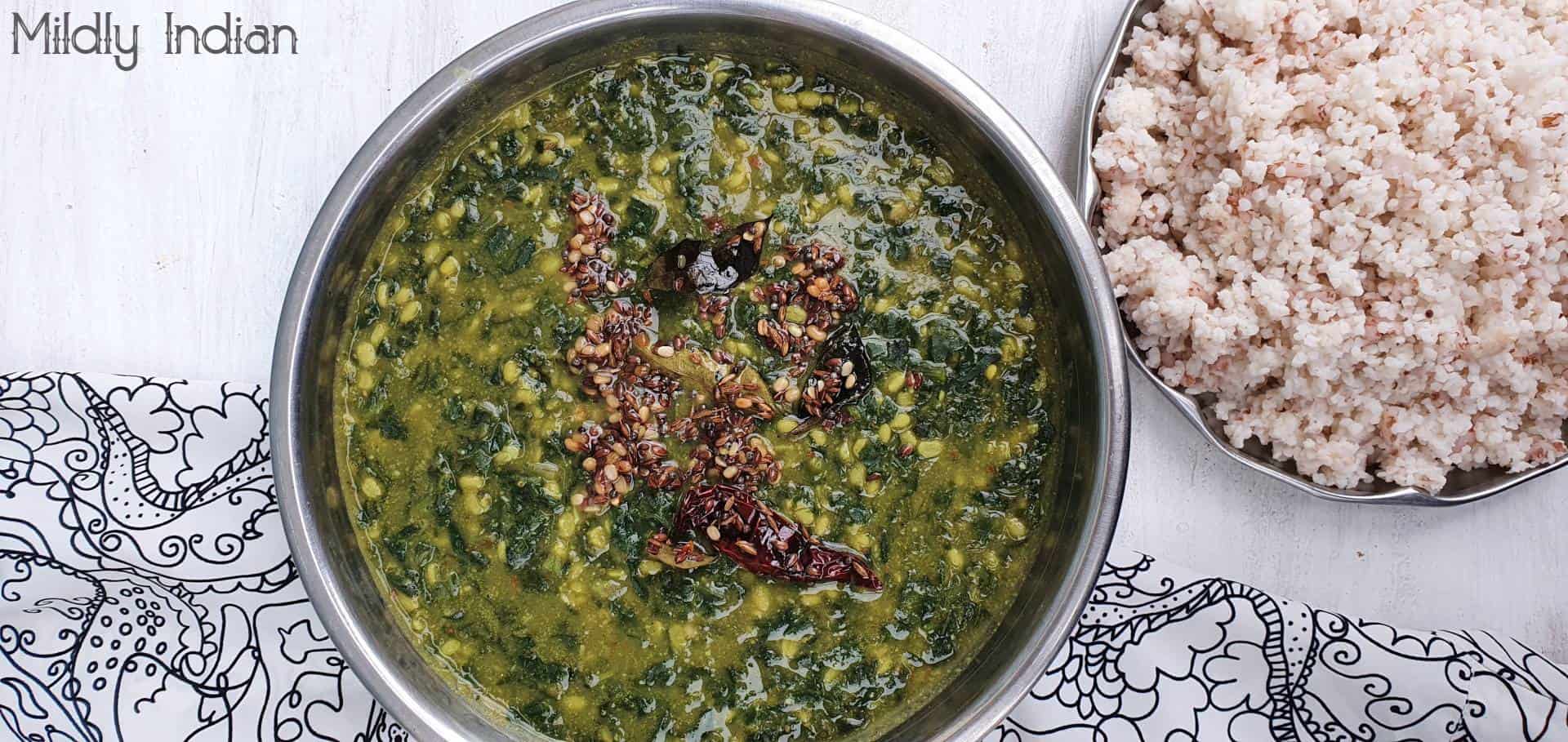 Sweetpotato leaves parippu kootu.
Easy, gluten-free, vegan, side dish for steamed rice
Ingredients
To cook the dal.
1/2

cup

Moong dal

deskinned and split green gram

2

cups

drinking water
for the greens
2

bunches

sweet potato leaves

salt to taste

1/4

tsp

turmeric powder

1/4

tsp

roasted cumin powder
for the gravy mix
2

tbsp

roasted chickpea

porikadalai, pottukadalai

3 - 4

tbsp

grated coconut

1

small

dry red chillies

1/4

tsp

cumin seeds

1/4

tsp

mustard seeds
for the tempering.
1

tbsp

coconut oil

1/2

tsp

mustard seeds

2-3

dry red chillies

1/4

tsp

cumin seeds

1-2

cloves

garlic

( crushed)

5-6

curry leaves
Instructions
Wash the mung beans and set aside.

Wash clean and chop the tender sweet potato leaves.

In a small cooking pot bring the two cups of water to a boil and add the mung beans.

Stir occasionally and let the mung beans cook.

When they are nearly ready they will hold shape but will crush when squished between your fingers. At this time add the prepared sweet potato leaves, salt, turmeric and roasted cumin powder. Cover and cook for 5 minutes.

While it is cooking assemble the ingredients for the gravy and bring them to a fine powder or, add a few tbsp of water and grind them smooth.

Add this to the cooking dal, leaf mix and simmer with stirring for a 5 - 10 minutes.

In a small pan heat the coconut oil.

Add the mustard seeds and when they splutter add the cumin, red chillies, crushed garlic (optional) and curry leaves.

Allow this to roast and add this mix to the simmering kootu.

Remove from heat and the kootu is ready to serve.
Notes
Meal prep this recipe: It is easy to make double quantities of this recipe and save a portion for later. The recipe will stay well in the refrigerator for 2 days in a sealed container. It can be frozen for up to 3 months in well-sealed containers. To use, defrost in a microwave oven and enjoy immediately. Do not refreeze the remaining portions.