Winter throat issues? Check out this recipe for jeera milagu kashayam made with cumin and pepper. Have it as such or turn it into a paal kashayam.
For all the years from my childhood to my late teens there was one drink I was told not to say no to. Nah! It was no moon milk but paal kashayam. It started with advice from the ayurvedic physician who actually worked wonders with my childhood asthma. Considered panacea by parents who religiously fed me this, I hated it! Over a period of the years, the now adult me actually finds it worth a second try (don't tell my parents) during winters and changes of seasons. This is jeera milagu kashayam paal.
What is kashayam?
Kashayam is an ayurvedic term. This is a water-based decoction made with herbs and spices. This boiled and the thickened extract is either used as such or diluted with milk or water to be had for its medicinal properties. They are made in exact proportions, varying the type of herbs used for different ailments. Some kashayams are made at home as simple remedies for colds, coughs, stomach upset etc.
Ingredients for making this kashayam paal.
Water: The water quantity as it boils and reduces is the one that concentrates and brings out the essence of the herbs and spices used in the recipe. Clean drinking quality water is best, it need not be mineral water.
Cumin seeds- Cumin seeds are the key flavour in this extract. Lightly roast the cumin before it is added. If strongly roasted the cumin imparts a smoky flavour and a deep brown colour. 
Black pepper: The throat-soothing properties come from the black pepper added to the boiling water. Do not crush the pepper before adding it as it adds heat and burning intensity to the kashyam. the whole black pepper is preferred.
Milk: Full cream milk is often used in traditional kashayams. However, this is added to reduce the pungent flavour of the kashayam otherwise, so low fat or lctose free milk also is fine.
Sweetener: traditionally none is added. However, as a kid, amma added rock sugar to the milk to help me drink it. So I guess it is up to you. Use honey or rock sugar as needed.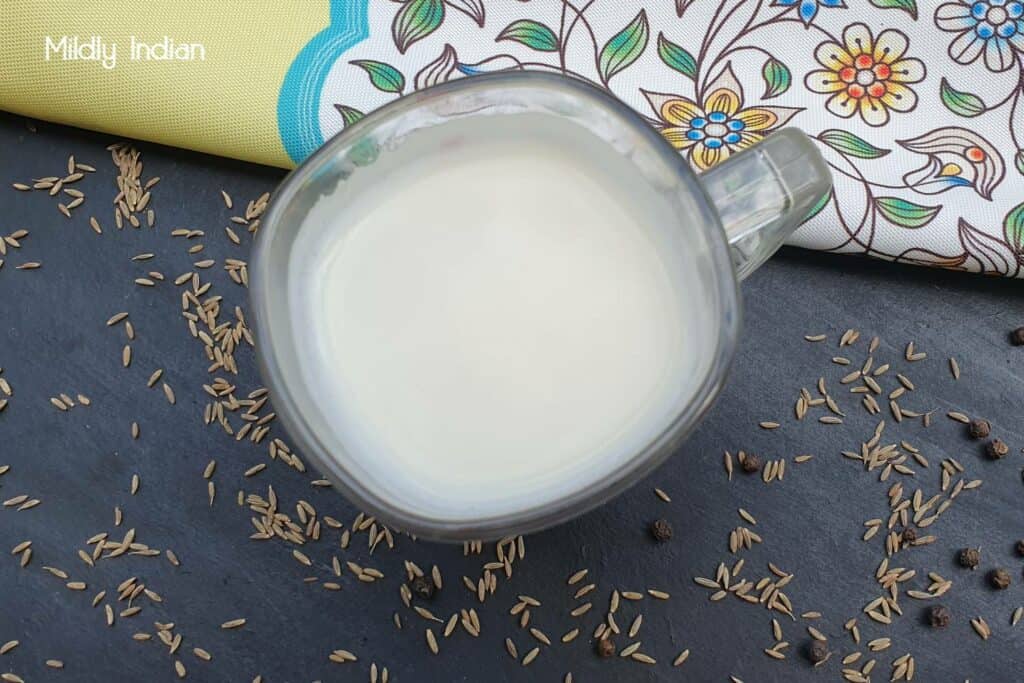 Jeera Milagu Paal Kashayam
Winter throat issues? Check out this recipe for jeera milagu kashayam made with cumin and pepper. Have it as such or turn it into a paal kashayam.
Equipment
saucepan

measuring cups and spoons
Ingredients
2.5

cups

drinking water

1

tsp

cumin seeds

1/2

cup

Black pepper

1.5

cups

milk

low fat, lactose free or vegan milk can be used.
Instructions
Bring the water to a small boil.

Add the cumin and black pepper seeds to it.

Let this boil and reduce to almost half the quantity.

Now add the milk and let it boil well.

This reduces as well to almost two cups.

Strain and stir in the sweetener.
Can this be made vegan?
Absolutely,  go for it. In fact, I love the version made with coconut milk more than with cow's milk.The flavour is like a mild dessert. Soy milk works too. However almond milk will curdle, so avoid it.
Does jeera milagu kashayam actually work?
Let's face it. It is not a cure but a home remedy that soothes the throat. The jeera and black pepper both are great expectorants. Black pepper and honey are both antibacterial. It is proven that thymoquinone in cumin reduces inflammation due to asthma. Together with the warm milk, which is a sleep-inducing agent the concoction ensures some good rest that is much necessary for any respiratory problems.
Side effects of jeera milagu kashayam
The recipe for this paal kashayam is a soothing winter drink. However, it is not meant as a treatment for any ailments. Cumin and pepper are very strong spices and can be responsible for stomach upsets if consumed in large quantities. Excess pepper can cause a burning sensation. The kashaya is not a remedy to cure asthma, so consult your doctor before consuming it. If you are pregnant, have any chronic disease, or have blood clotting issues consult before you take any home remedy.
Other home remedies for a sore throat
Marundu karupatti paal
Besook-Korean pear drink
Tulsi chai
Black pepper Milk tea
Licorice root tea
Stay connected
These home remedies kashayams are often used as the first line of defence from viral and bacterial diseases,  especially during seasonal changes. Enjoy a cup of this caffeine-free, spiced milk to soothe your throat. Subscribe to our website to enjoy more content as we create them. Meanwhile, if this spiced milk recipe works for you, don't forget to rate us using the 5-star system. Say safe and keep yourself healthy.