Biryani is the one pot, super flavourful recipe that is the epitome of Indian cuisine. Based on regional availabilities of spices, local cuisine favourites various styles of biryanis developed in India.
South Indian biryani varieties.
With a Persian origin, the biryani travelled a long way to the Indian subcontinent through the traders and rulers. As it rolled out to the Southern part of India,  the layered biryani transformed into a one-pot , masala infused meal. Based on regional availabilities of spices, tenderness and rice variety there is a divergent evolution to the South Indian biryani .
There are a few varieties of famous South Indian biryani. Here are some of their unique features, ultimately it all results in taste for which each caters to its patrons.
Thalasherry biryani- cooked with Jeerakashala rice ( or Khyma), this biryani is not very spicy. Its characteristic feature is the ghee roasted onions, nuts and raisins to top off the exotic fragrance from the rice.
Hyderabadi biryani- aromatic and spicy the is a classic biryani made in Nawabi cuisine style. Cooked in dum, the slow-cooked biryani uses saffron and other exotic spices.
Chettinad biryani -this biryani style not only uses whole spices but also tomatoes, yogurt or coconut milk to attain a soft texture.
Beary biryani or sultana biryani- the Mangalore style, not so spicy biryani has the characteristic flavour of fennel, poppy seeds,  coconut and spiced by green chillies. (Try this slightly adapted Beary style jackfruit biryani)
Dindigul biryani or thalapakjatu biryani– Fragrant with mace,  stone flower this is made with jeeraka sampa rice. This is a favourite among Tamilnadu biryanis.
I am sure you will come across more varieties of South Indian biryani. There are plenty of regional variations possible. Today, we have attempted a Chettinad style Kalan biryani.
What mushroom to use in one-pot mushroom biryani?
Kalan or mushrooms are a simple solution to a vegetarian version of the meat dominant biryani. Typically, button mushrooms are used for this style of biryani. However, Dutch mushrooms and cremini mushrooms taste equally good in this too. Simenji mushroom is not really suitable here as it tends to break down with this long time of cooking. You could however try oyster mushrooms as big pieces to see if they will hold up. You certainly don't want to use Enoki for this recipe.
Whichever mushroom you choose, it takes up the spices really well as mushrooms are like a blank canvas.
What rice is best for Kalan biryani?
Jeeraka sambha rice (jeeraka shala) is the best to make this Chettinad style one-pot mushroom biryani. This is a short-grain rice, in fact, tiny grain of rice. The grain holds shape and absorbs a lot more water to cook than basmati rice. There is a unique fragrance that is characteristic to this rice that adds to the flavour of the Chettinad biryani.
If you don't find jeeraka samba rice, use the familiar aged basmati rice to make this one-pot mushroom biryani.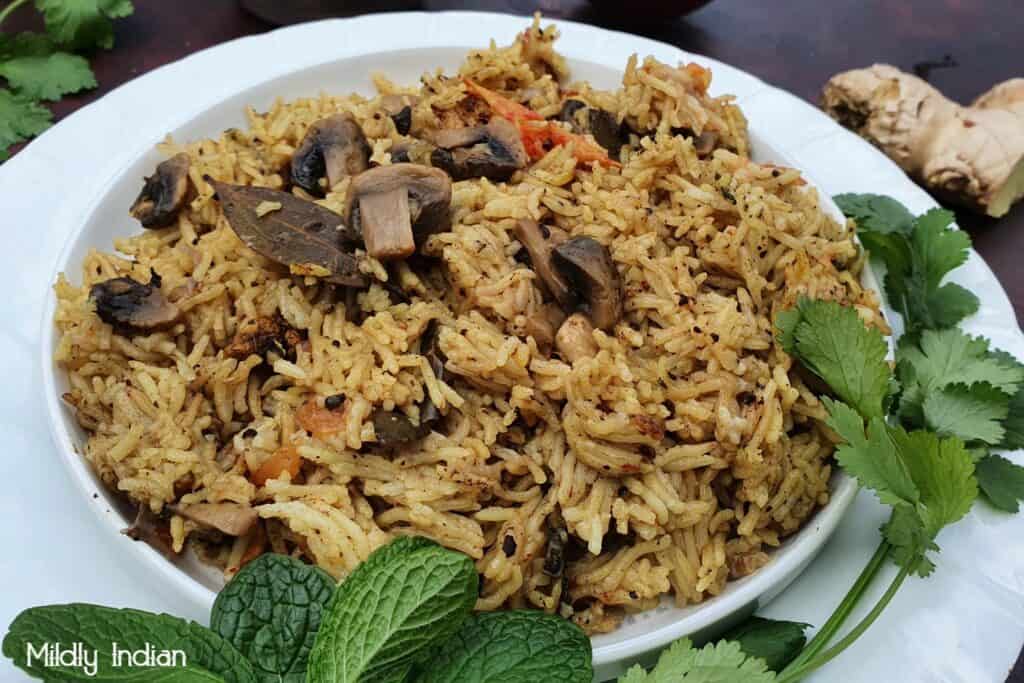 Kalan biryani
Kalan biryani is a one pot mushroom biryani thatnis perfct as a main meal with sides to choose from.
Ingredients
For the Spice powder
5-6

pieces

cinnamon stick

( about an inch long pieces)

4

pieces

green cardamom

3

cloves
For the masala base
3

tablespoon

cooking oil

1

small

bay leaf

4-5

cloves

garlic

1

large

red onion

1

large

Tomato

1

green chilli

1/2

inch

fresh ginger root

1

tbsp

salt

( you may need to adjust this to your taste)

1/2

teaspoon

turmeric powder

1

tsp

red chili powder

( reduce if you prefer a milder heat)

1

handful

coriander leaves

1

handful

mint leaves

1/2

cup

fresh yogurt

3

cups

Mushroom

Use button mushroom
For soaking the rice
1.5

cups

rice

check recipe notes.

2

cups

drinking water
Instructions
For the spice mix
Roast the ingredients for the spice mix on a low heat.

Once they turn aromatic, remove from heat.

Let it cool and powder into a fine mix.
Soak the rice
Wash and soak the rice in two cups of drinking water for 10 minutes.
Prep the vegetables
Clean and slice the onions, garlic, ginger, chilli and tomatoes.

Clean the mushrooms with a damp cloth.

Slice the mushrooms into halves or into fours.

Clean the coriander and the mint and set that aside.
To make the mushroom biryani
Into the pressure cooker, add the oil and add the bay leaf to it.

After a minute and the oil heated up, add the garlic,green chilli, cloves and ginger.

Saute till the onion is translucent, now add the tomatoes.

Add the spice mix you prepared, with turmeric, salt and chilli powder.

Add the mushrooms and saute them for a minute.

Now, add the coriander, mint and yogurt and mix the masala base well.

Add the soaked rice with the water ( if basmathi remove 1 cup of the water for soaking).

Close the pressure cooker and cook for 10 minutes on low pressure.

Once natural pressure released open the cooker and fluff the rice.

Transfer the rice to a serving bowl and enjoy warm.
Notes
If using Jeeraka samba rice, two cups of water are needed to cook the rice. 
If you are using basmati, after soaking, remove 1 cup of water and use only the rest. Otherwise, the rice will be soggy.
Can I freeze it?
The rice will stay well upon freezing and thaws well. Yet, I will not recommend to freeze this mushroom biryani. This is because the mushroom turns leathery upon freezing and thawing. It is not a very pleasing experience.
What to serve it with?
There are a variety of accompaniments that you can try with this biryani.
Sheek kebab -kebabs and biryanis go so well together. So try them together.
Masala papad– as a starter to the brunch platter. The sprout based salad on the peppery papad makes the crunchy add to add to the platter.
Pomelo raita or mixed vegetable raita – the spicy masala of the biryanis are cooled off with a yogurt-based raita salad.
Biryani achar- the sweet and spicy dates and beet achar that is characteristic of the Thalserry biryani works well with this Kalan biryani too.
Mango lassi or strawberry lassi – cool off with a sweet mango or strawberry lassi.
Hope you have fun with making a Sunday biryani treat like us. For us, all the small joys are celebrated with home-style biryanis.
Linking this up
My partner for this month's Shh cooking secretly challenge was Aruna from Vasus Veg Kitchen. You should check Arunas blog spicy Andhra style recipes, especially the Rayalseema style bittergourd fry.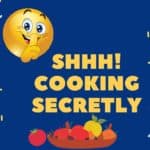 For the theme of Exotic biryanis and pulaos suggested by Swathy,  Aruna chose secret ingredients for me – Yogurt and mint. Since the yogurt leaned much towards the Chettinad style of biryani, We decided to follow that route.  Hope you enjoy making this recipe as much as we do make it a Sunday practice. Hope you will stay by and subscribe to our website. Tag us, @mildlyindian or #mildlyindiankitchen when you impress your family and post images on socials.
See you at the next post.