Slowly the intensity of the travel bans is sinking in into each of us. I am a self-confessed travel bug. So is my family, they love the idea of travel. We used to do travel thought-free. We did save up to travel this year as well, but now we need to thoughtfully analyse the impact of travel.
Slow travel and staying in different countries have definitely influenced my cooking style. But the collection of authentic recipes I have gained through these associations are invaluable. The best part is that we have those key identifications of each style of South Asian cooking. They are not the same to be summed up under one umbrella.
With this thought, I am bringing forth a close to heart Khao pad sapparod meaning pineapple fried rice
Where does this recipe come from?
During our stay in Penang, cross my heart and say we were absolute regulars at the Tree monkey restaurant. I never dreamed of a moment where our favourite order, as soon as we sit, of the Thai pineapple fried rice will be so terribly missed. After moving to Australia we missed that unlimited supply of tropical pineapples, worse we missed that stirfry rice.
Now a dear friend, Annie in Malaysia was the first one to pint out how to balance out the different flavours in Thai cooking when we were in Penang. Honestly, I never used it there as I could simply step out and get that Thai in me satisfied. there never was a need. I still haven't found a place that hits that mark perfectly here in Australia. I am sure there are, but I haven't found it that's all. So I had to work on my own skill, bought a wok and boy scraped its bottom so bad that it gave up in no time. I haven't given up. Slowly and steadily worked my way to bring the balance of the spiciness, tanginess and the sweet with that hint of soy perfectly. Now I worked out my craving fix with this – pineapple fried rice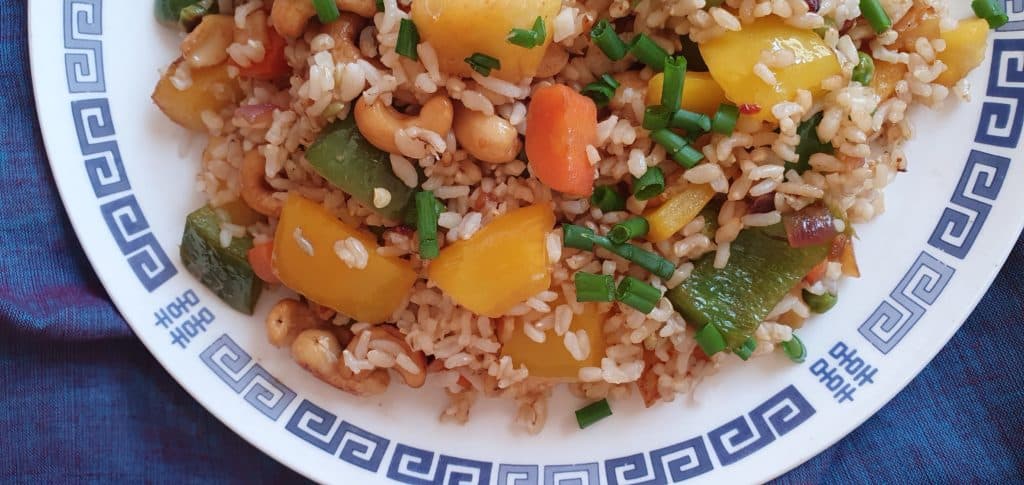 Working on that balance
I have one great recipe to share with you which showcases that Asian sauce balance really well.
Talking about balances I enjoy doing a bit of yoga nowadays. My relationship with yoga is a bit on and off, but I do have a good intention here. Hema is a known acquaintance who brought that good balance back into my like. Hema is a meticulous passionate person who has been working on her yoga for years.
Here is the link to Hema's youtube link. She is pretty good at it and I am sure you will love it. To contact Hema leave a comment on her your tube link and then take it up from there.
Stay safe and stay in balance and keep trying on your Asian sauce balance and fix yourself a great Pineapple fried rice.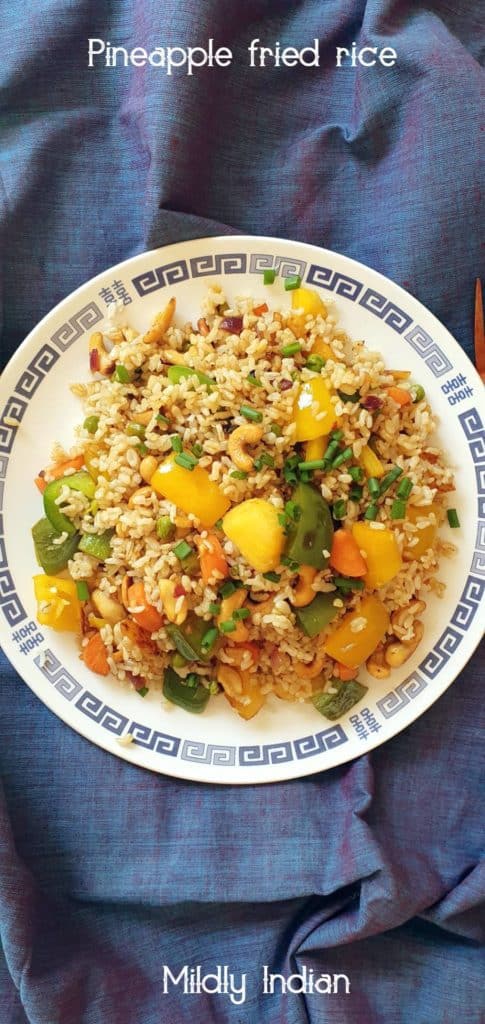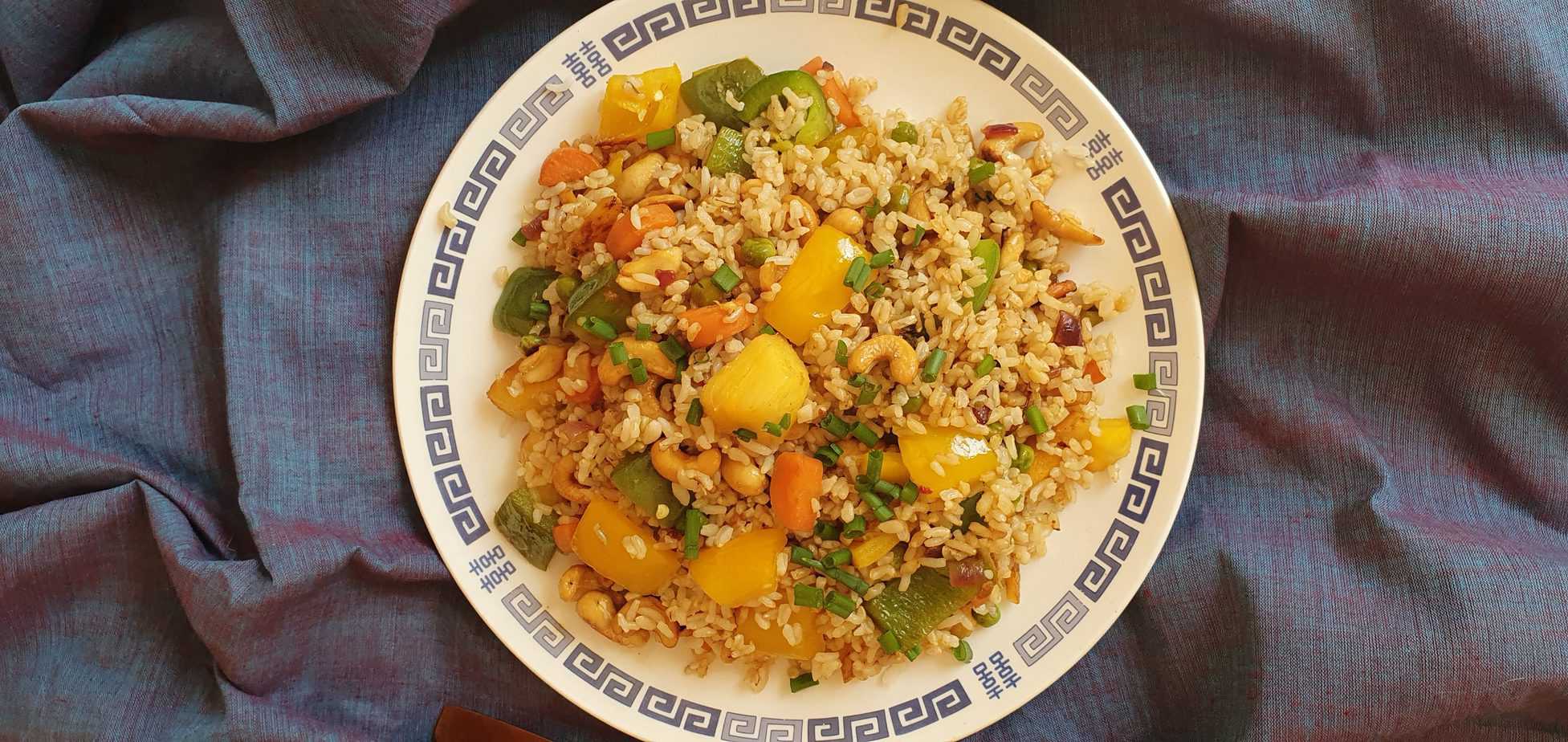 Thai pineapple fried rice
Khao pad sapparod
Ingredients
for cooking rice
1

cup

brown rice

3

cups

drinking water
vegetables needed
1

small

Onion

( I use a white onion)

2

cloves

garlic

1/2

cup

carrots

(diced)

1/2

cup

peas

( I have used frozen peas)

1/2

cup

green bell pepper

(capsicum)

1/2

cup

yellow bell pepper

(capsicum colours)

1/2

cup

Pineapple

(diced)
seasonings
2

tbsp

cooking oil

1

tsp

curry powder

( asian one, not indian)

2

tbsp

soy sauce

salt to taste

1/4

tsp

black pepper powder
other ingredients
1/2

cup

cashew nuts

(dry roasted, you can use 1/4 cup if you dont like so much) )

1

tbsp

spring onions

chopped

1/4

tbsp

coriander leaves

( optional)
Instructions
To cook rice
Wash and soak the rice in the 3 cups of water for half hour and the cook it with the same water

I have used my rice cooker to cook this rice. A day-old rice is best suited for all the fried rices as the moisture is well absorbed.
to make the fried rice
Clean wash chop and prepare the vegetables

Prepare a wok and add the oil into the wok in medium to high heat

As the oil starts to heat up add the garlic and onions and give it a quick stir fry.

Add all the other vegetables except the pineapples and stir fry them.

Now add the cashew nuts, curry powder and the pineapple and stir fry that too.

Add in the rice and toss well

Add the soy sauce and pepper and stir into the rice. Taste test and add salt if needed.

Stir fry for another two minutes and garnish with spring onions and coriander leaves

Serve warm and enjoy with family
Notes
If you like to serve this in the pineapple itself scoop out the pineapple first and use that pineapple pieces in this fried rice. The place that shells in the oven for 10 minutes at 180 degree and I promise you that the house will be smelling so beautiful of the fried rice with pineapple.