The best part of summer is actually the cold watermelon. Whether it is to bite into the slices or juice it up, the watermelons run from breakfast to dinner. On the flip side, there is so much peel that you are going to waste. Over the period of time, we have found ways and means to add the white part of the rind easily into our meals.
We hide them in juices, toss them in sabji, make kootu curry with it and more. The green peels rarely get used. This is where I find the watermelon rind thogayal recipe useful. Once sauteed and ground you can hardly feel the peel. So an absolute win.
What is a thogayal?
Thogayal (or thuviyal) is a style of Indian chutney that is a blend of lentils and split legumes that are roasted with spices and coconut. The preparation is used as a side dish with South Indian meals.  It is a perfect hiding place for a lot of vegetables.
Which part of the rind to use for this thogayal?
When we cut a watermelon it is typically the reddish part that gets eaten. This is the juicier sweeter part. However, the whole watermelon peel is edible too. For this thogayal, you can use the green thick peel or the white and the green peel together. The green thick peel is best used if it is clean and blemish-free. It gives a thick dry thogayal. When using the white part as well reduce the water added coz the white part still has a lot of water in it.
Ingredients for the thogayal
Apart from the watermelon rind, you need a few other things to make this chutney.
Dals or lentils – The combination of urad dal and channa dal gave the base that the watermelon chutney needs. 
Spices- Apart from salt, Indian chutneys are spicy, so red chillies invariably are the flavour provided. 
Curry leaves and herbs – If you like a fresh flavour, curry leaves are the best addition. you can also add mint leaves or coriander leaves to add to this recipe. 
Coconut – I have made this watermelon chutney without coconut. You can use a tablespoon or two of coconut to the mix to give it a different flavour. 
What can you hide in this chutney?
I love to add nuts and seeds to this recipe easily. I have added flax seeds to the current recipe. Stirfry some spinach, radish leaves or kale along with the watermelon rind. This is certainly the best place to hide nutritious stuff from picky eaters.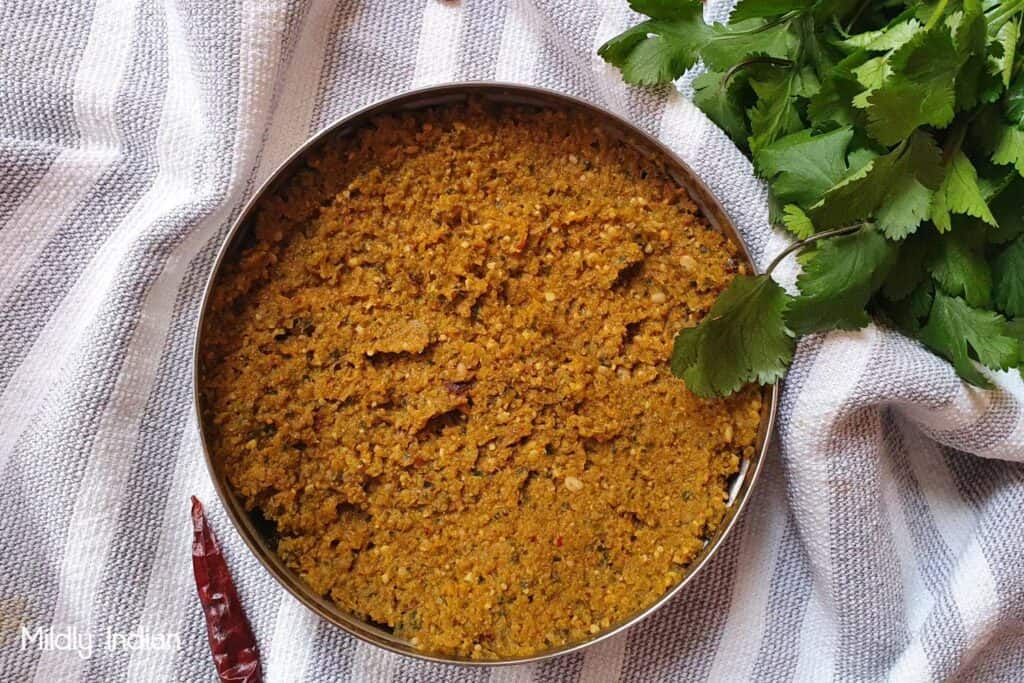 Watermelon rind thogayal
Equipment
Cutting board

Knife

frying pan

blender
Ingredients
To roast together
1

tsp

cooking oil

1

tbsp

Urad Dal

3

tbsp

Channa dal

3-7

dry red chillies

1

tsp

flax seeds
Fresh ingredients to be roasted separately.
1

cup

watermelon rind

10

curry leaves

1/2

inch

fresh ginger root

1

gooseberry sized

tamarind
Instructions
Was the watermelon peel throughly.

Remove the green peel from the white part of the watermelon rind. Cut this into small bits and set aside.

To a heavy work add a spray of oil and roast the urad dal and channa dal till golden brown.

Add the dry red chilli and flax seeds and saute until some of them crackle.

Remove this mix and set it aside.

Now add the diced watermelon rind, curry leaves ginger slices and saute for about 5 minutes.

Sprinkle salt and steam for another two minutes so they release water and steam through. 

Remove the mix on to a plate and let them cool for a bit.

Cool, add the corinader leaves and grind to a coarse paste. Add water to grind only if needed.

Save this chutney to serve with a meal or breakfast.
Serving the thogayal
The thogayal is typically served with a South Indian meal and tastes fantastic with rasam. Thogayal is a great substitution for classic coconut chutneys with idly or dosa. Tossed with leftover rice, it is a quick lunchbox filler like the pickle masala rice. The watermelon rind thogayal adds a lot of flavour to cucumber salads too.
Meal prep and storage
This watermelon thogayal has been a kept recipe in my meal prep. Firstly I feel happy I did justice to the product and the jar of thogayal early can be incorporated into many meals. The watermelon rind thogayal stays well for up to 5 days in the refrigerator. The watermelon chutney freezes really well and thaws perfectly. I freeze them as cubes so as to thaw just the right amount. Never refreeze the remaining after thawing.
Stay connected
If you are a watermelon lover like me, you will surely appreciate this chutney. It feels so good to be able to use most of the watermelon rather than have the rinds in the rubbish. Don't forget to subscribe for more ideas like these. We enjoy bringing something to you each week.