My ven pongal recipe is pretty much learnt from my mother in law. She makes a creamy venpongal for breakfast and serves it with jaggery.  The reason why I still call hers venpongal and mine as Kara pongal is because there is a small change in the tempering ingredients which to my taste makes  a big change.
Once I realised the pongal is the easiest  one pot recipe I can do… And pretty much balanced with carbs and protein… There were umpty  number of experiments with grains and lentils.  Some I call as khichdi, and some as kara pongal
Though the pongal is a perfect breakfast item with respect to me…. It kind of raises a few eyebrows in my house and a few more… "I am too sleepy,  so don't want to eat. " The same if served  for lunch with a big bowl of sambhar and this problem totally vanishes. So why not.  It perfectly makes a happy day for me
I love this easy pressure cooked version as it quick and one pot to prepare.  The additional handful of the lentils added is always welcome.
While cooking Kara pongal,  I pretty much reduce the quantity of ghee that goes into the pressure pan and the tempering.. Coz its quite heavy as a dish with loads of ghee.. Though in the days we return from a hike I allow the kids an extra dollop of ghee on it.. Here I would like to say,  the taste does alter  a big much if you reduce on the ghee.
Thinai arisi
In this version I have used thinai, kangi, navane, thina or fox tail millet.  Slightly yellow in colour thinai arisi  is easily digestible and helps in control of cholesterol an triglyceride levels in the body.
Though considered a grain this is actually a seed..and that follows more benefits.  Being gluten free,  and diabetic friendly the use of thinai  in this recipe makes it a good meal for people with coeliac  disease. As a millet it is rich in vitamins and minerals too.
So now loaded with information let's move on to the recipe.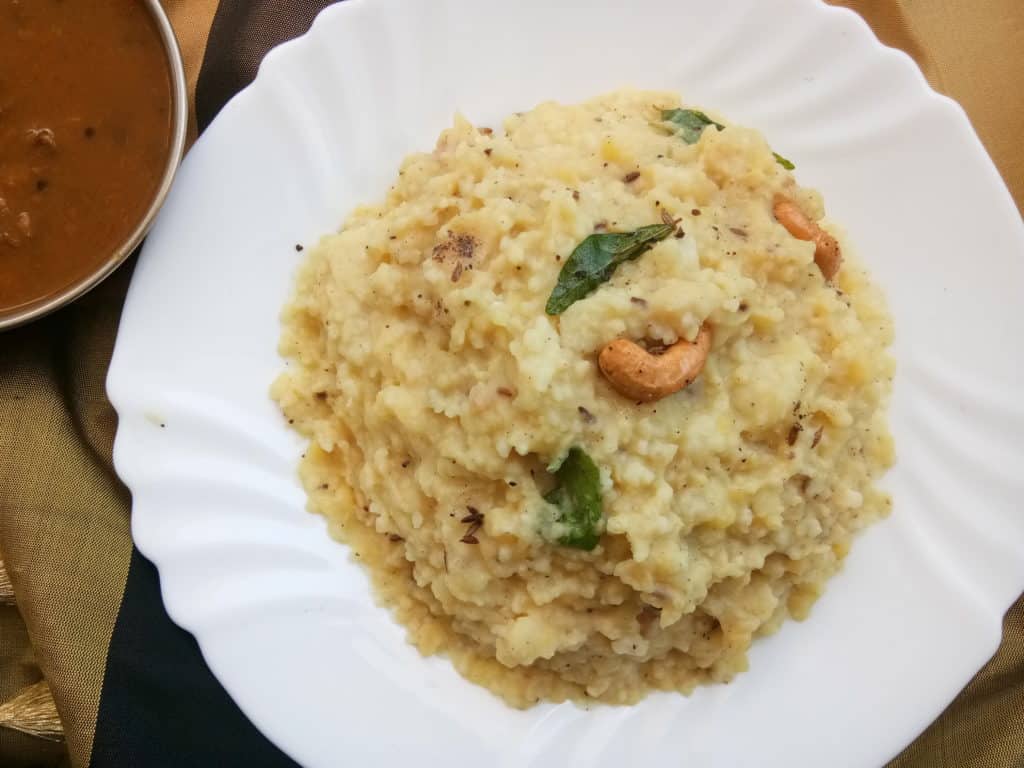 This recipe can be prepared using,  white rice,  brown rice, kodo millet (varagu  arisi) or Barnyard millet (kuthiravalli) or little millet (saamai  arisi) too. So go on with this beautiful traditional age old recipe and enjoy.
Sharing the recipe for the venpongal as I learnt from my mother in law
A couple more millet recipes are here too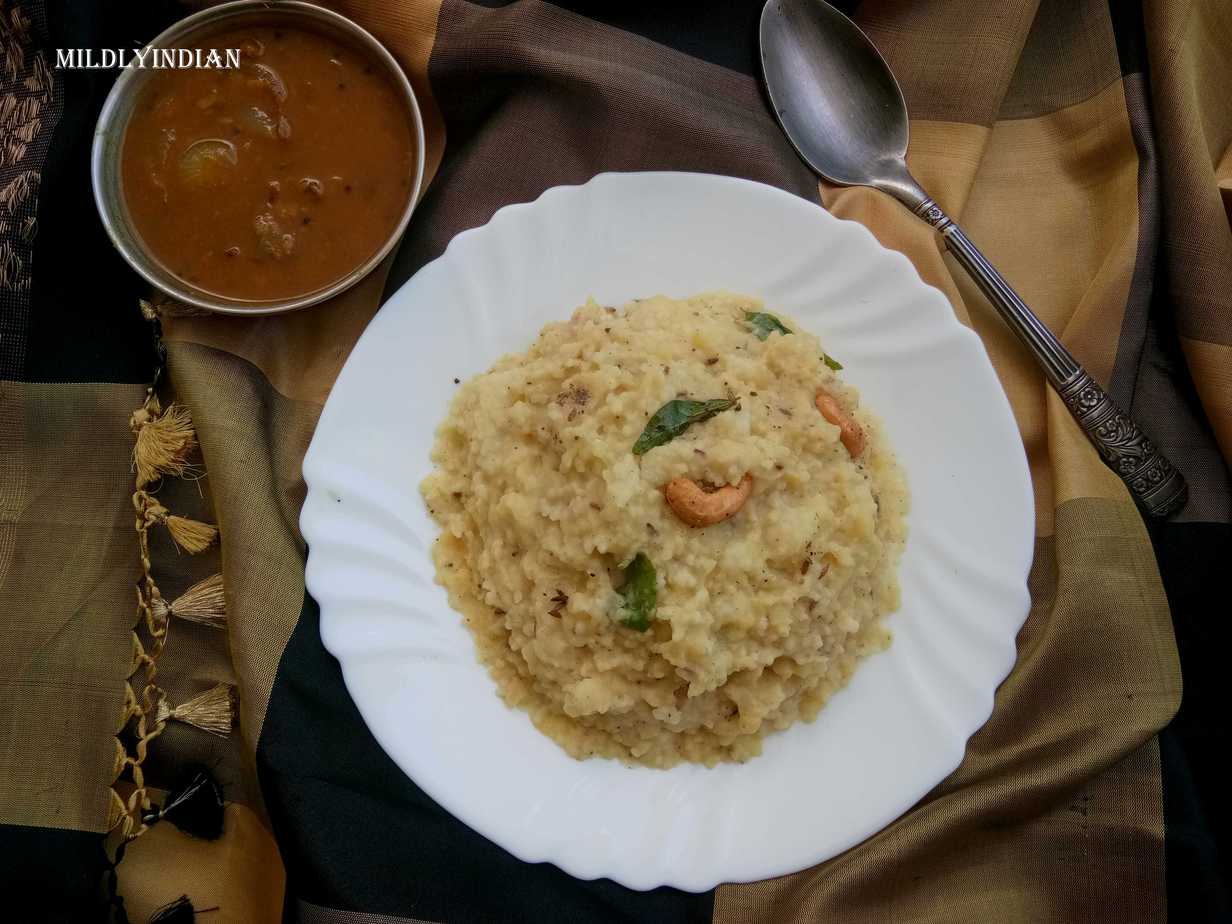 Thinai Kara Pongal
one pot foxtail millet
Ingredients
Main ingredients
1/2

cup

Foxtail millet

hulled

1/2

cup

Green gram dal

skinned

5

cups

drinking water
For tempering
2

tbsp

ghee / clarified butter

( use coconut oil for a vegan version)

1

tsp

cumin seeds

1/2

tsp

crushed black pepper

1

pinch

Asafoetida

1

sprig

curry leaves

3-4

tbsp

cashew nuts

salt to taste
Instructions
Set the pressure cooker to heat gently.

Add the green gram dal and roast gently till it acquires a beautiful aroma.

Add in the fox tail millet stir and add the water

Close the pressure cooker and cook for 3-4 whistles

Meanwhile in a small pan, add the ghee , cumin, crushed black pepper, curry leaves and cashew nuts and roast till the cashew nuts turn golden.

Add in the asafoetida. Remove from heat.

once the pressure is released, open and add the tempering and steam. Mix well, check salt.

Serve with sambhar or chutney
Notes
Change the millets to kodo millet, little millet or barnyard millet depending on the availability with the same recipe.