Mythological stories of gods and goddesses portrayed not just the success of the gods, but the virtues, the values, the valour and of course the victory. For ages, I thought they only talk about the good vs evil and never really loved the story Ramayana. For me, the victory over Ravana felt nothing to be excited about compared to the struggle of Seetha. Recently, I read about a different chain of thought on this story. The essence of which said, it was not the victories or valour that made this epic great, it was the ability if Rama uphold his values even when he knew his family bonds are heading into a disaster. This takes immense grounding and unaltered dedication to one's task. Here I agree.  I may never fully like the story ever, but certainly  this read gave me a different perspective.
Now, to Diwali
The way Diwali is celebrated in the south and north of India is quite different. Of course the lamps to lead and light the path as the virtuous God, Rama returns with Seetha to Ayodhya, remains the same. As a food blogger, the tantalising snacks that come from both regions during this time is the exciting part.
In the south, we can't do away with the elai saapadu (banana leaf meal) and follow it up with snacks like appam,  nei urundai, pokkodam, mixture, murukku etc.
Try out this nei urundai recipe.
Coming to the north we have so many treats like ladoo, halwa, mathri, chivda, shakarpara to be exchanged and enjoyed.
Try these this season
Karachi halwa
Kaju katli
Darwad peda
My association with methi mathri during this season starts from the hostel years, a long-lost friend Mandovi, taught me the right way to have that home-made flaky mathri with some achar. Though I strongly refrain from deep-fried treats through most of the year, I do feel deflated if I don't make a few for Diwali. One that I cannot (nostalgic reasons) clearly let go is making some flaky methi mathri for this season, especially this year.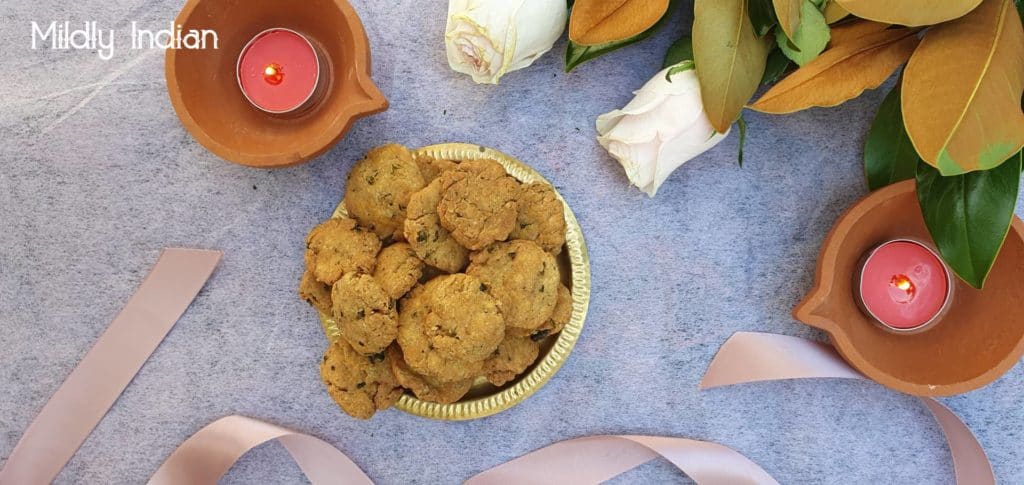 Taking on this challenge
This Diwali edition, initiated by Poonam, from Shh Cooking Secretly Group of Bloggers has seen quite a lot of lovely recipes emerge from the creative minds. My partner is Renu for this challenge has a superb post for homemade low oil chivda which is a must-try. Renu's recipe for farmers market quesadilla is a favourite one for my kids.
Click on this link to check her recipes especially the chivda for this season –  roasted poha chivda
With oil and ajwain as my ingredients for this recipe, the Rajsthani fenugreek mathris worked well not only to have at home but as a travel, camping snack as well. Scroll down to check the recipe and enjoy a great Diwali season.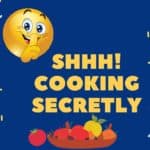 Step by step images for the recipe
This post is not meant to challenge or change your views on mythology. It is merely an expression of my thoughts. Like it or not is up to you. However the recipe below is extremely exciting. So give it a chance.
Stay safe, enjoy a responsible Diwali and see you here again.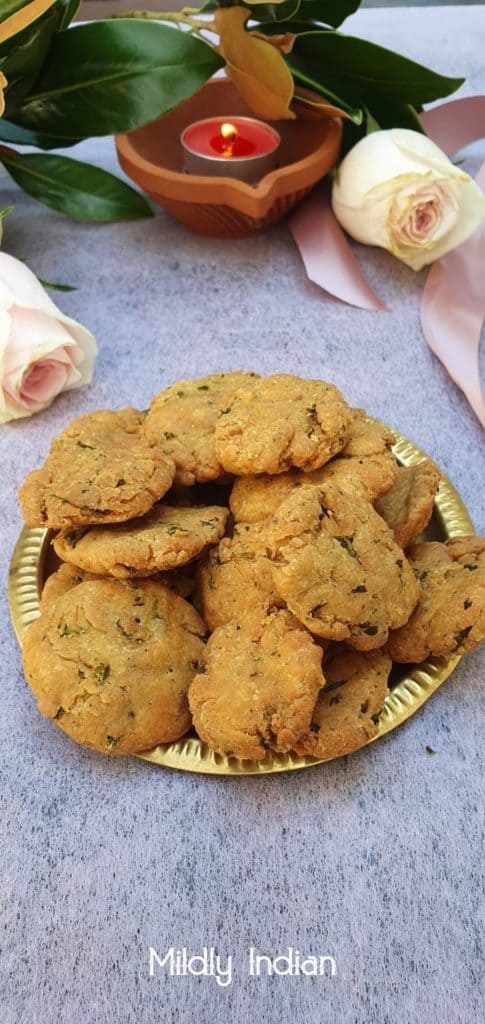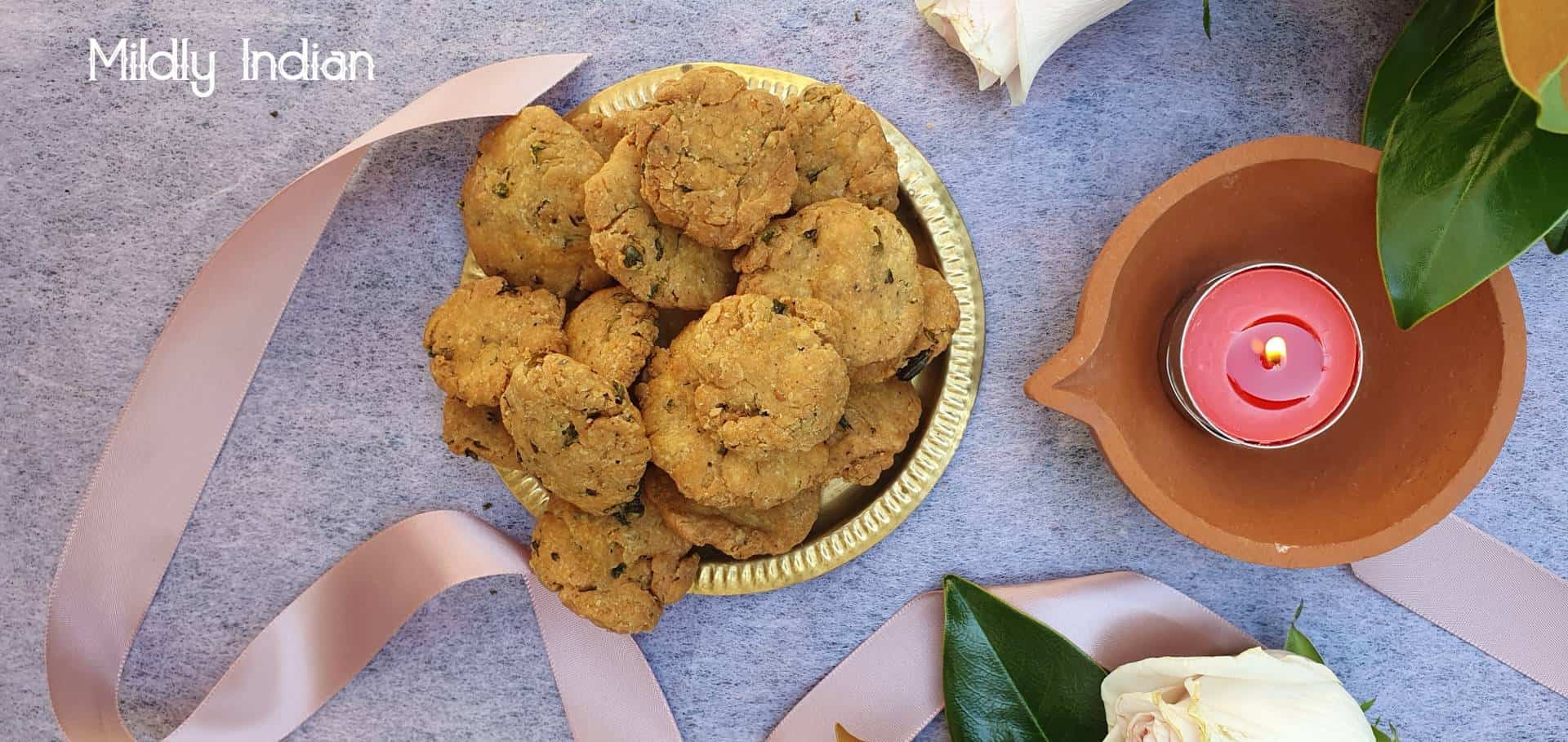 Flaky masala methi mathri
Deep-fried dough bits are easy to make snack perfect for a rainy day or for the road trip you are planning.
Ingredients
for the dough
2

cups

whole wheat flour

3/4

tsp

salt

4

tbsp

cooking oil

( hot oil)

1.5

tsp

Black pepper

(crushed)

1/2

tsp

carom seeds

(ajwain)

2

tbsp

fenugreek leaves

( dried , methi)

1/2

cup

icecold water

( use only as needed)
for deep frying
2

cups

cooking oil

(sunflower oil or vegetable oil )
Instructions
Into a large mixing bowl, sift the wholewheat flour.

Add the salt, dried fenugreek leaves and crushed black pepper.

Crush the carom seeds in the palm of your hand to release the aroma and add that as well.

Mix gently and add the hot oil a tsp at a time and cover it with the flour using a spoon.

Once all the oil has been added and the oil sizzled and cooled rub it into the dough forming a flaky dough. (check the step by step images in the post)

Now add a tbsp of water at a time and knead the dough just enough to come together like cookie dough. use just enough water as needed for the dough to come together. Don't over knead the dough as the mathris will become chewy and hard.

Cover the dough and leave it aside for 10 minutes.

Meanwhile, set up a heavy bottomed wok or your deep fryer ( temp 130 degrees) with enough oil to fry this mathris.

From the prepared dough pinch-off small bits of dough, gently roll on your palms and press it down before dropping it in the hot oil. ( check the image in the step-by-step section of the post)

Keep the rest of the dough covered as you work through so they will not dry up ( lesson learnt by multiple mathri experiences)

The doughbits will sizzle, turn them over as necessary and the steam bubbling will slowly reduce and stop( check recipe image in the post)

Now, these golden-brown bits are ready and cooked, remove from oil onto an absorbent paper.

Cool them thoroughly before storing them.
Notes
Matris keep well for about a month in an airtight jar. To serve, serve the mathris with pickles and tea.