Enjoy the soothing comfort of this milky black pepper tea for this winter. This spiced Indian tea is a must try to keep the sniffles away.
Second to water tea is one of the most consumed beverages in the world. Needless to say, tea is the most popular beverage in India too. With tea as a blank canvas, we provide a variety of seasonal spice variations to it. One of the Indian tea recipes that we have relied on for winter is black pepper tea. Made as a milker version this tea is a soothing beverage for the cold morning and keeps the initial sniffles away.
History of Tea in India
India is one of the largest producers and consumers of tea. Tea was one of the largest commodities that was being exported out of India during British rule. The mountain slopes were replaced by tea estates. The climatic conditions and suitable soil helped these tea estates to thrive. In addition, the families of the British authorities preferred to live in these climates which were more suitable compared to the hot tropical. climate elsewhere. Slowly, evening tea, high tea or tea mornings became a norm. As an adaptation of the evening tea culture, the areas surrounding these residential estates, a milk-added version of tea began to develop. indian tea with milk and spices  thus evolved to suit the sweet-toothed Indian palate. This percolated throughout The country, providing its own regional spins.
Why black pepper?
A common remedy for most upper respiratory illnesses according to Ayurvedic medicine involves black pepper. Known as king of spices this adds a lot of warmth to any dish that you are adding it to. The piperine present provides a reduction in inflammation and immune support. It is used in small quantities as an expectorant thereby helping in mobilising the mucus through the upper respiratory tract.
Infusions of black pepper are a good way to have this spice. However, the smokey heat can be strong and spicyHence the addition of milk tones it down, still giving the benefits.
What tea is best for black pepper tea?
The tea that is most suitable for making Indian teas is fermented black tea. The full-bodied Assam tea is one I like when I add some spices to the mix. It has a rich aroma and a deep colour to the tea. You can use crushed leaf curls or dust to make this Indian tea.
Ingredients to make black pepper tea
Tea leaves
Water
Milk
Black pepper
Sweetener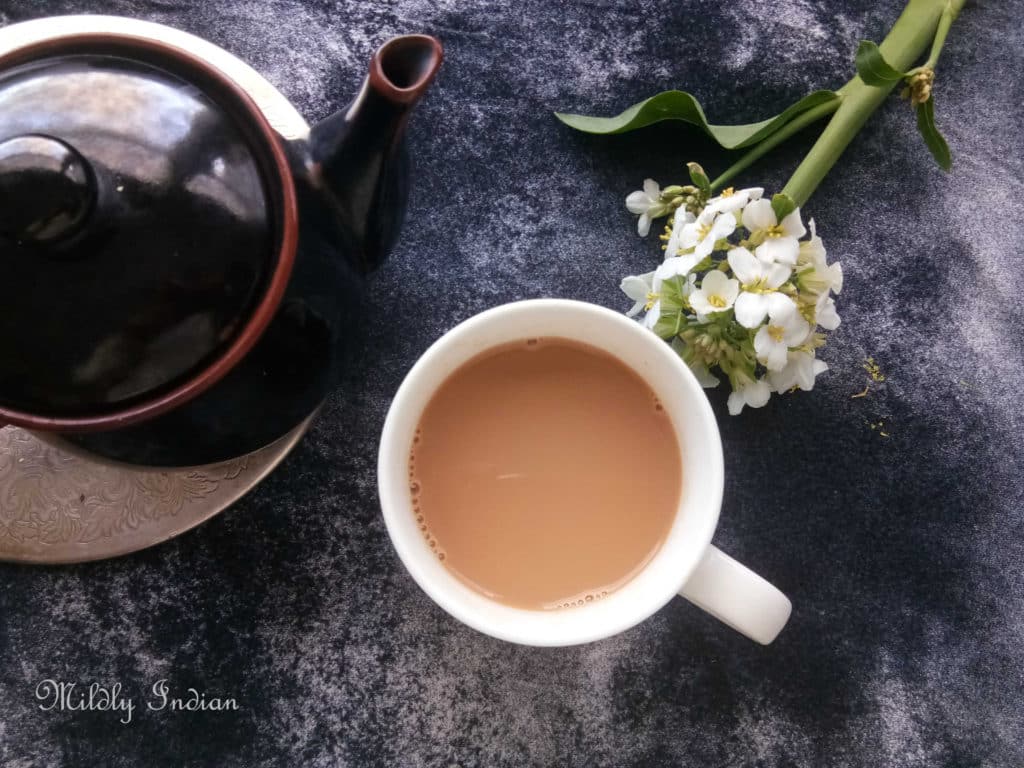 Pepper milk tea
Ingredients
2

cup

drinking water

2

tsp

black tea leaves

1

tsp

crushed black pepper

1

cup

milk

unrefined sugar

optional
Instructions
Add the water into the saucepan and set it on medium heat to boil.

Sprinkle the black pepper.

Allow it to come to a boil and add the tea leaves.

Once this comes to a rollling boil add the milk and sweetener.

Bring to a boil, and remove from heat.

Pour into a cup and enjoy the warm cup.
Indian tea variations on this blog
Indian teas provide a variety of regional variations. Here are some that we have saved on this blog. Click on each of these links to lead you to that recipe.
Masala chai
Nimbu cha
Pudina chai
Sulaimani
Thulsi chai
Recipes with blackpepper.
Stay connected
When the cooler southern winds start blowing and you have a hankering for that warmth in a cup, do make some Indian teas. When you enjoy this soothing black pepper tea recipe, give us a rating and comment on how you enjoyed it.
Stay in touch through Instagram or Facebook, or subscribe to know what we are doing now.
See you in the next post.