Let's uncomplicate some food
It has been done back-to-back Indian festival says in this season. This leaves a lot of complex cooking. Though I thoroughly enjoy the product and the process,  I guess today we should take a break and get some simple fresh ingredients together. Let's stick to a good radish and cucumber salad.
The salad ingredients and variations
Radish-there are two ingredients that essentially make this recipe. The small salad Radishes are beautiful for this recipe. However, you can use watermelon Radishes (oh my God, they look so pretty!! ) or daikon too in this recipe. The crisp crunch and slightly sharp taste are the keys here.
Cucumber-opposed to the crunch sharp bite is the soothing watery coolness of the mandolin-sliced cucumbers. With both these in one forkful, you are in salad heaven!!
Greens –I love to add additional greens to my salads often. Spinach, mesclun, arugula or finely chopped kale will be great in this recipe. I have chopped up a bunch of radish greens and spinach together for this recipe today. If you have additional radish greens try this stirfry or an Indian-style curry with it today.
Dressing- For this recipe, I have opted again for the simple homemade Italian dressing we used in the carrot and bell pepper salad
Serving this radish and cucumber salad
Even if you put a huge bowl of this in front of me, I am sure I will be a very happy person. Yet you may need a few ways to jazz it up.
Salad plates– to prep up fancy-looking salad plates, pile up the greens at the base and the radish cucumber mix on top. Then add a tablespoon of nuts sbd seeds and a few shavings of hard cheese on top. Ooh fancy!
As a crostini- This salad on toasted crunchy bread makes a phenomenal crostini appetizer. Try it with some crumbled feta on top.
Wraps- the easiest salad wrap you can make is this. I could recommend leaving the salad dressing on the side as it turns soggy when all are mixed together.
Radish and cucumber salad
Easy to prepare, radish and cucumber salad with spinach is a fantastic option for a veggie-loaded salad. With a few different ideas to serve this salad is one you will love to come back to.
Ingredients
2

cups

Spinach

chopped

2

cups

radish

sliced

2

cups

cucumber

sliced

2-3

tablespoon

italian dressing
Instructions
Wash and slice the cucumbers and the radish. Add to the mixing bowl.

Chop the spinach and add to the mixing bowl.

Give the vegetables a good toss and set it aside.

Follow the link to prepare the dressing.

Add the dressing to the salad and mix well

The salad is now ready to serve.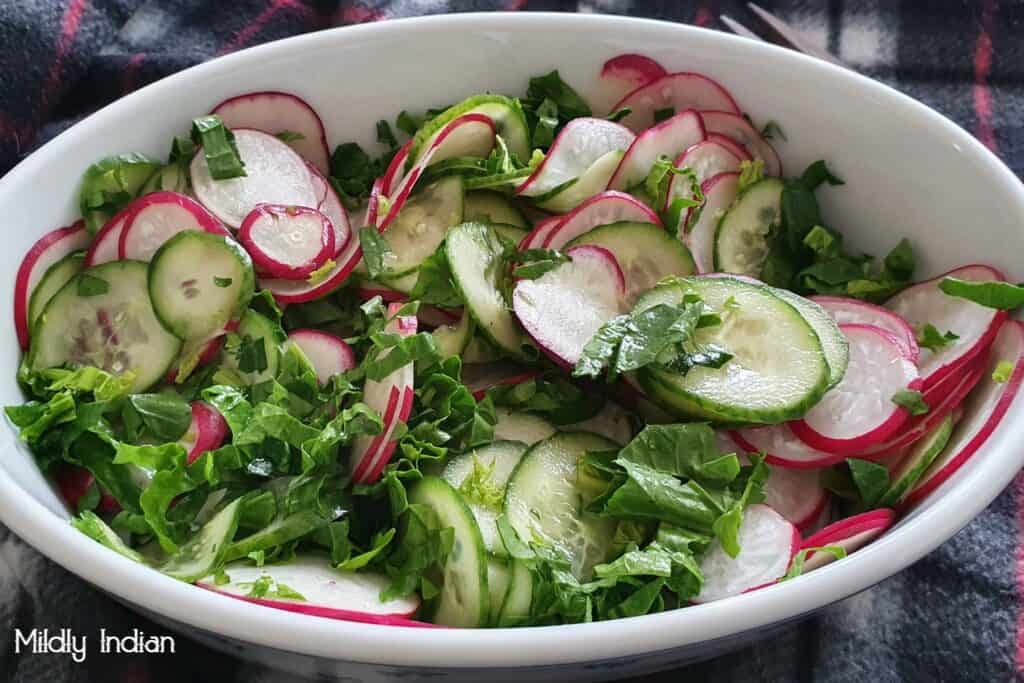 How long to store the spinach radish and cucumber salad?
The radish and cucumber salad stays good for a day in the refrigerator after the cucumber goes limp! Personally, I like the crunch of this salad, so, do not recommend storing it.
Other salads you don't want to miss
Radish pear salad – the radishes are now paired with sweet pears with a creamy tahini dressing.
Kiwi salad – refreshing citrus-loaded Kiwi salad with peppercorn dressing.
Quinoa and mixed vegetable salad- this is a  wholesome lunch salad with umami miso dressing.
South Indian carrot salad – This spiced carrot salad is flavoured with tempering and curry leaves.
Shredded lettuce salad- a simple low-carb salad with a creamy yogurt dressing.
Stay connected
Once you enjoy these salads, share with us which one you liked the best. Tag us on your socials as @mildlyindian or #mildlyindian so we can see the twists and turns of these ideas. take care and see you at the next post